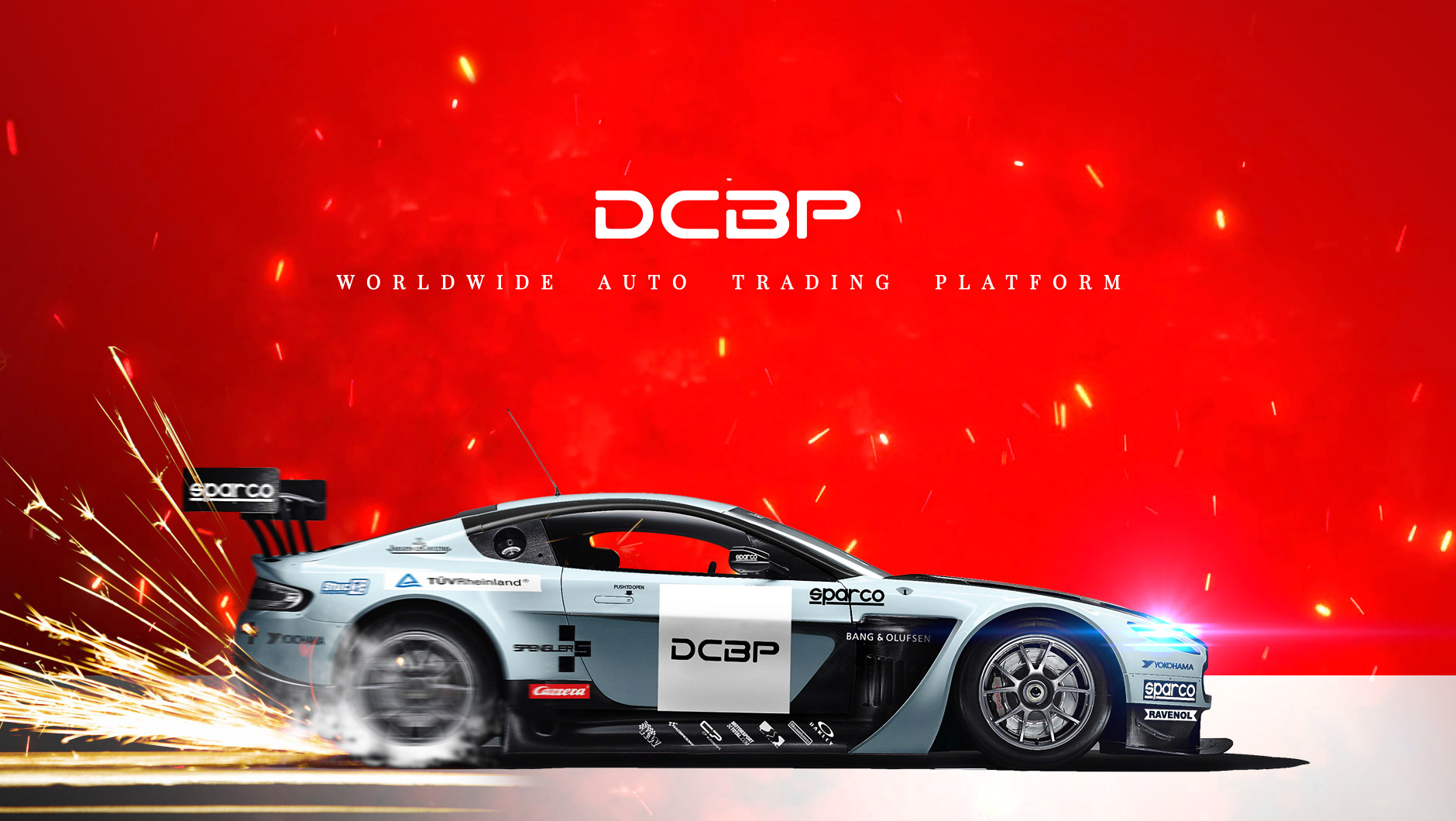 In 2016, while car sales in China was on track to make history for the seventh time in a row, growth rate has been rapidly decelerating in recent years. After a decade of unprecedented growth and expansion, China's auto market has reached maturity. Traditional dealerships struggle to adapt to evolving buyer needs.
To comply with my non-disclosure agreement, I have omitted and obfuscated confidential information in this case study. The information in this case study is my own and does not necessarily reflect the views of DCBP and Adenovo.
I started at DCBP as a Senior UX & UI designer and later led the product team. I collaborated with the CEO, CTO, a graphic designer and development.
DCBP
- "德車本舖" - www.dcbp.com - is a global C2C (Customer-to-Customer) global used car trading platform.
Adenovo
- "諦諾" - www.adenovo.com - is an auto financial service company that offers risk management for lenders.
Responsive Web App
Mobile App
1. Problem & Opportunity
2. Discovery
3. User Needs
4. Understanding The Competition
5. Solution & Vision
6. How We Got There
7. Launch & Impact
8. Final Thoughts
9. Related Articles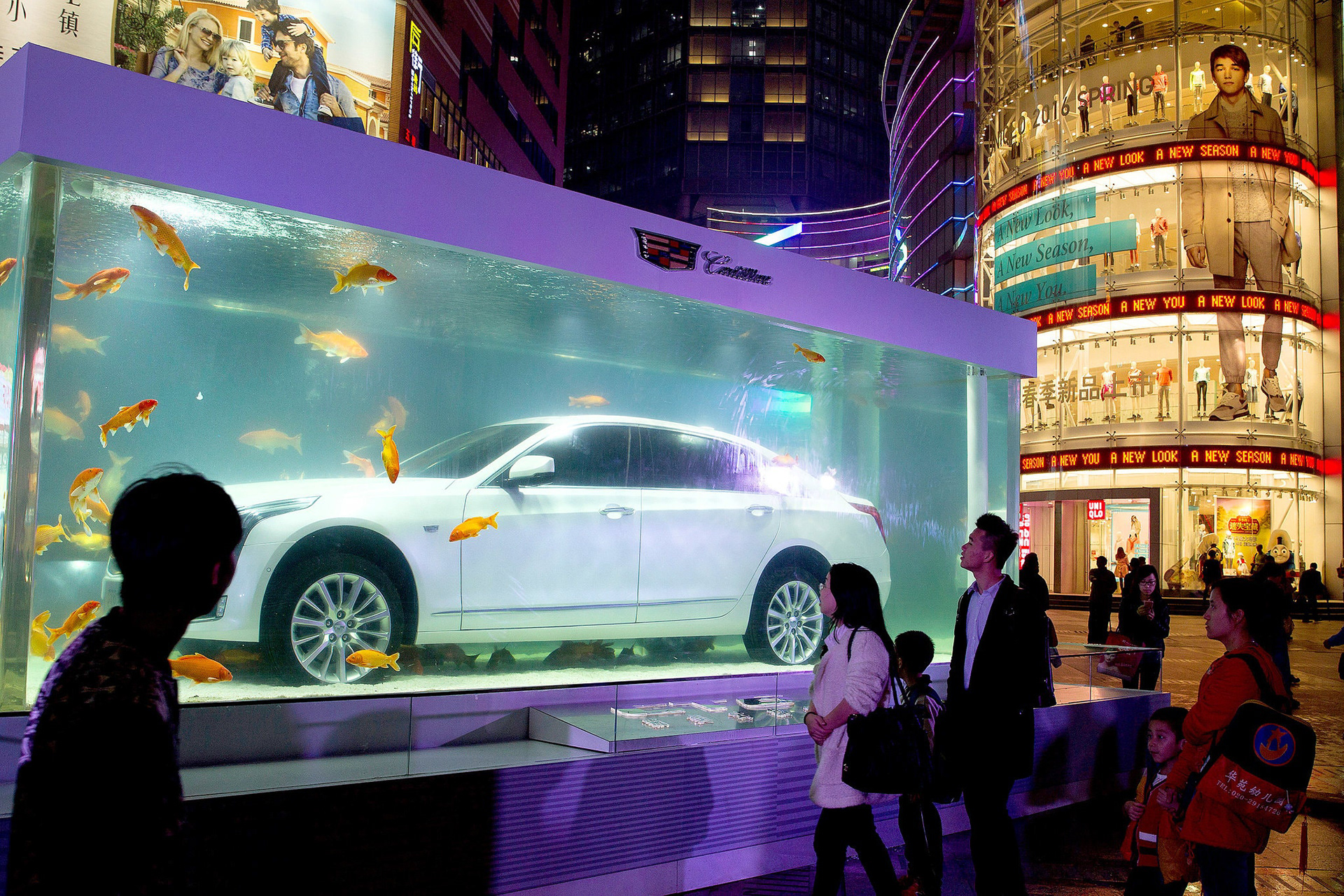 China's Car Ownership Barriers
China has the biggest passenger car market in the world. It attained that honor back in 2009 and has kept the crown since. 
But China has been a "car country" for only a very short time.
It wasn't until 1994, when the Chinese government redesigned economic policies to nurture domestic automakers and make car ownership accessible to people who half a generation ago thought themselves lucky to afford a bicycle.
Fast forward to 2016, car ownership ratio began to mature in China, and new cars no longer hold the same allure to car buyers as they used to.
This change in consumer attitudes and macroeconomic headwinds slowed growth in China's vehicle market.
How can we drive the market to be standardized and fair?
When I first joined, DCBP was a private car logistics company located in Taipei, Taiwan that operated completely offline. Their main business was to import and sell luxury used cars from places like Russia, Europe, Canada and the U.S. to car buyers in China. 
I was tasked to explore opportunities in the rapidly growing car market, and help transition DCBP online.
Chinese car buyers pay far much more for their exclusive ride than anyone elsewhere in the world.  
For example, In the United States, a Mercedes-Maybach S600 costs $190,275. In China the very same car goes for 2.88 million yuan, or $440,000, more than double the U.S. price. Or the Ferrari 512 Berlinetta, which costs $323,745 in the U.S., and 5.3 million yuan in China, which is $810,000, just over 2.5 times more.
The enormous difference is caused mainly by two reasons: high taxes and healthy entrepreneurship. 
A large part of the markup comes from the "China premium", where automakers charge higher prices in China because they know the eager Chinese buyers are more than willing to spend their cash on an exclusive car, especially if they can get it fast.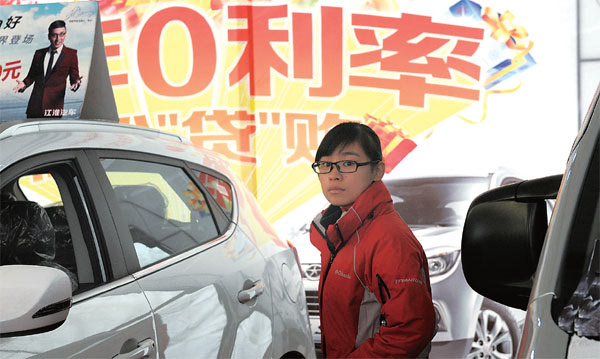 Consumer Distrust & Stigmas
For generations, there has been a stigma associated with buying used goods in China, where they have been synonymous with poor quality and poverty. 
Consumers' lack of confidence in China's system are due to significant incidents in the past, such as: corruption, carelessness, and lack of standard.
Variability in used-car quality can cause car buyers to spend days researching vehicles, before deciding to purchase.
For example, many of the used cars found at local dealerships are of very bad quality. Old cars sometimes get a superficial facelift with new paint to hide rust and scratches underneath.
But a bigger concern though is that a large share of the used cars have a road accident record. The first thing many car dealers say to costumers is "this car has not been in an accident" or "this one has been in an accident but is totally safe now."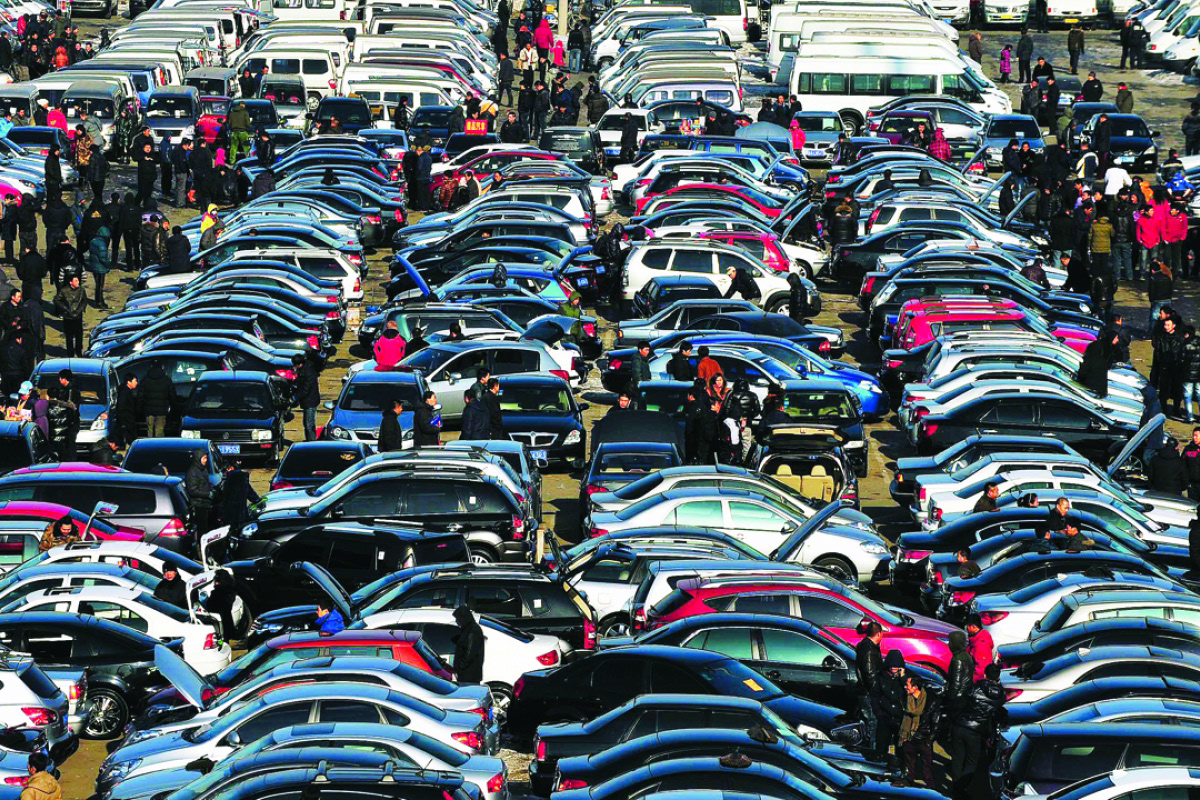 Car Buyers Are Turning thrifty
As the automotive market matures, consumers are starting to see cars as necessities rather than as status symbols and value begin to take priority. 
Younger Chinese consumers are embracing the second-hand economy, with sales and purchases of pre-owned goods from iPads to clothes, as being fuelled by online platforms. 
New shopping habits like comparing prices and shopping online began also contributed to the change in behavior. 
 cars used to be a hard sell in China as owning one is associated with settling for less. But things are rapidly changing as drivers realize they can get a decent car for a reasonable price when they buy second hand.
"All Chinese admire the American way of life, and just like Americans, they feel they want their house as well as their own car."
Inadequate Financing Hinders Affordability
Unlike older Chinese consumers who prefer to pay in full with Cash on Delivery (COD), millennials need help with financing. As they gradually become core car buyers, financing services can help them make purchases earlier than they might otherwise do if they were paying in full, like their parents. 
This is why auto financing is more acceptable among Chinese born after 1980.
Some of the concerns are: 
     •   High expense of the service of car finance and the low buyback price of cars
     •   Down payment shall be no less than 50%
     •   High credit requirement, some banks require house property as collateral or other tangible assets
     •   Strict restriction on vehicle age, condition, mileage, assessed value and brands
     •   Slow in approval and loan lending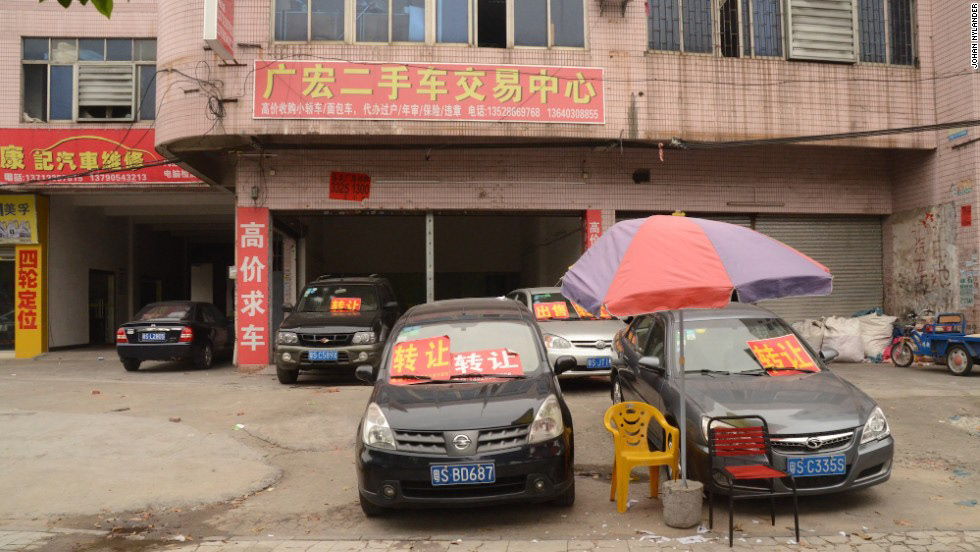 Lenders Find Auto Financing 'Too Risky'
The auto financing sector was trouble when China previously tried to pump up car sales through loans after the Asian financial crisis of the late 1990s. A lack of risk control resulted in widespread defaults and a government clampdown for several years in the mid-2000s.
Although the demand for low down payment and low interest finance products have increased, auto financing is still in early development phases due to policies, financing channels, scale, and commercialization.
Most lenders still find it difficult to control the risk of default on auto loans, because there is no reliable credit rating system for individuals comparable to the U.S. And cost to recover loans once a default happens is extremely high. 
The reliance on third party's assessment on vehicles's residual value is another risk, as there are often false assessment or overvaluation, which expose them to more risk. 
Supply Side Dilemma: Trade-in or Private Sale? 
Car owners universally dread the selling process. Trade-ins is known to be a rip off. Listing privately can yield the best deal in some cases, but it's also time-consuming and a hassle. 
Many sellers go through the process of a private sale, only to end up trading it in at the dealership after they realize they don't want to deal with potential buyers. 
It's often a matter of trading price for convenience. That means that if they're in a hurry to sell, or they are looking for the easiest way to sell, the should expect to get less money. But if time and convenience are not overriding concerns, they can get the best price for the car.
     •   access to a large selection of quality car source
•    
room for more affordability
•    
trustworthy information and transparency on car value, history and condition
     •   easily advertise their car for sale 
     •   find the right buyer
     •   to negotiate the best price at the cost of convenience
     •   trustworthy assessment and valuation of used cars
     •   to monitor and manage their assets
     •   cost efficient way for repossession
4. Understanding The Competition
In most developed economies, sales of second-hand cars outnumber those of new vehicles by about two to one but the opposite is true in China. As inventories rise and consumers become more comfortable buying second hand vehicles. Used cars are poised to take off in the next few years.
Franchised dealerships account for only about 5% of used-car sales and fewer than 10% of dealerships have their own-brand used-car sales operations. 
Independent dealers account for the majority of used-car sales in China, and C2C transactions, some conducted online, account for 15%.
More than half of consumers aspire to upgrade to a better brand when they buy their next car, however, price markups, poor vehicle conditions, unavailability of financing and insurance continue to be problematic.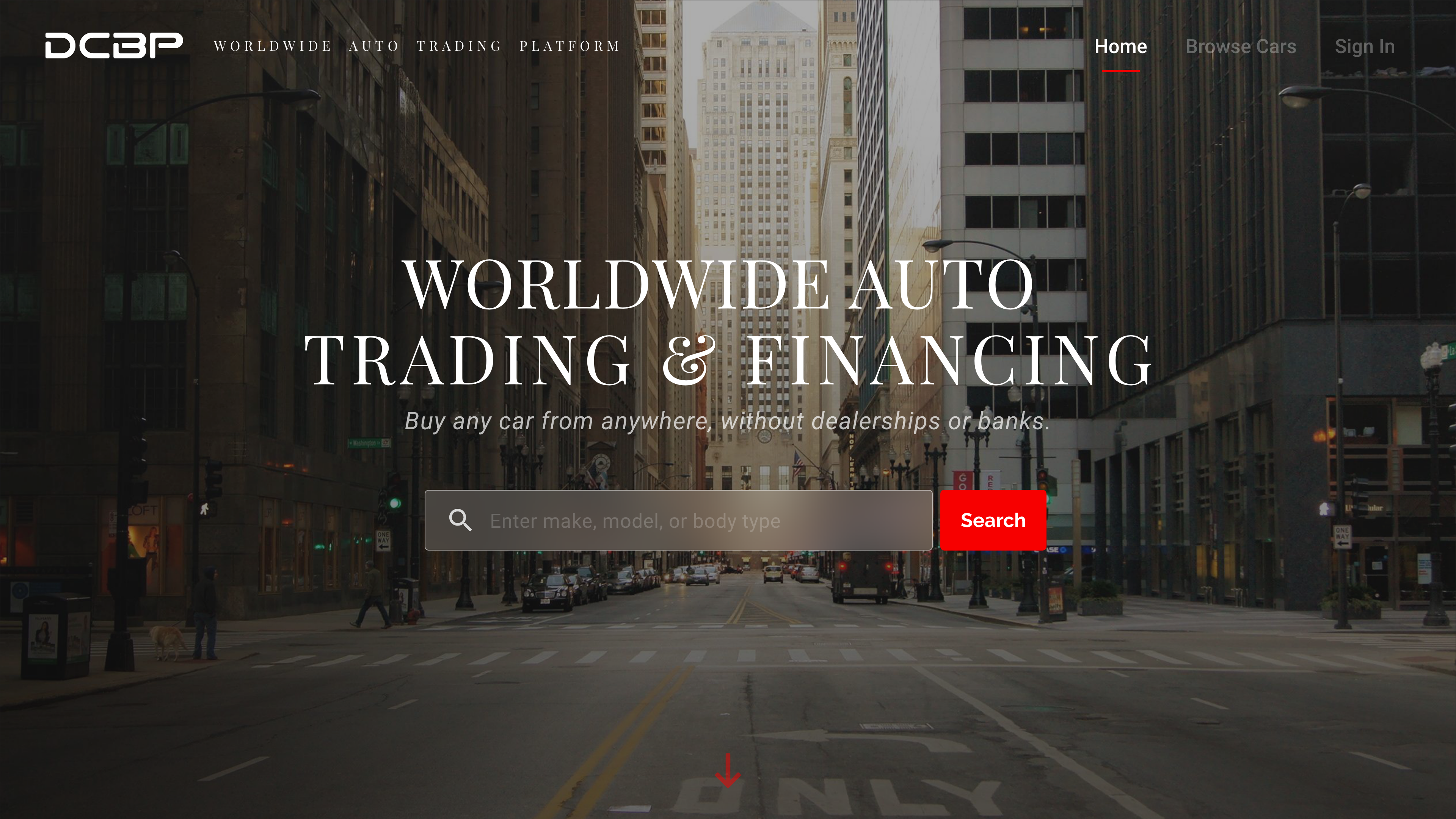 Buy & Sell Cars Anywhere In The World
We created the only global C2C used car trading platform that connects car buyers in China with sellers around the world. 
By leveraging DCBP's experience in logistics, we're able to remove price markups by the middlemen, and arbitrage deals that allow everyone to profit from the massive price differences. 
Our goal is simple: to drive the market to be standardized and fair. Hence, we must start by leveling the playing field on a global scale, giving customers access to financing, and combating the lack of transparency regarding vehicle condition and price.
The Three-Pronged Strategy
In order to communicate and execute our big ideas effectively, we needed to break them down, so we organized our vision into three product segments: 
Not only did this strategy add clarity to our value statements, it also made our pitches much more fluid and effective.
Presell To Generate Demand
Shopping for a used car is like going on a treasure hunt. You have to know where to look, or you will just be wasting time. But even if you know where to look, you might now know when you might find gold. That's why we scour the world and put all the treasures we found in one place. Hence the decision to put search front and centered.
With a background featuring the New York streets, the appeal is designed to make customer feel like they're traveling to a different country. 
Prime conditioned used cards, anywhere from 1 to 8 year-old to ensure quality and 10%-30% lower in total cost, are sourced from partnered car dealerships in the U.S., Canada, Russia, and Europe. And we partnered with local mechanical shops add customer confidence, and demonstrate that a digital player can take care of all their needs, end to end, just as a traditional dealer can.
One of the benefit of having a C2C platform is, unlike traditional dealership who often worry about inventory, since the transactions occur at the same time, there is almost no holding period, and vehicles are protected by insurance during transport, so risk is incredibly low.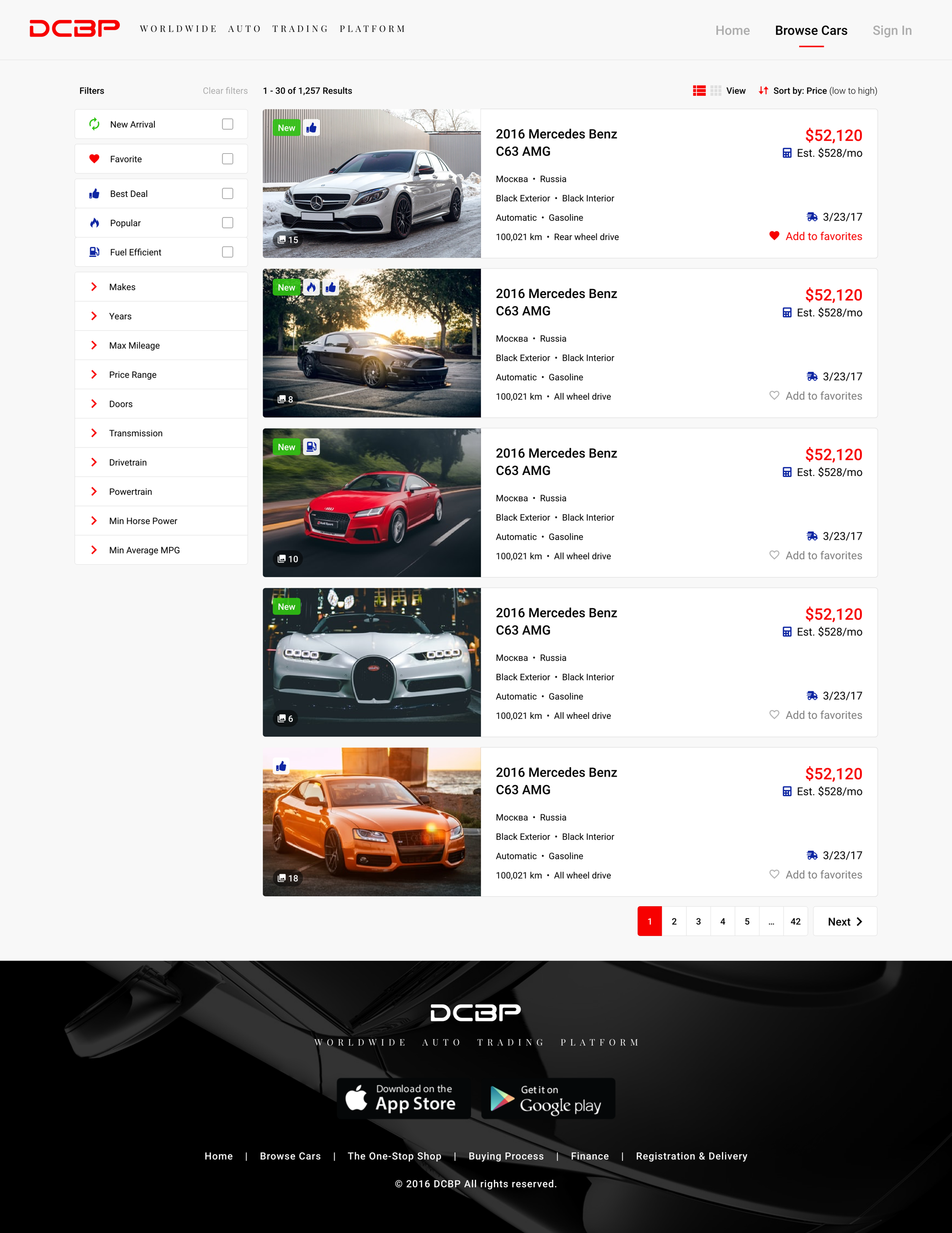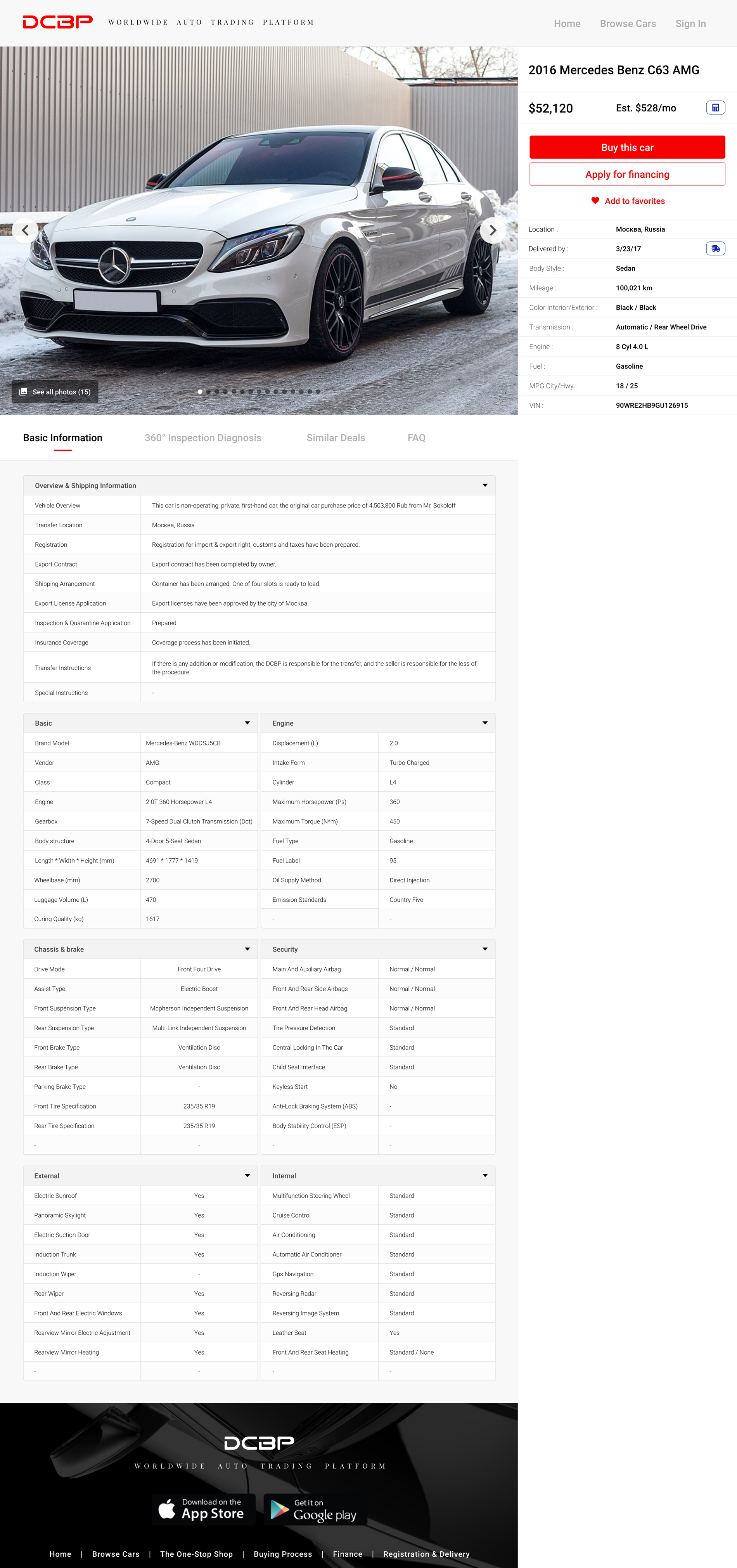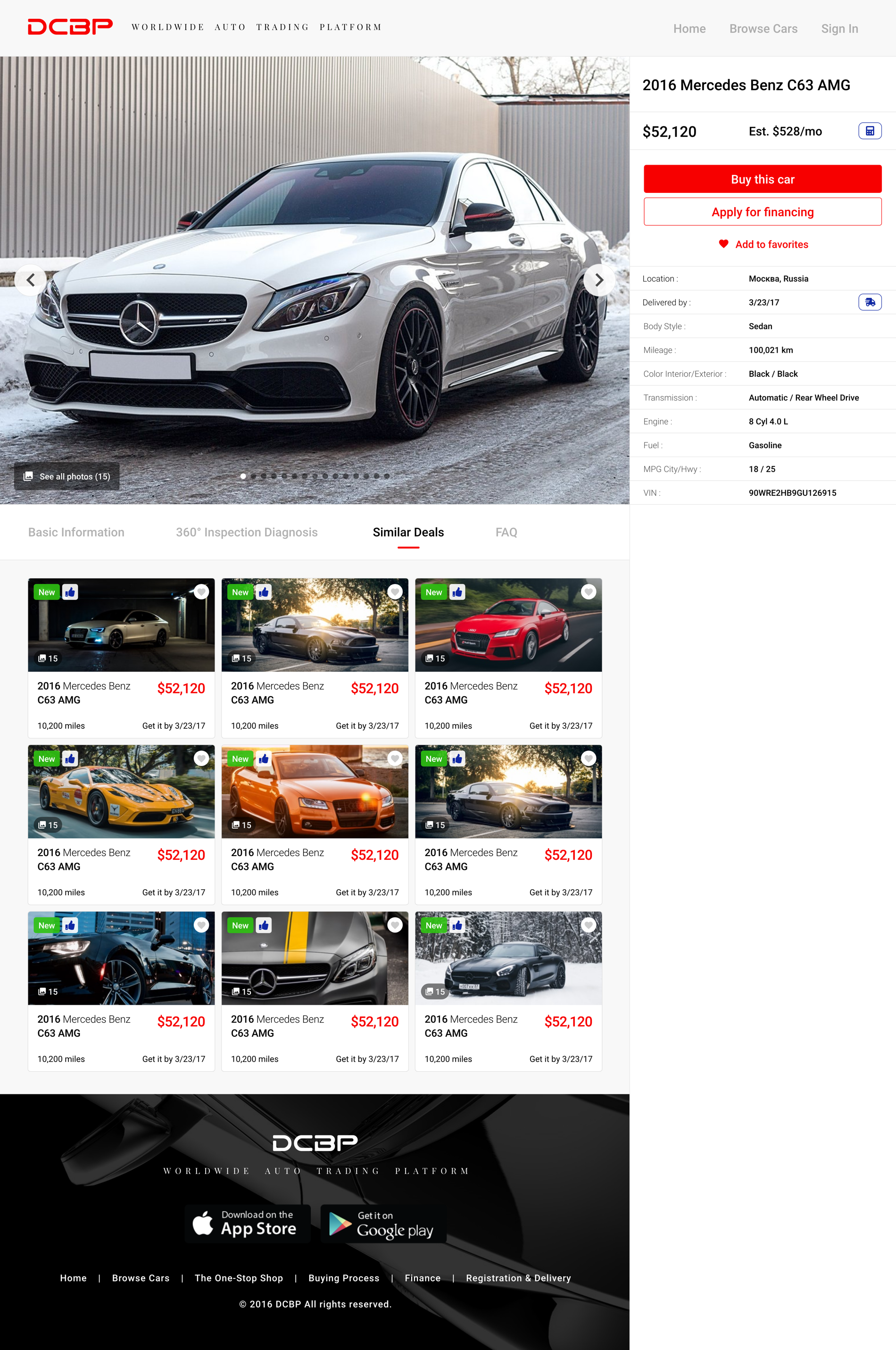 360° Inspection Diagnosis + Report
To make sure cars sold through us meet our standard in quality, every car we sourced is diagnosed  under a full 360° Inspection and our diagnostic report will show a 156-point detailed items on the vehicle. Along with high resolution photos and video that reveal physical dents, dings, scratches or any imperfections.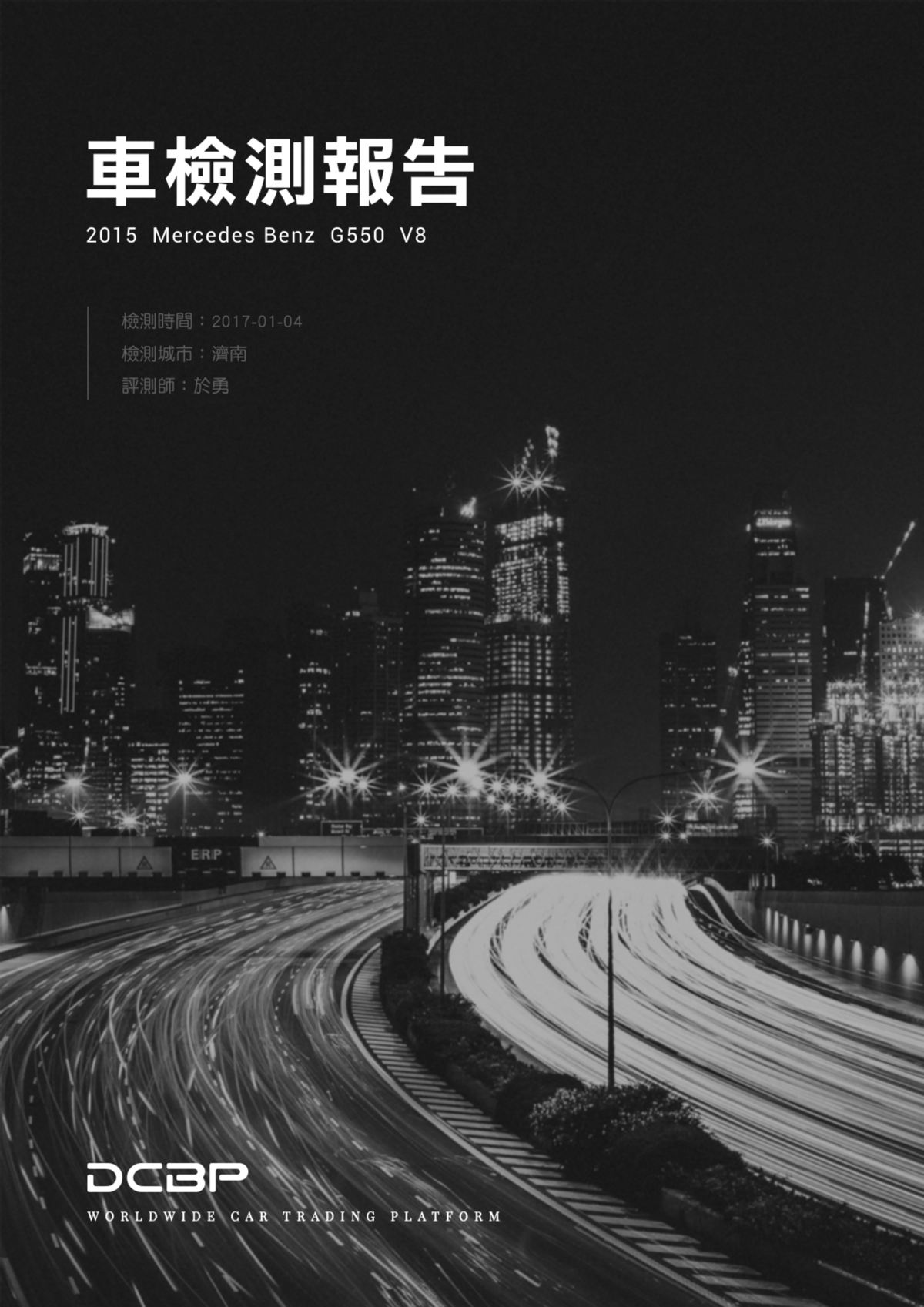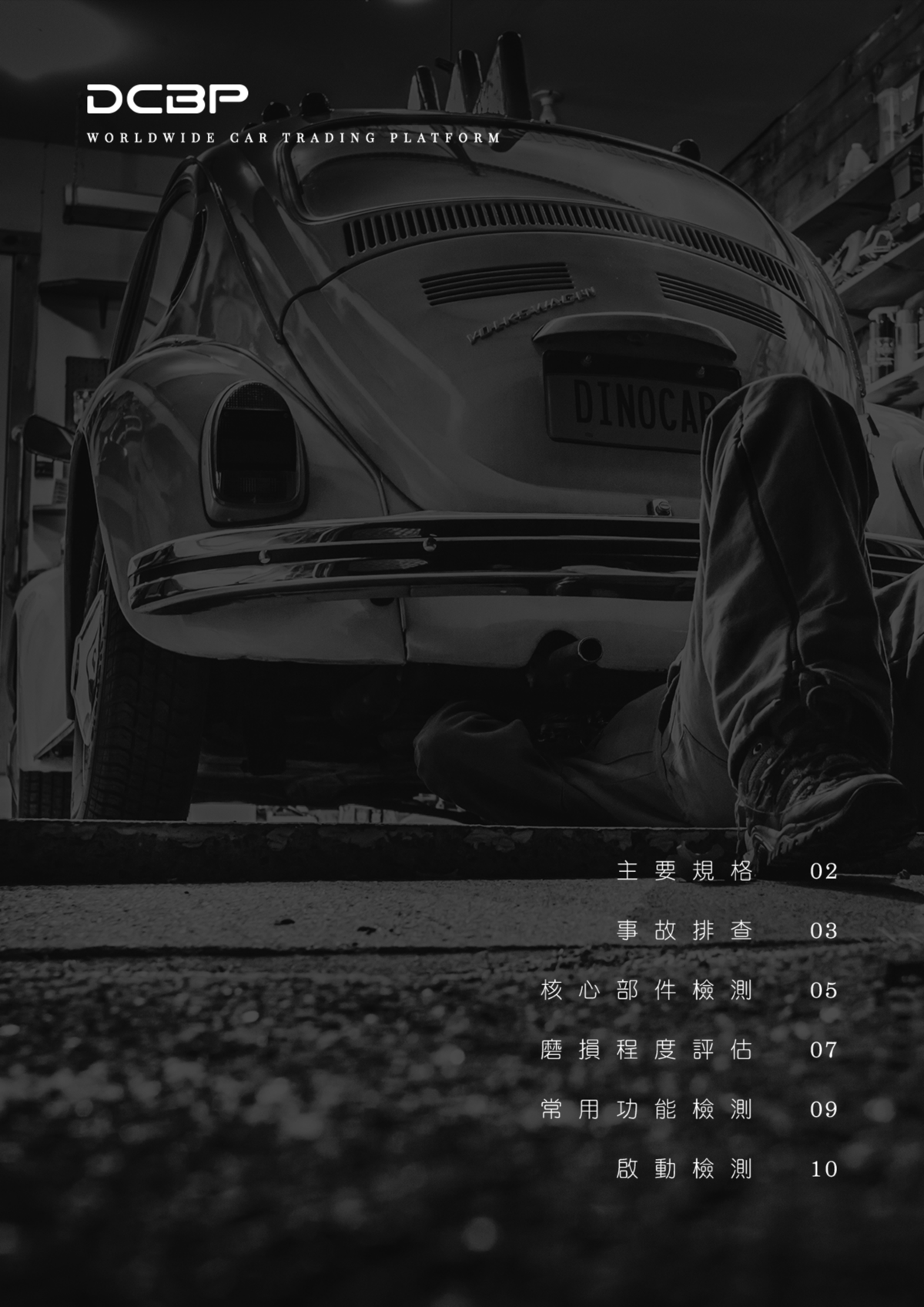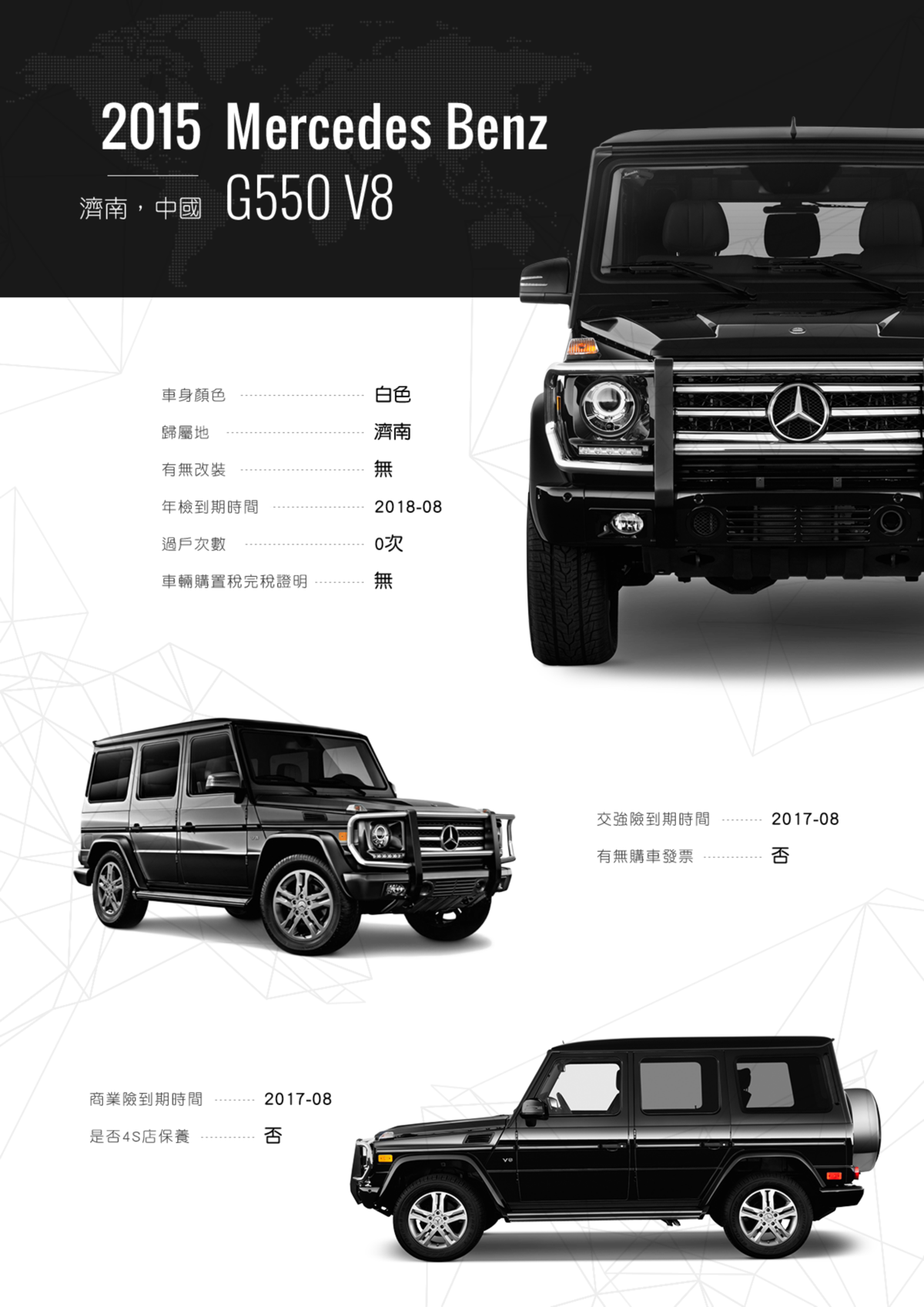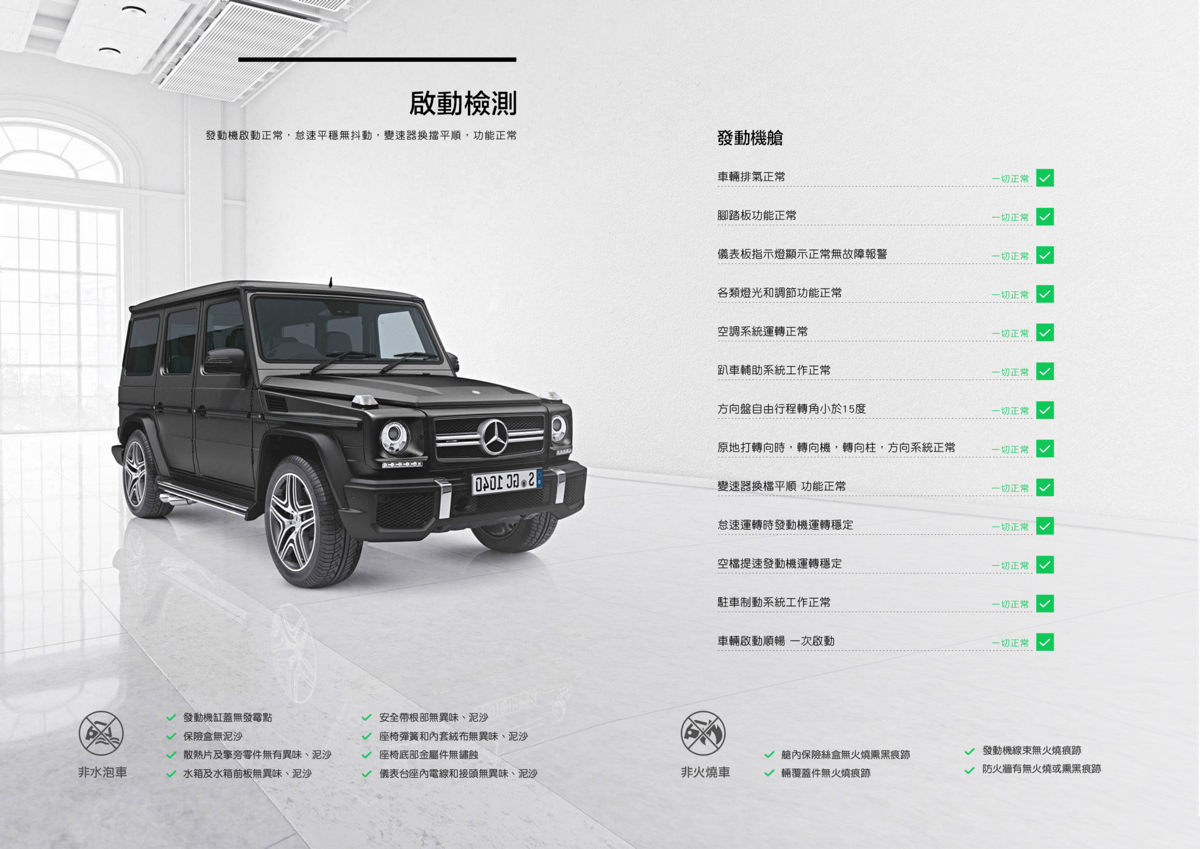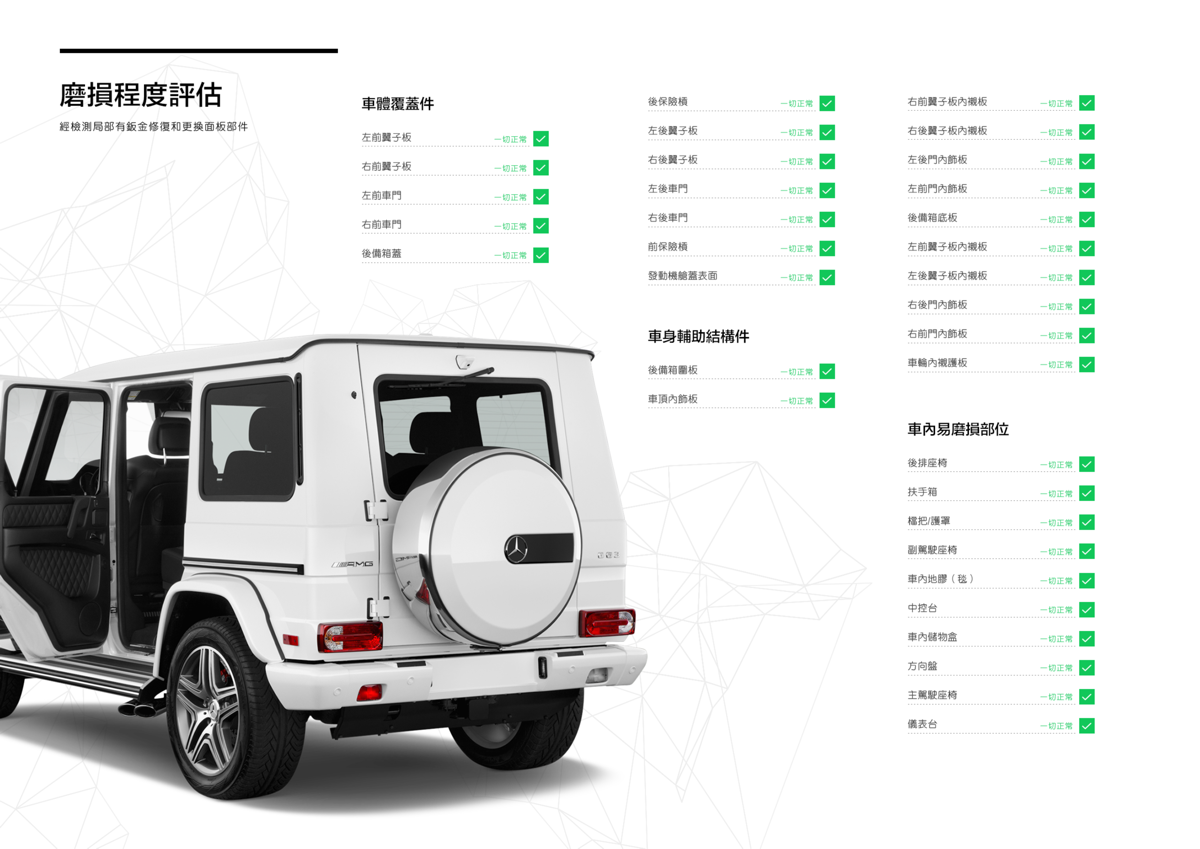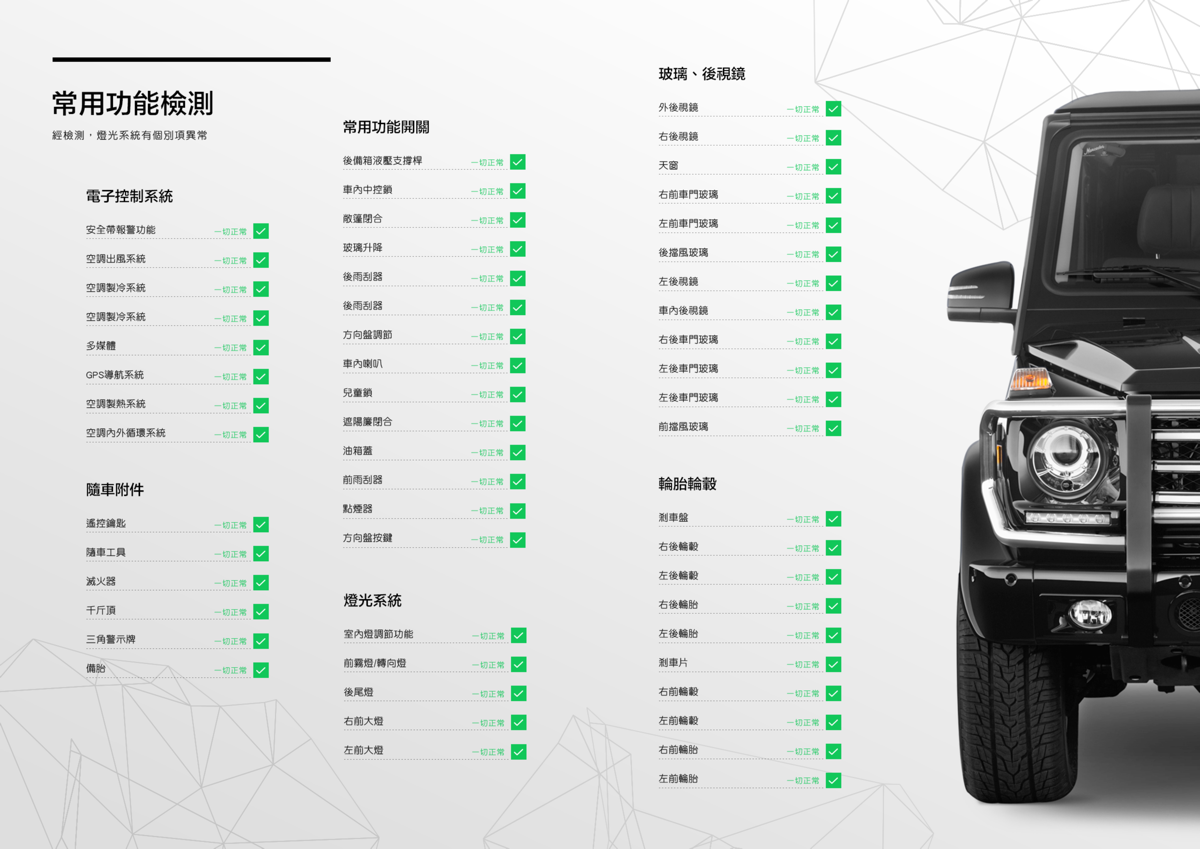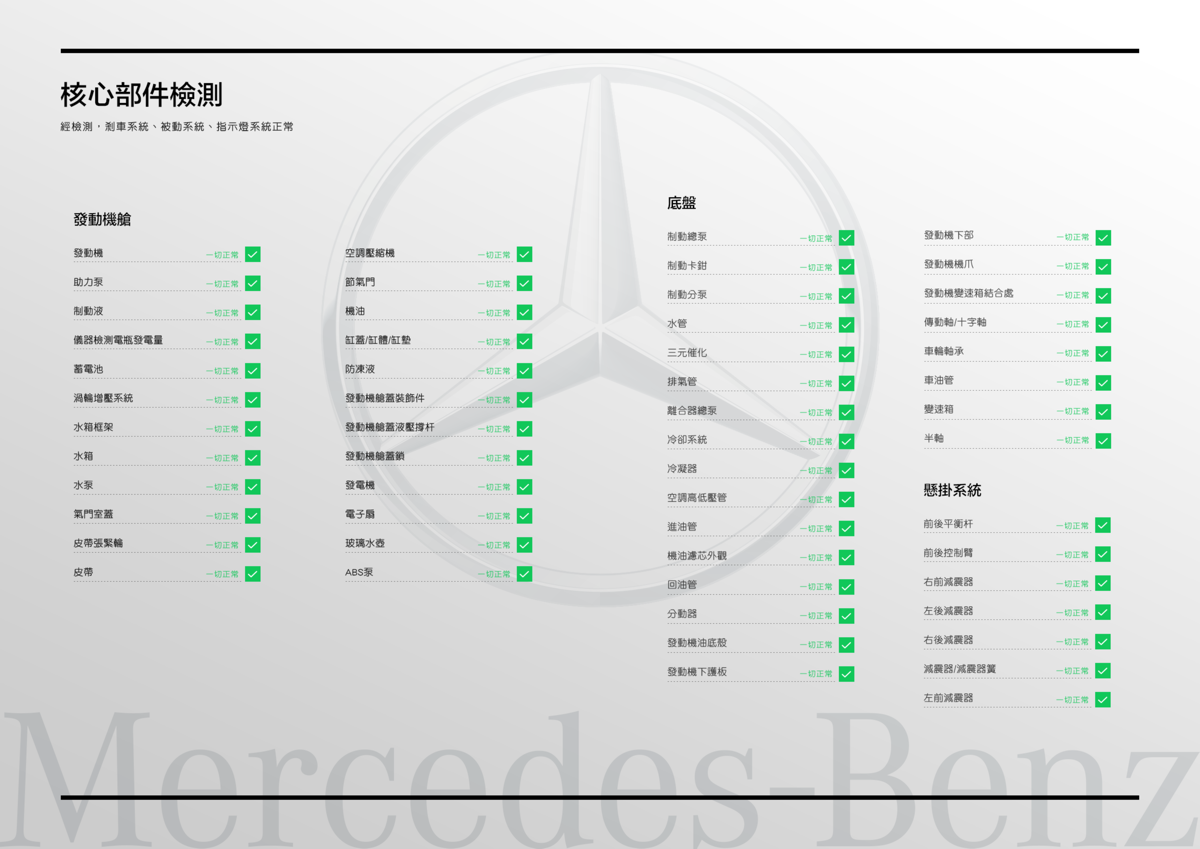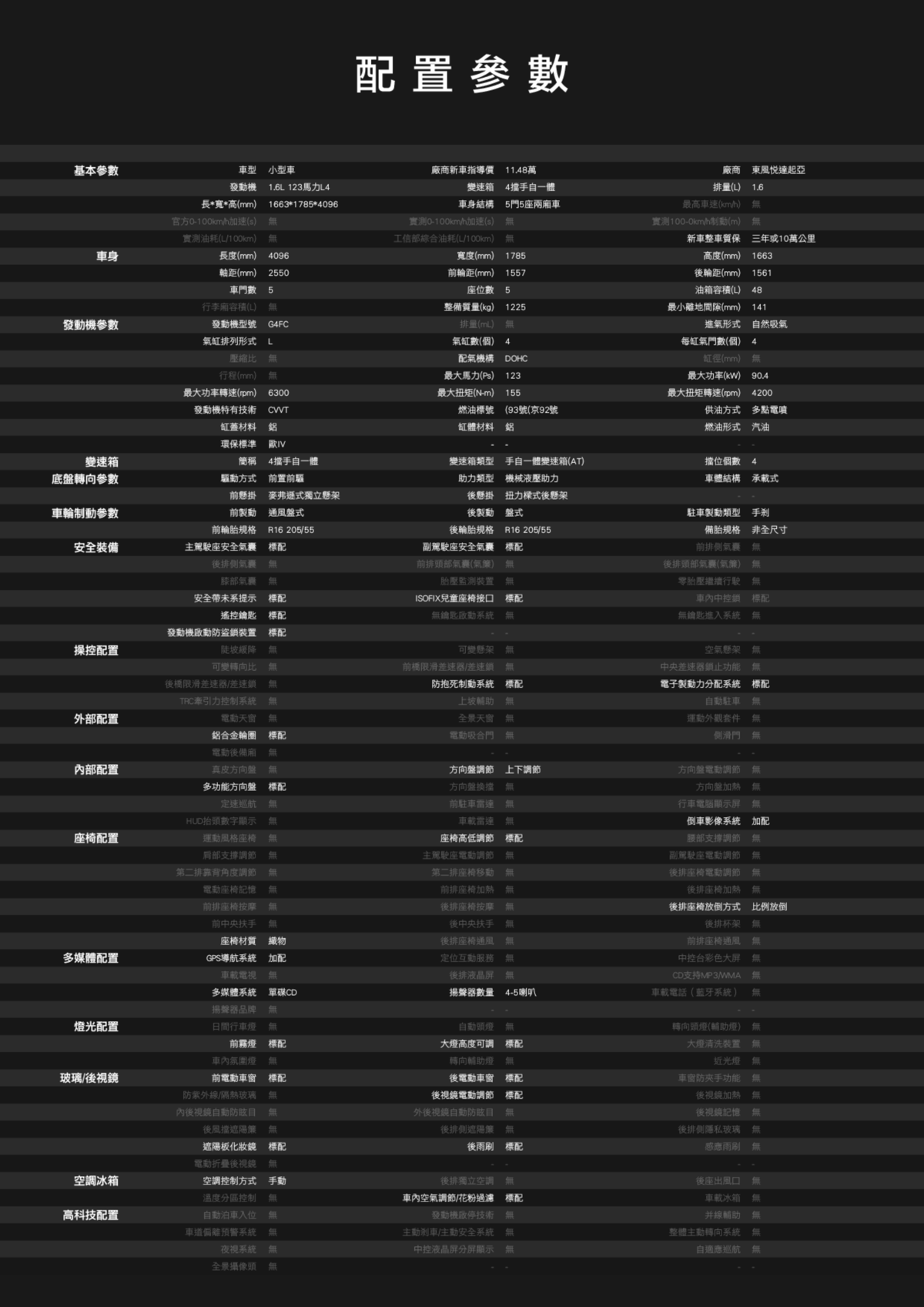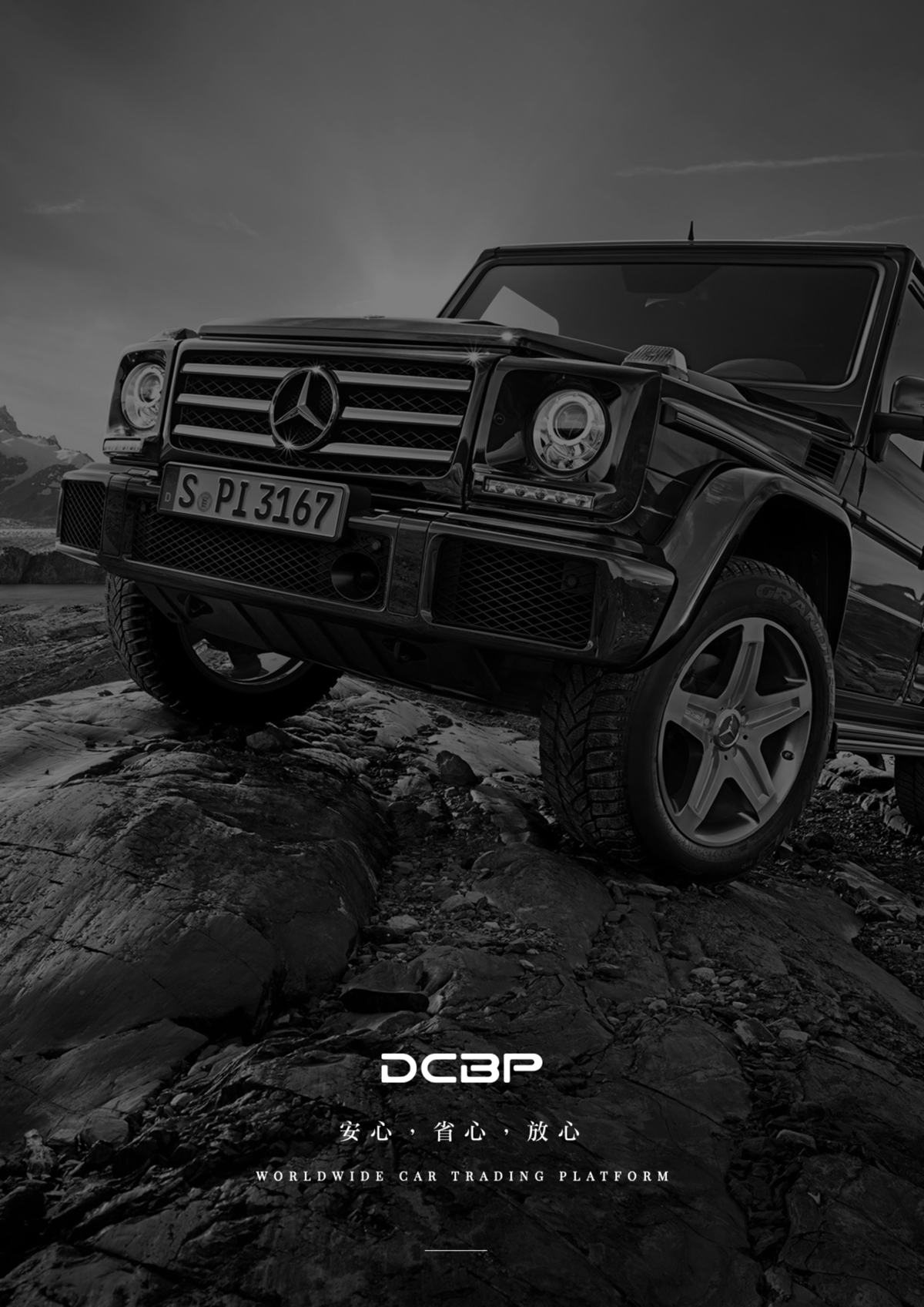 To relieve the huge burden of laying out a large sum of cash, we added simplified financing process to improve customer satisfaction. The flexibility of personalizable financing amount, down payment, term length, monthly payment, and APR will help turn financing from an afterthought into a key part of the overall customer experience.
All customers get a 7-day test-drive period, where they can take the time to inspect the quality of the cars for themselves in-person, before making a decision. 
Painless returns are available in the form of a simple phone call for pickup. With demand being in our favor, cars will then get processed and go straight to the next buyer in line for the same model.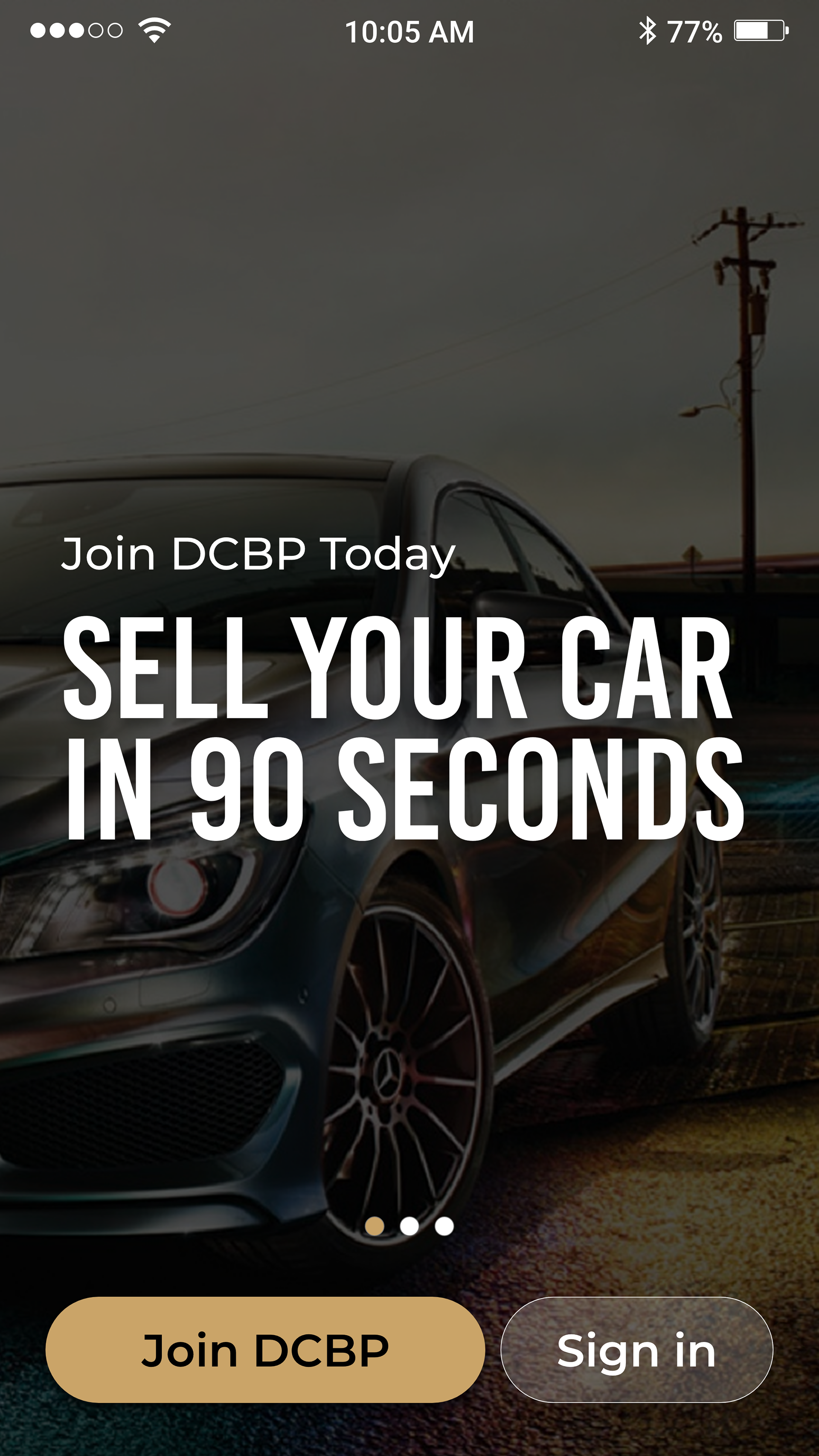 Sell Your Car In 90 Seconds
Selling a used car privately can be a hassle. Unless you have pre-sold customers waiting to take your car home.  You have to do things like pricing your car competitively, run classified ads, list it online, field phone calls and have strangers come to your home for test drives. It can feel like the most horrendous traumatizing experience for many people. But it shouldn't. 
In fact, on our DCBP mobile app, sellers can easily post their cars and get matched with a buyer in less than 90 seconds, on their smartphones.
By simplifying the strenuous selling process and cutting total time spent, we hope to not only source more cars, but also to shorten the average ownership period of our users, and stimulate the trade frequency of the car market as a whole. 
Getting a fair price doesn't always have to be an agonizing negotiation. With our haggle-free pricing structure, prices are directly correlated with the urgency of the sale. The faster you wish to sell, the lower the price, and vice versa.
Prices are transparent and at least 15% higher than any local dealership trade-ins available in nearby area.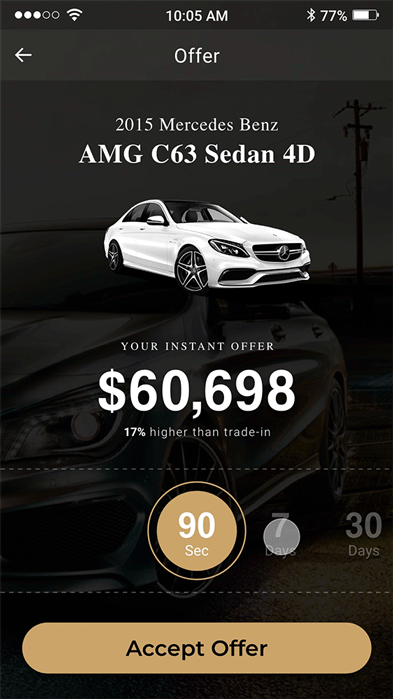 Much like most point-of-sale transactions, the experiance feels like a one-time handshake. We take full custody and ownership of the car once the sale is completed, and deliver it, internationally, from door-to-door.
Once an offer has been accepted by the seller, a local vendor will be sent to complete diagnostics, paperwork, finalize the payment and pickup. Sellers are paid in full on the spot, and they will never have to interact with buyers, or answer their emails for the next 6 months.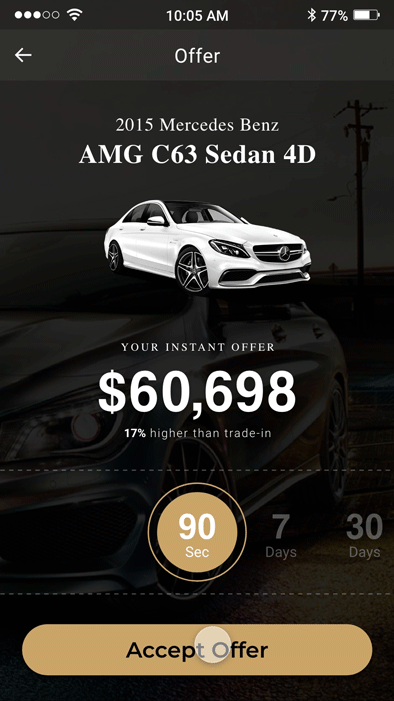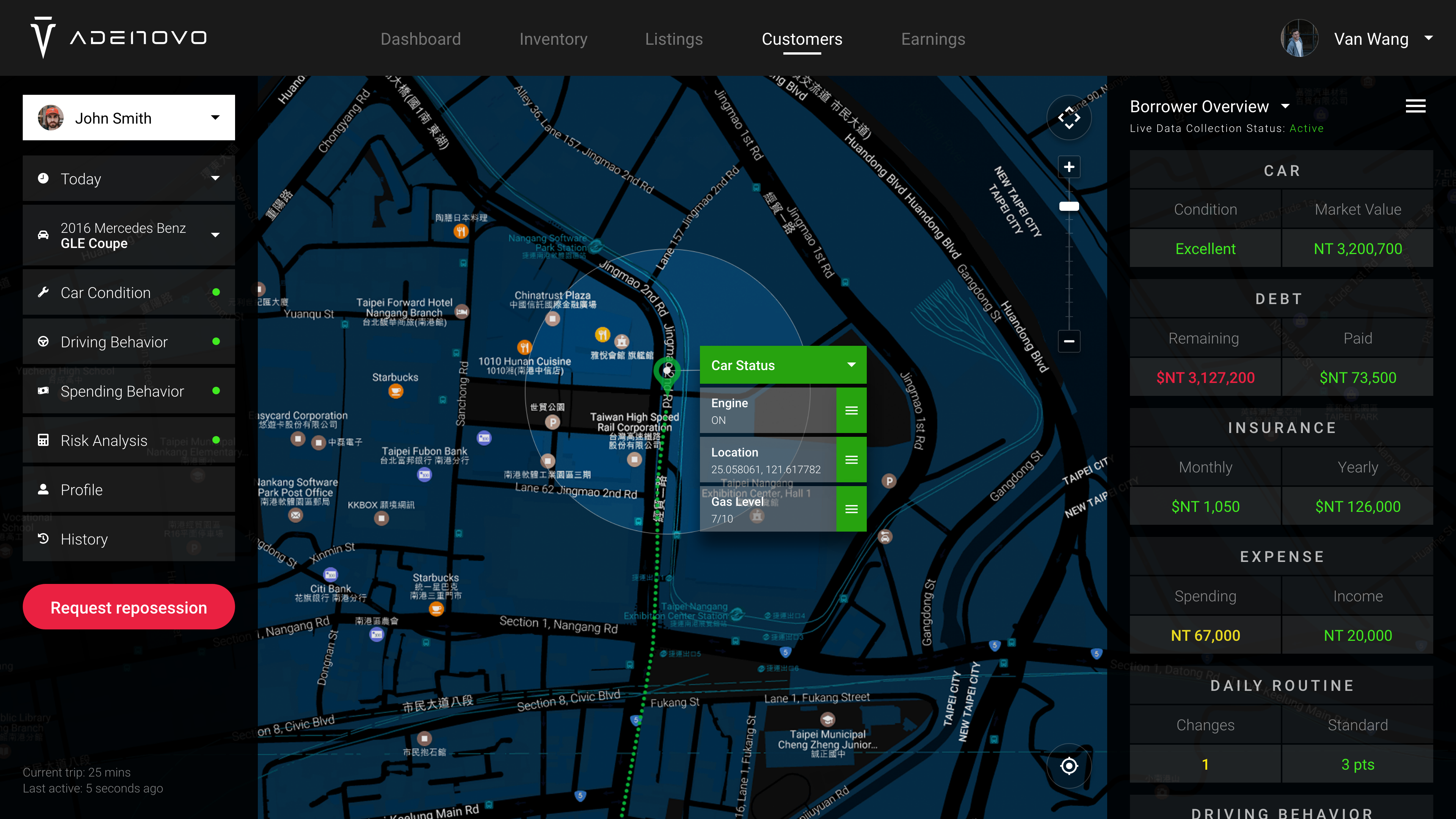 Introducing Adenovo: Risk Management Powered by A.I.
To help us reduce marketing nightmare, the financial arm of DCBP is under a separate entity called Adenovo. Again, this separation will help add clarity and reduce marketing complications, not to mention the cost structure can be very different.
In order to combat the lack of reliable credit rating system in China, we created our own risk management system by tracking personal patterns to prevent delinquencies and defaults.
The idea is to standardize risk level so anyone with capital can become a lender, and to provide inclusive financing to as many borrowers as possible.
Risk Management With I.o.V. 
In order to accurately track borrowers personal patterns, spot irregularities and intercept defaults with precision, we require two procedures from borrowers up front:
•   Integrations with their financials institutions - to monitor their income and spending habit
•   Equip their cars with tracking sensor - to analyze driving pattern such as: car location, driving speed, harsh braking, rapid acceleration, etc, to predict risk and help with repossession. We lovingly call these modified vehicles the I.o.V.s (Internet-of-Vehicles).
Successful Funding Round From Alibaba
On September 12th, 2016, we had a soft launch for DCBP at TechCrunch Disrupt in San Francisco. It was a fantastic experience. We accrued a ton of interest, even though we did not get to participate in Startup Battlefield on stage. 
And on November 7th, 2016, Ocean, our CEO, pitched Adenovo at Web Summit in Altice Arena, Lisbon, Portugal. 
All the accrued interest paid off in 2017, when we raised one of the most successful Series A fundings, as a startup in Taipei, from Alibaba Entrepreneurs Fund, a subsidiary of Alibaba Group. 
For confidentiality reasons, funding amount have been omitted.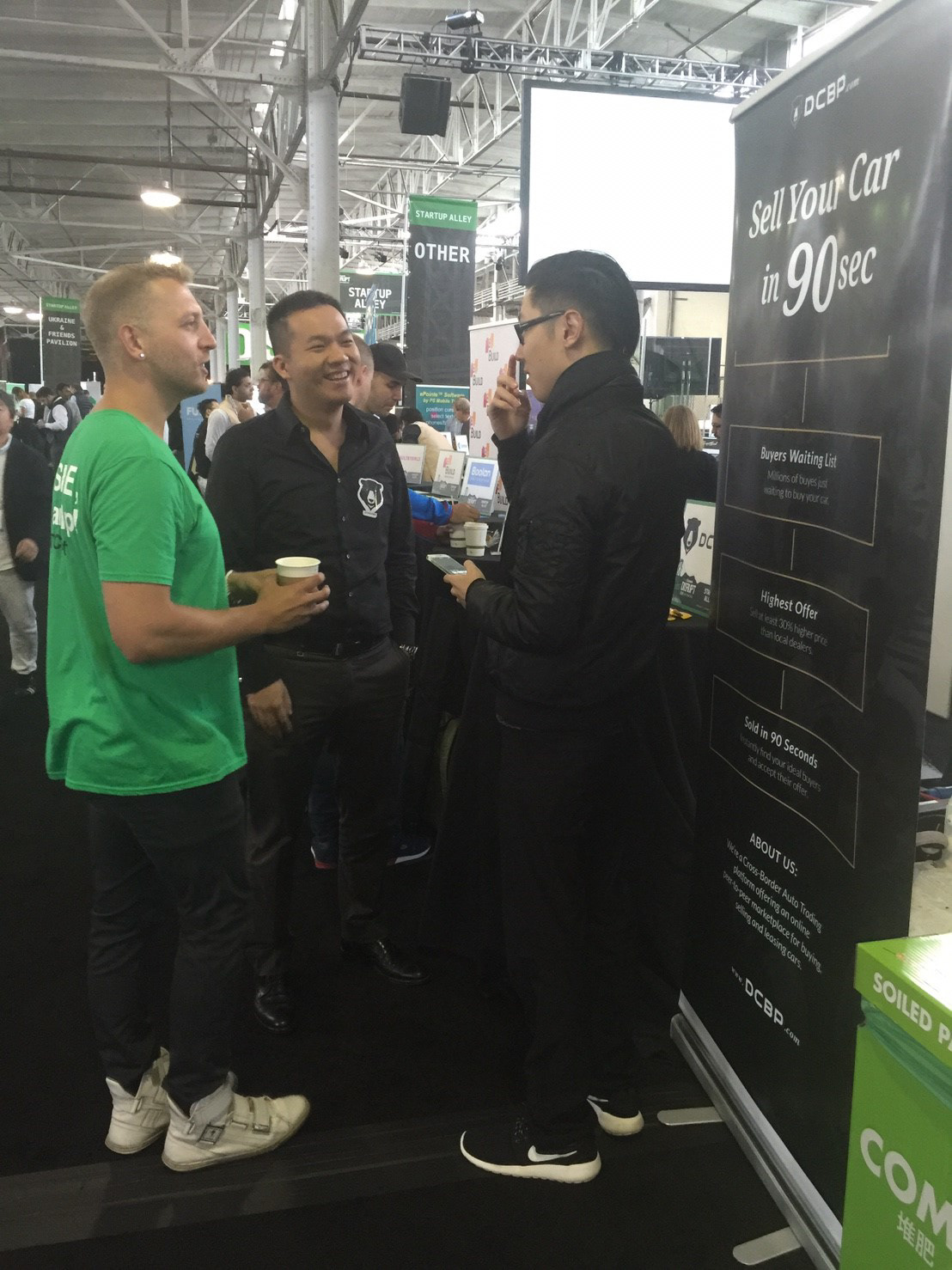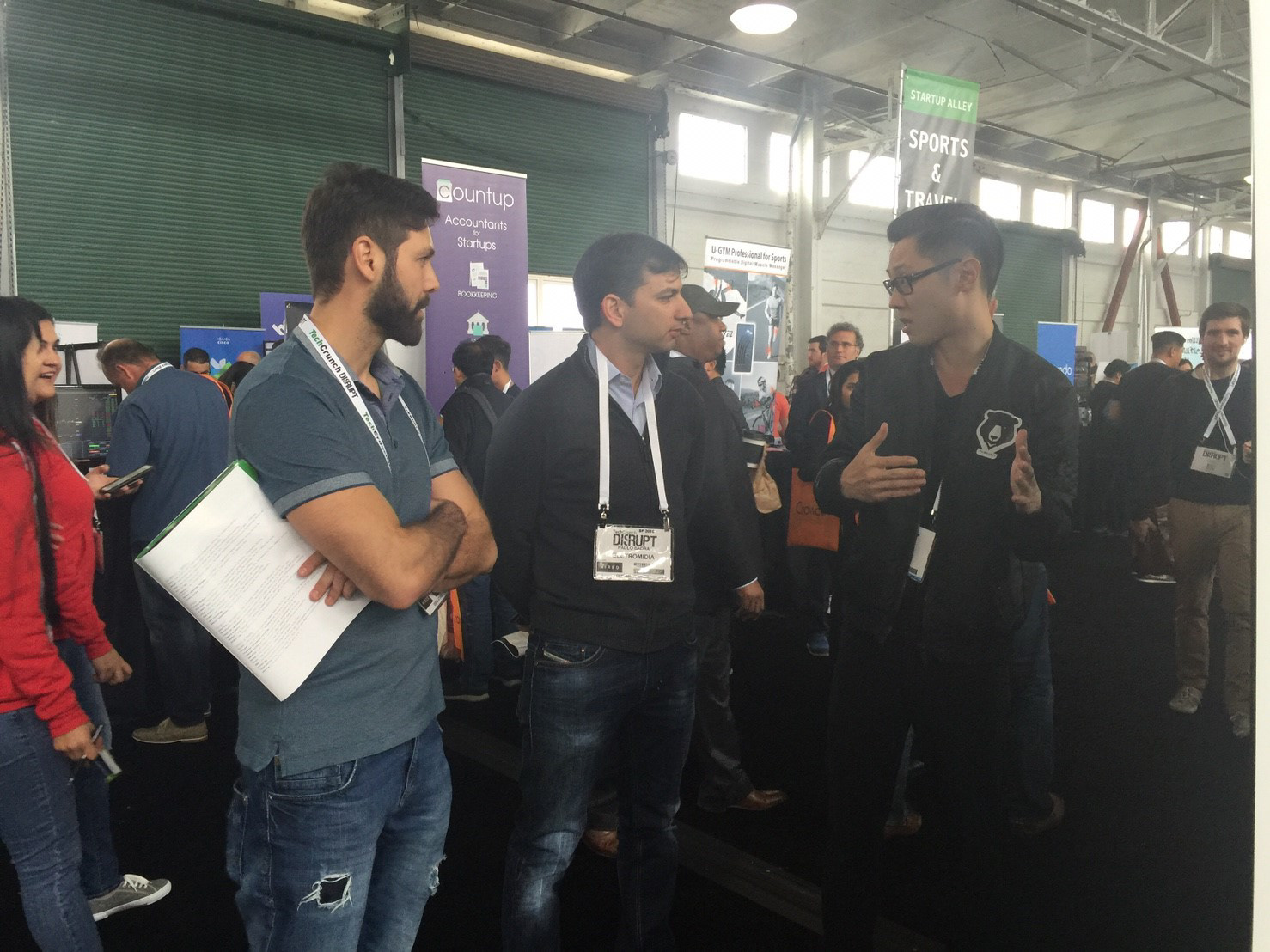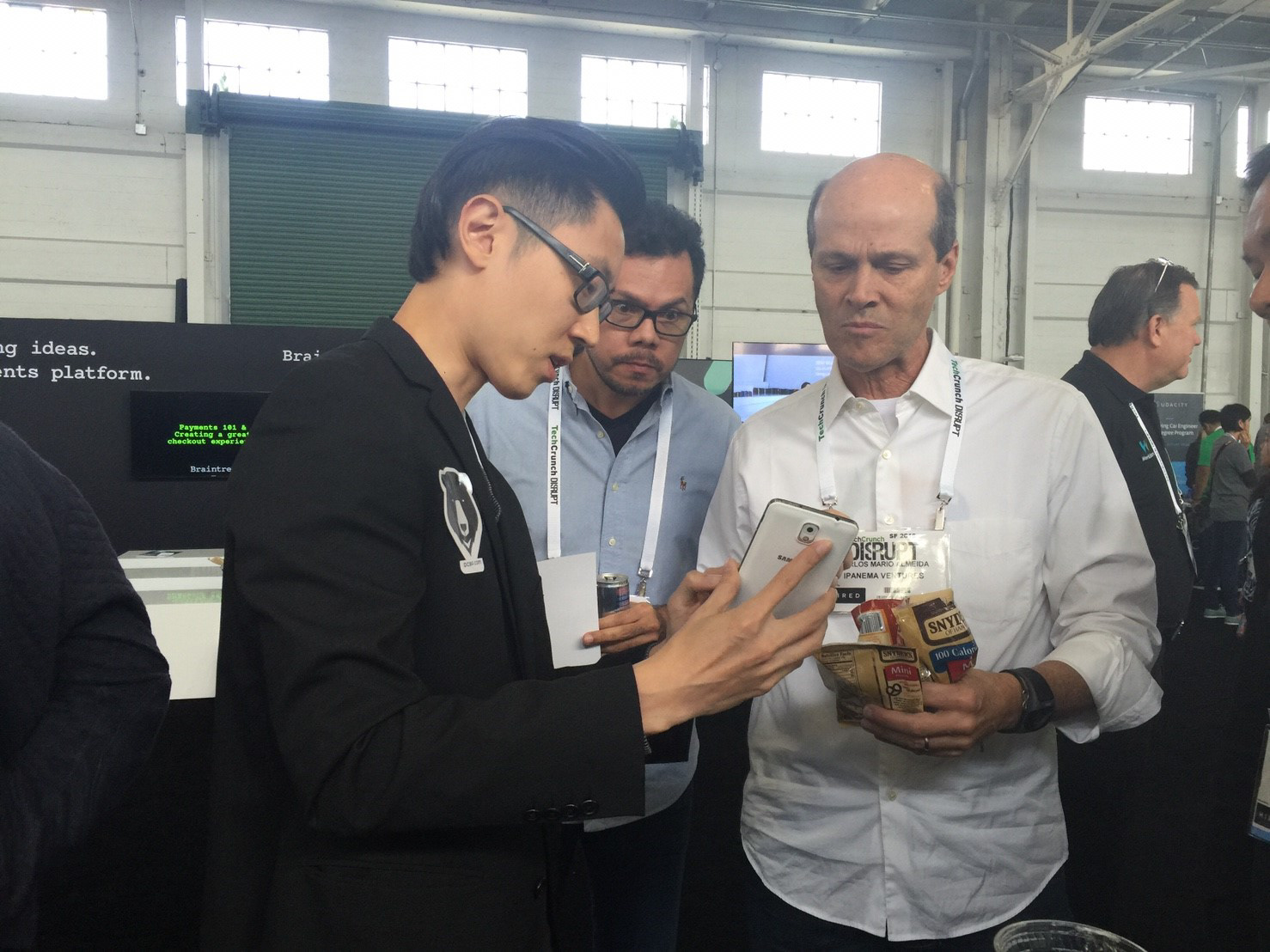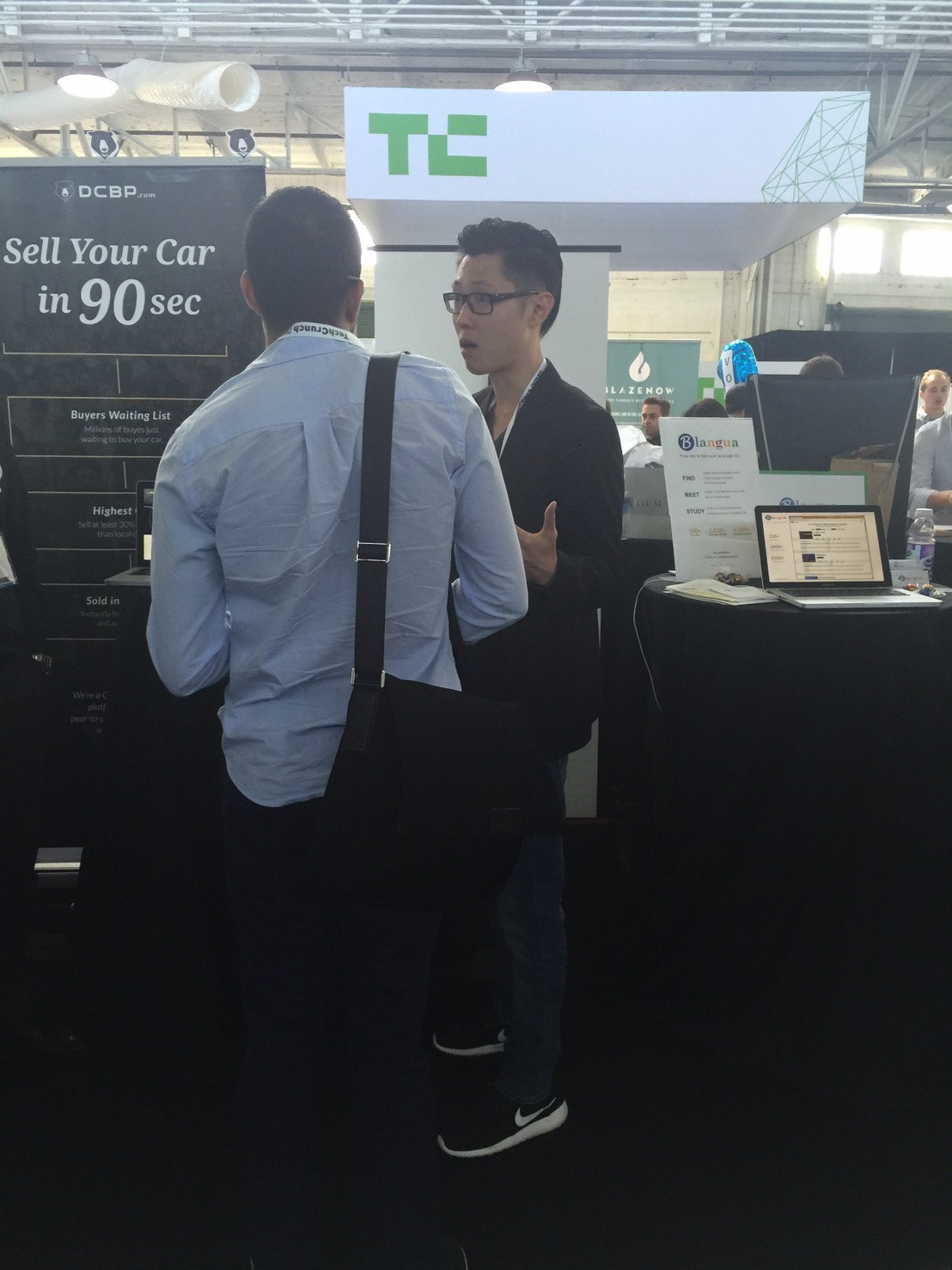 From humble beginnings, we built and proved the worthiness of our models and products. And somewhere along the way, we found validation even with odds stacked against us. This was one the most rewarding experiences of my life, til this date. 
I'm grateful and proud of our accomplishments, but this was by no means the finish line. DCBP and I have tasted flight, and we will forever walk the earth with our eyes turned skyward, for there we have been, and there we will always long to return and fly even higher.