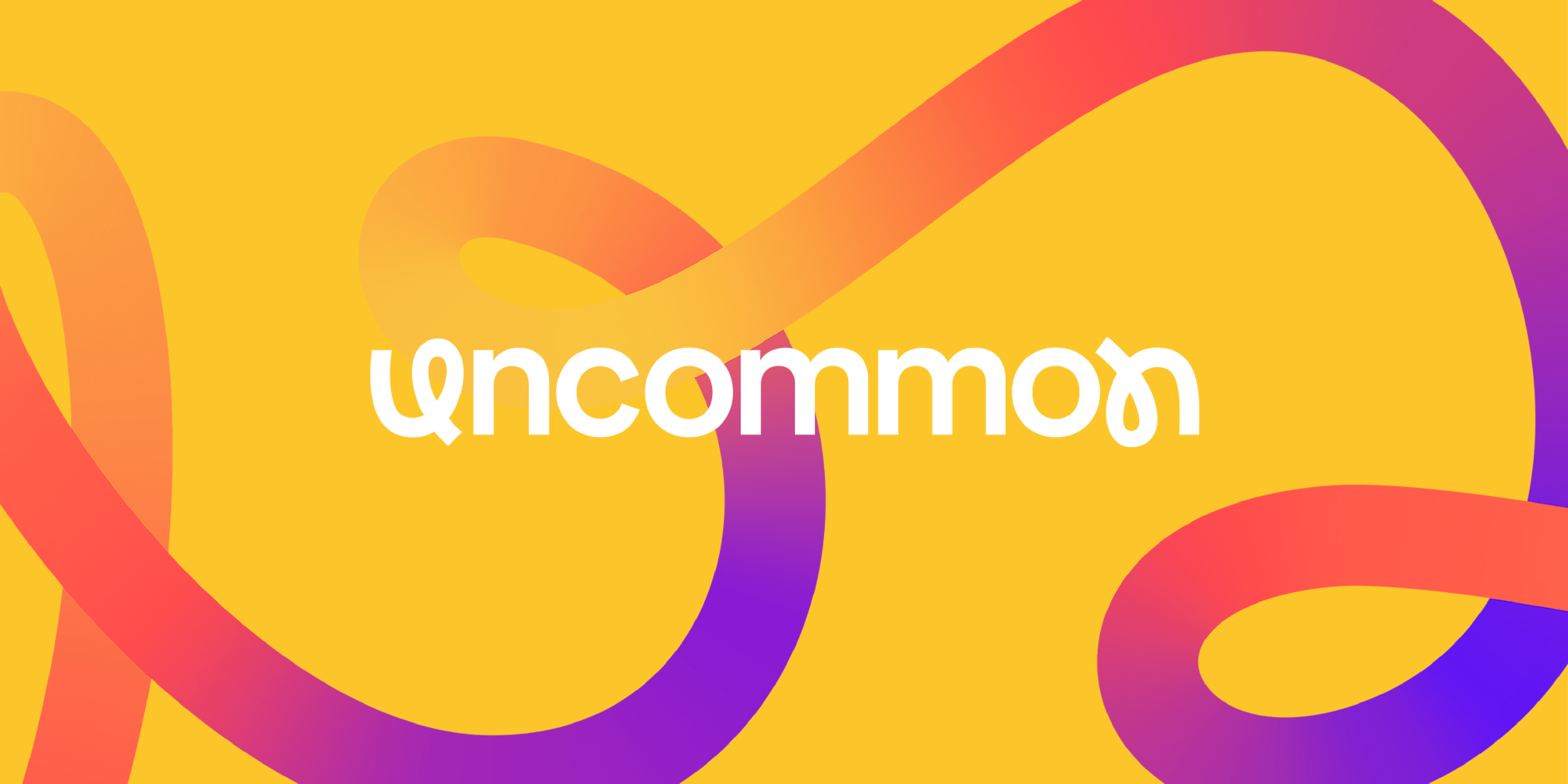 Qualification Based Talent Marketplace
Uncommon is a web-based recruiting platform that offers 100% interested and qualified candidates. It provides automated sourcing, screening, and outreach to help recruiters shorten time-to-fill and reduce cost-per-hire.
To comply with my non-disclosure agreement, I have omitted and obfuscated confidential information in this case study. The information in this case study is my own and does not necessarily reflect the views of Uncommon.
I was the Lead Product Designer at Uncommon from 6/2017 to 2/2019.
The team consisted mostly of engineers and operations and I was responsible for redesigning the entire product, which included research, user experience, interaction design and visual design.
I collaborated with a product manager, who focused on high-level goals and directions, and I worked with the heads of front-end and back-end engineering to ensure quality and feasibility.
The idea of Uncommon was sparked by the disconnection between employers who want to hire but seldom find a fit and qualified candidates who wish to find a job but often get overlooked.
The original Uncommon platform -built before my time- was a job board aimed to serve candidates. It did so by allowing candidates to match, search, browse and apply to lists of jobs. However, the product had issues such as sign-ups, onboarding, conversion, dead-ends, etc.
The unemployment rate hit a 17-year low, and the candidate-driven job market has reached all hiring levels, making it tougher than ever for employers to recruit.
Recruiters are burdened by the labor-intensive process of screening candidates; the process is slow and riddled with biases. Even with the best intentions, the tools they use can conflict with their goals and further hinder the growth of their companies. 
How might we do the heavy lifting for recruiters and demystify the ambiguity within A.I. powered matching tools?
Our lack of domain knowledge in the recruiting space led us to engulf ourselves into the lives of our candidates and recruiters.
With qualitative research such as user interviews, user observations, as well as quantitative surveys, we learned how intimate and delicate the recruiting process is, and the tools this mature and competitive market is accustomed to are the result of the problem.
In order to solve this concern and differentiate ourselves, we needed to win the trust of our customers by providing impactful value and data with a high level of transparency.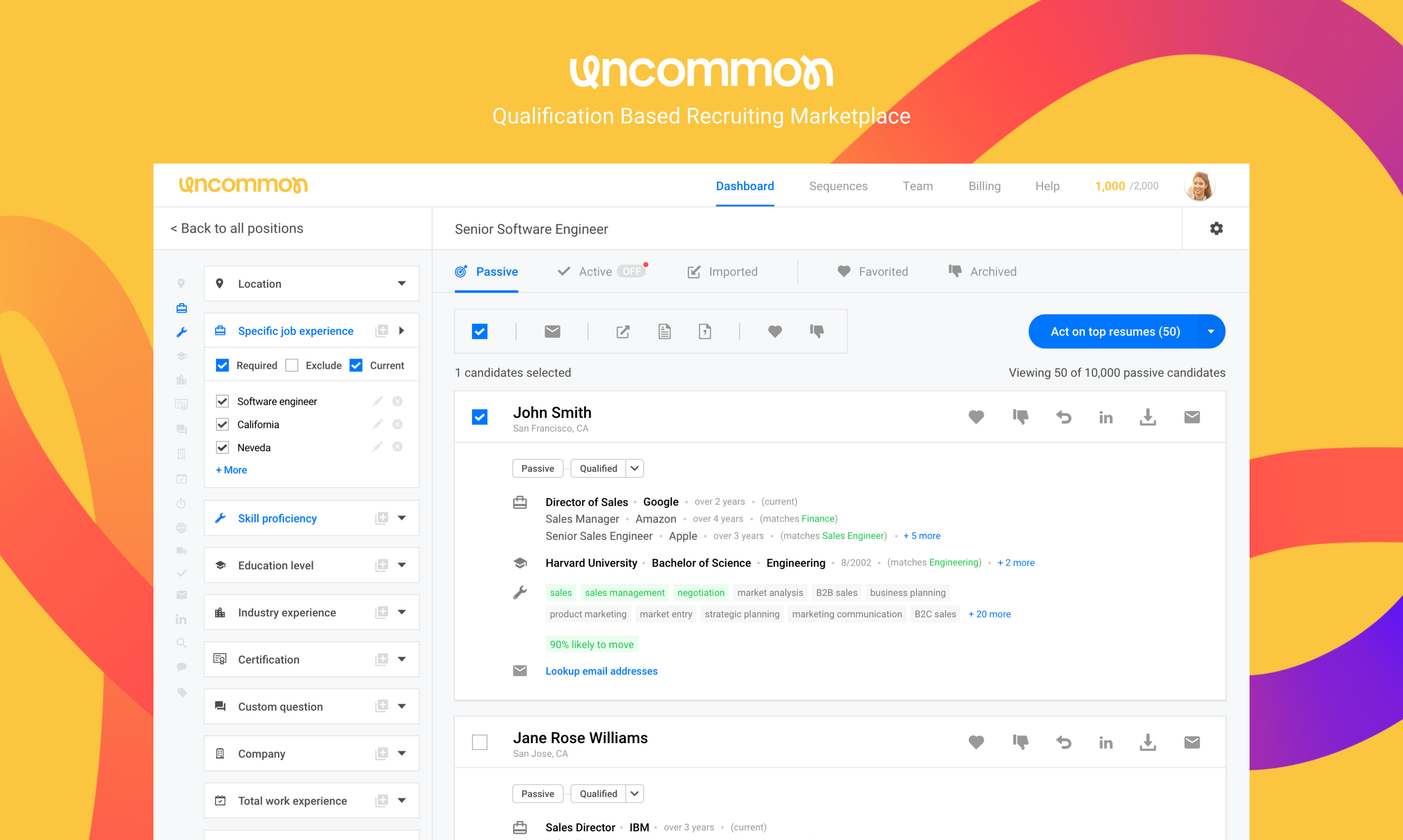 In a world where finding candidate-fit is a costly rarity, Uncommon gives recruiters 100% interested and qualified candidates through optimized sourcing, automated screening, and sequenced outreach to help recruiters shorten time-to-fill and reduce cost-per-hire.
     1.   Recruiter signs up and lands on the dashboard
     2.  Sets qualifications for the most desirable candidates in the left sidebar
           •   Matching candidates popup on the right
     3.  Clicks into a few profiles to verify the quality
           •   Tweaks qualification in the sidebar until results become desirable
     4.  Clicks CTA to bulk-message all top candidates
           •   Set up email sequences with existing templates
           •   Waits for the positive response
           •   While waiting, turns on active candidate sourcing to further extend                 the reach
     5.  Reply to positive responses and set up interview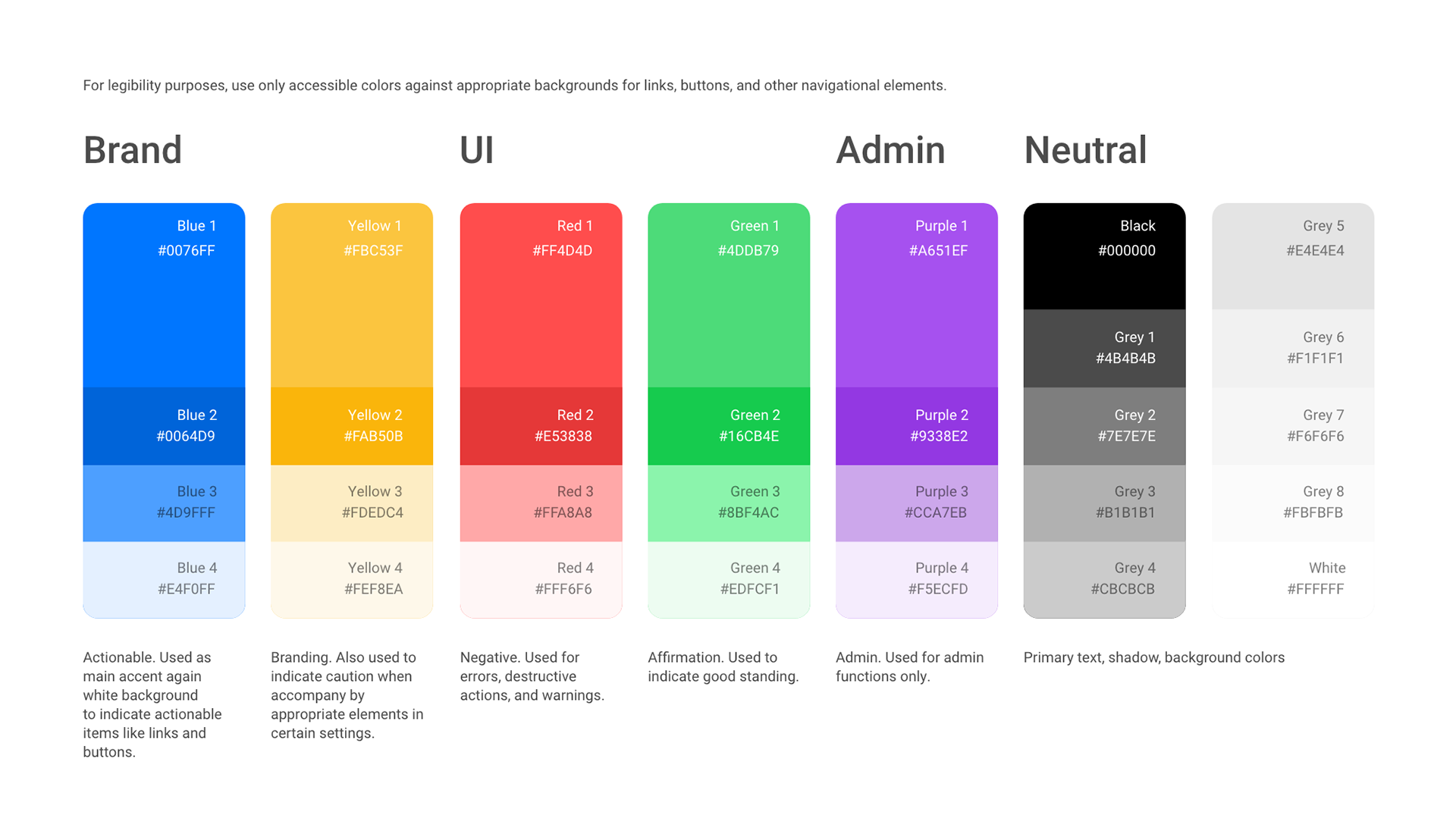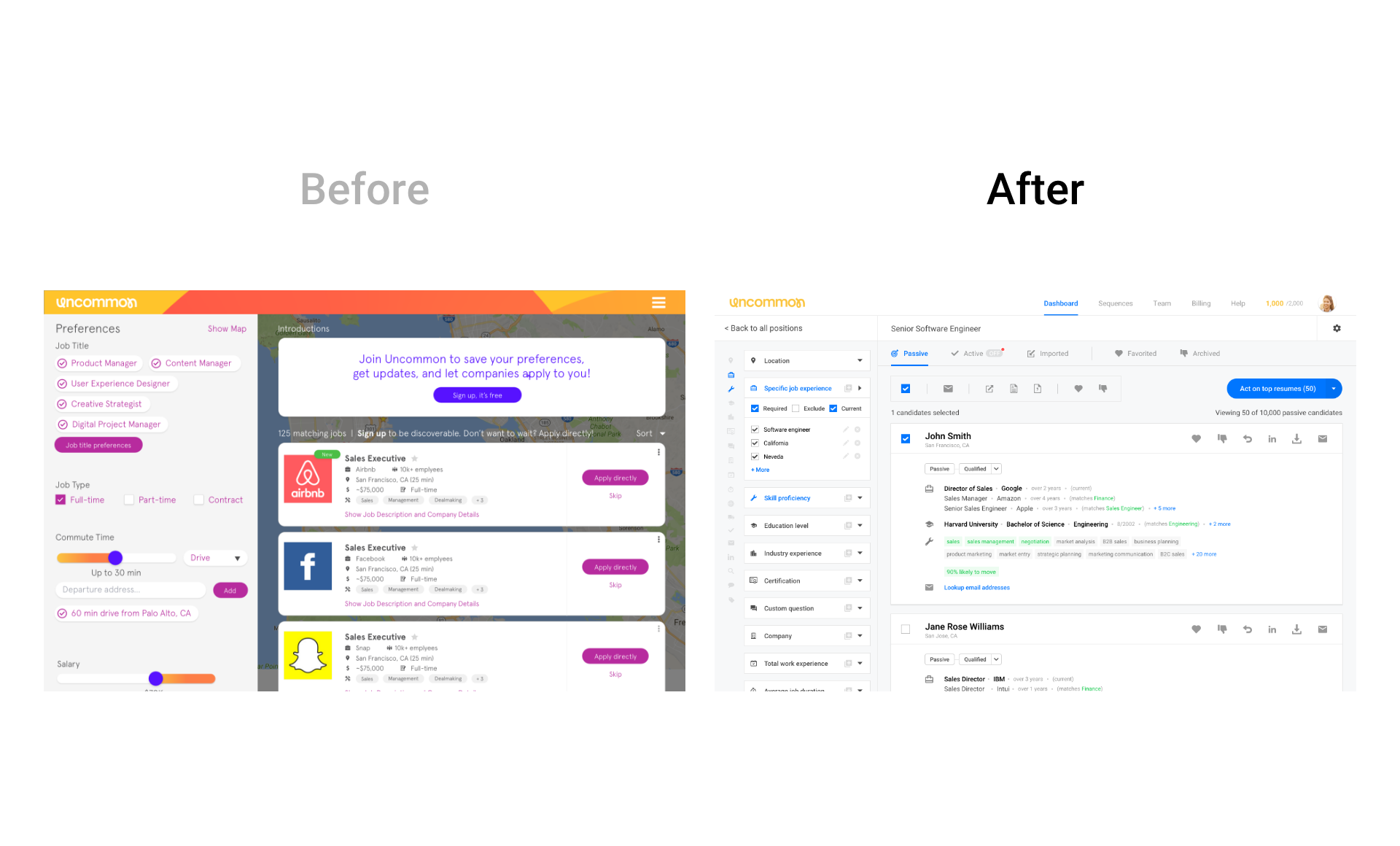 How We Got There: 1. New Design Language
The goal here is to build trust and desirability with a design language that is clear and consistent.
Without overhauling the original branding, which was beautifully created by an outside studio before my time, I:
     •   Remapped information architecture to better orient users and guide                them towards desirable actions
     •   Decluttered the interface by removing unnecessary elements, the                 new extra negative space meant that there's now more room for                      legibility and focus
     •   Redesigned components to ensure clarity and usability
     •   Redistributed real estate to guide users with clarity
     •   Switched accent color to blue to reduce overall playfulness and better            resonate with the temperament of our customers​​​​​​​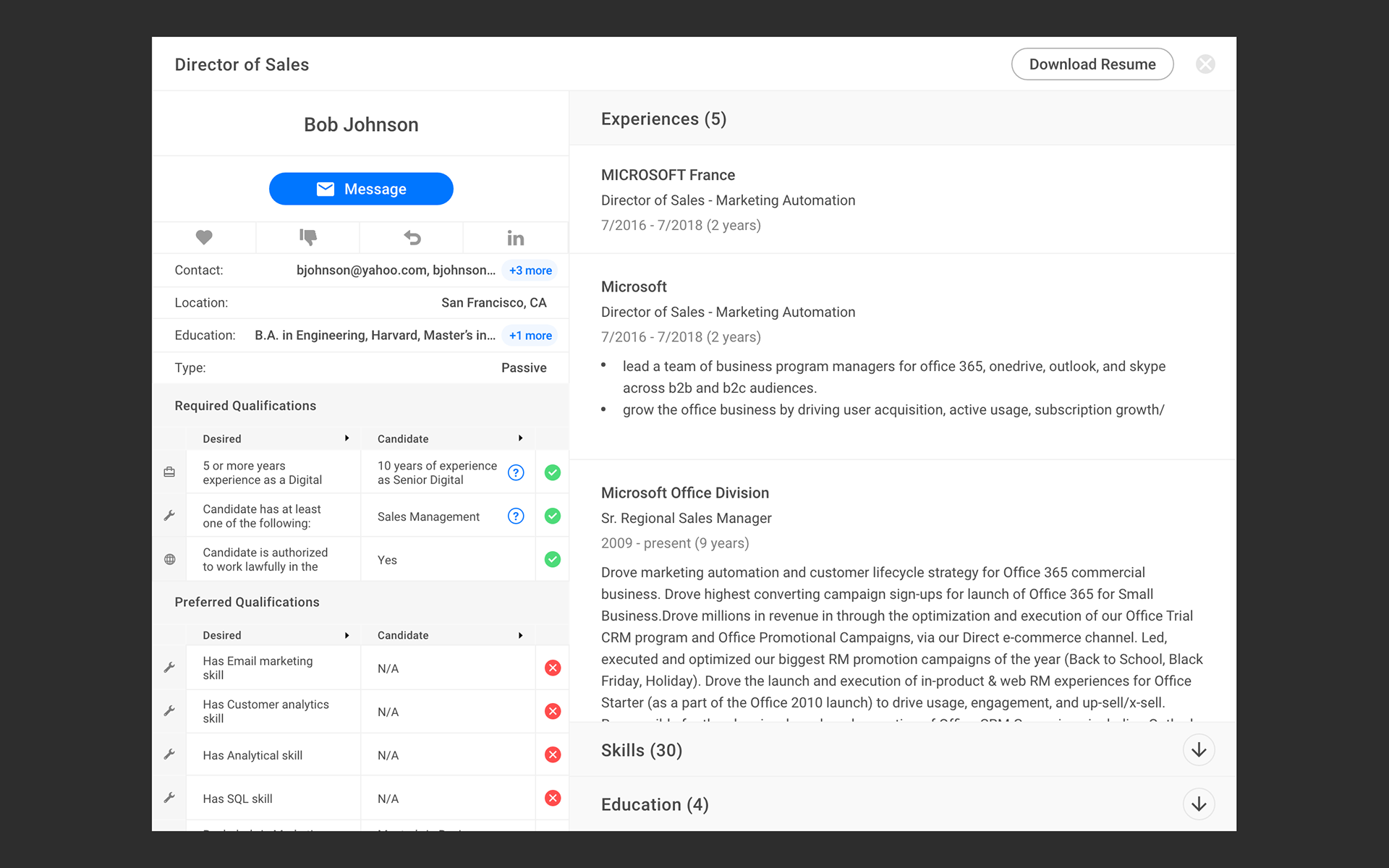 2. Demystifying The Black Box - With Qualifications
For recruiters, machine-learning-based sourcing tools function as what engineers call "black boxes," proprietary systems that can be viewed in terms of its inputs and outputs, but without any knowledge of internal workings.
Nonetheless, the recruiter's selections have to be legally defensible to justify how and why the decision was made.
To increase transparency and improve matching by titles, keywords or random algorithm imposed value, we built our system to extract detailed qualifications such as: specific job experience, skill proficiency, education level certification, etc, from each candidate profile.
​​​​​​​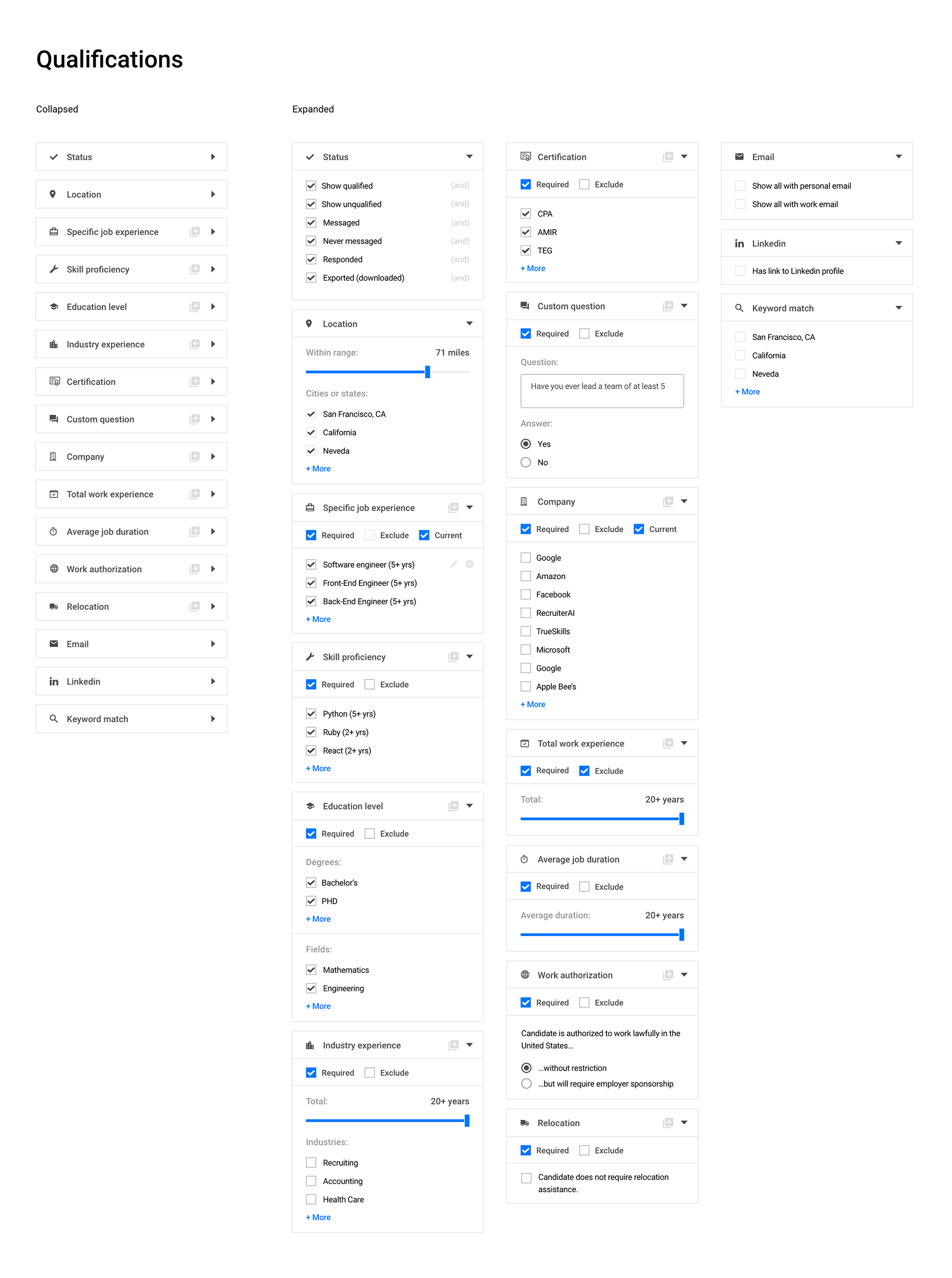 These qualifications are "human interpretable" and unbiased. They nest on the dashboard sidebar, and recruiters can play with them and see real-time matches updates in a side-by-side comparison. Recruiters can also verify the exact qualifications that sparked the match in detail.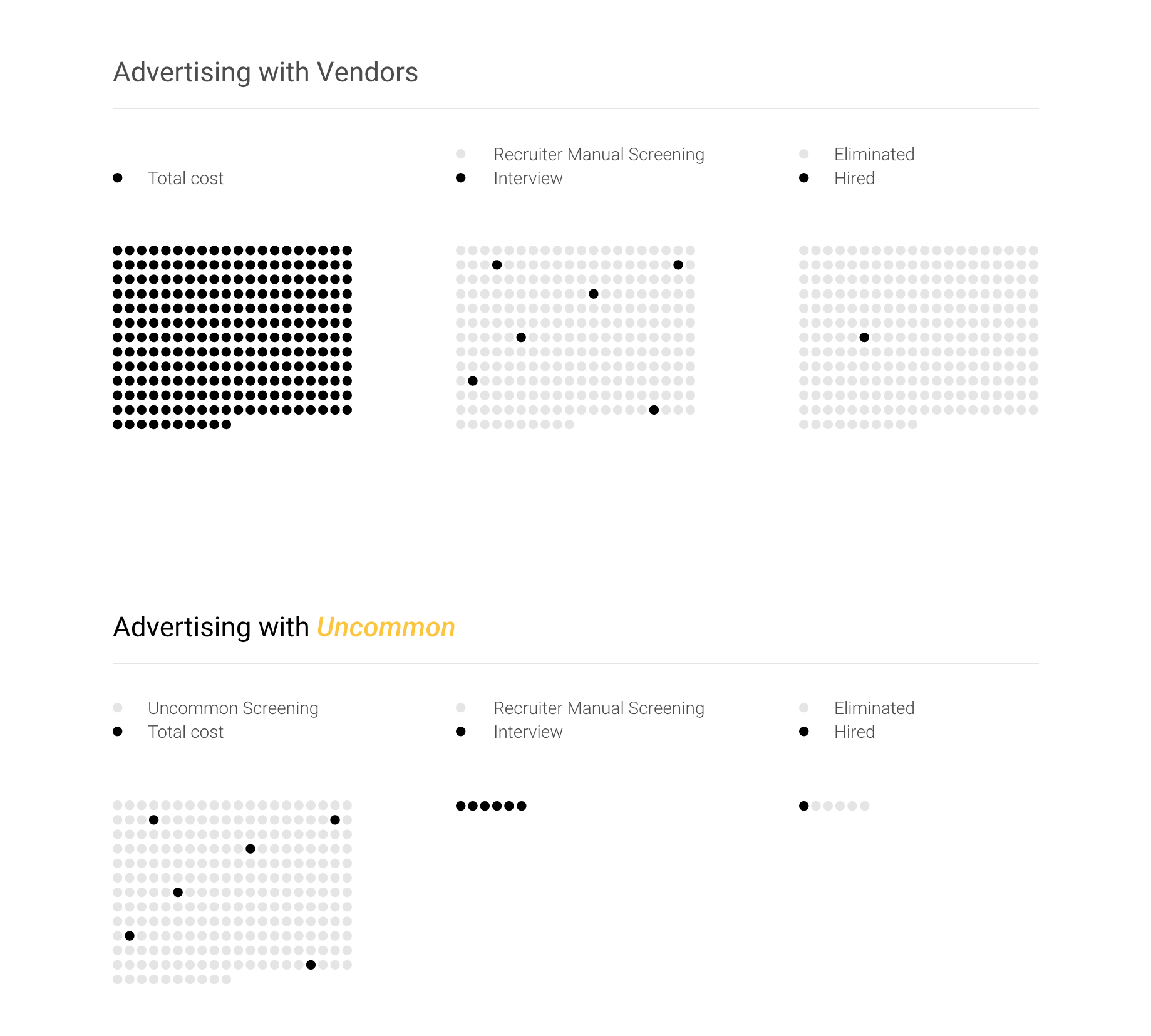 To reduce cost-to-hire, we introduced a new pricing model called - Cost Per Interested & Qualified (CPIQ).
Instead of paying job boards, search engines, and social networks with cost-per-click (CPC), which is a conflict of interest, we only charge passive candidates who responded positively and qualified active candidates. Recruiters can also manually disqualify a profile directly from the candidate cards.
This aligns perfectly with our goal of delivering quality candidates, and is also in the best interest of our customers. ​​​​​​​​​​​​​​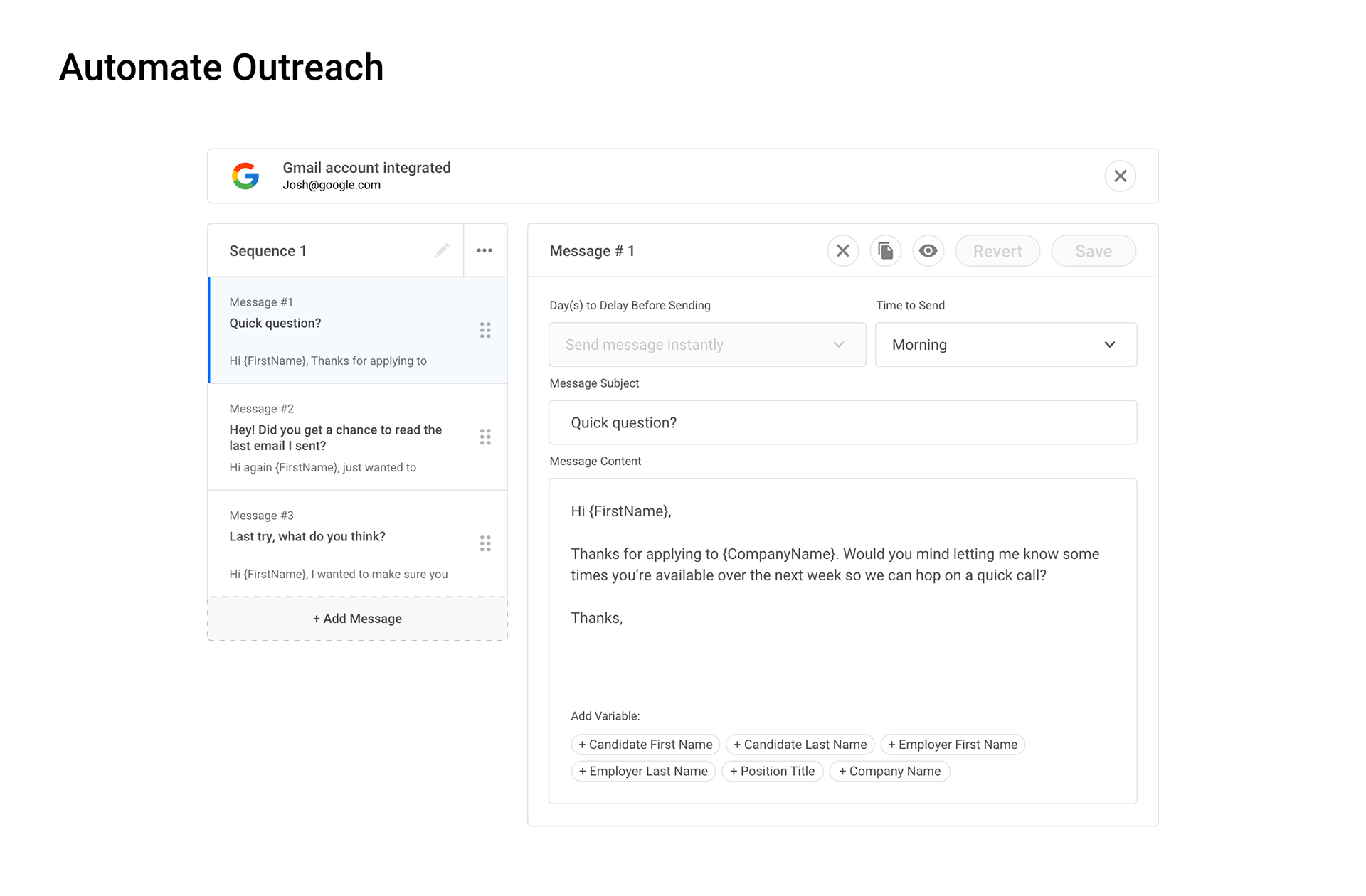 Reaching out to passive candidates with cold emails is another burden, since response rates are low, and the process is repetitive and mundane.
To boost response rate, and alleviate tedious work, an automated outreach system allows recruiters to send bulk emails directly from their email, with templates optimized for response rate. The templates can also be personalized with variants, or effortlessly created from scratch to save for reuse.
The system then tracks the campaign and provide updates and feedback with 'status pills' on each candidate card along the way. This way, recruiters are always kept up-to-date until candidates are ready to engage.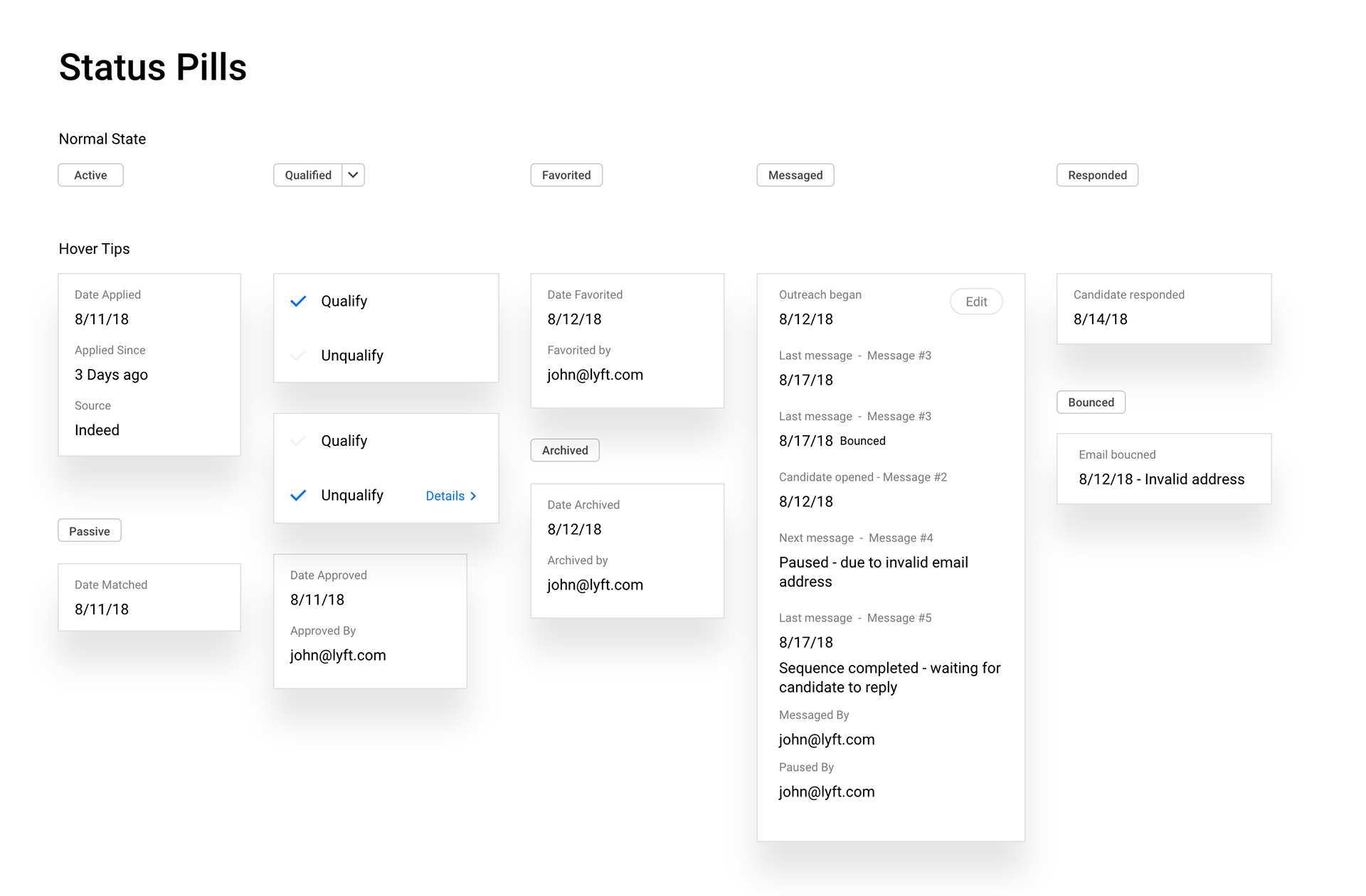 The system then tracks the campaign and provide updates and feedbacks with 'status pills' on each candidate card along the way, so recruiters are always kept up-to-date, until candidates are ready to engage with positive responses.
​​​​​​​​​​​​​​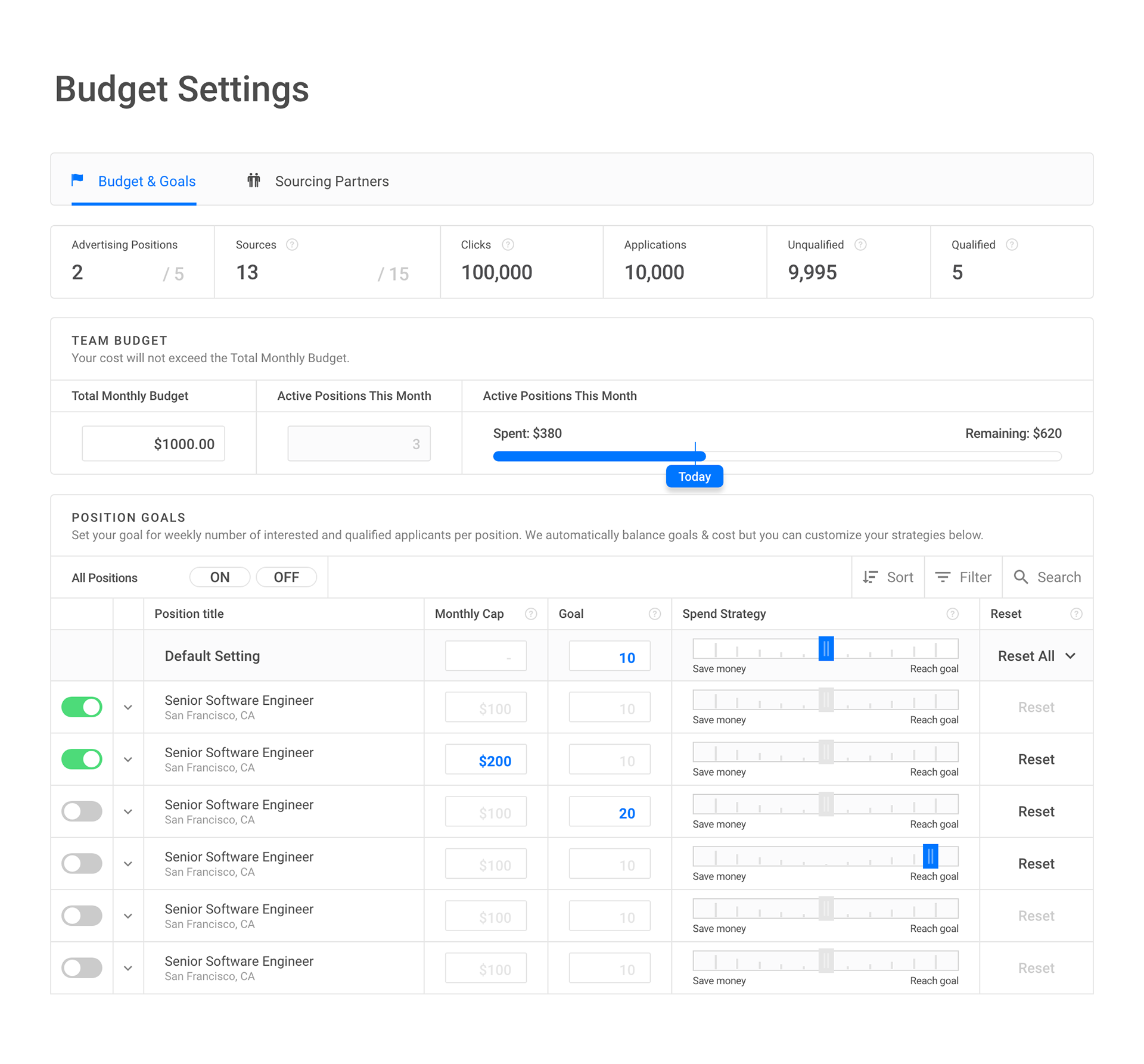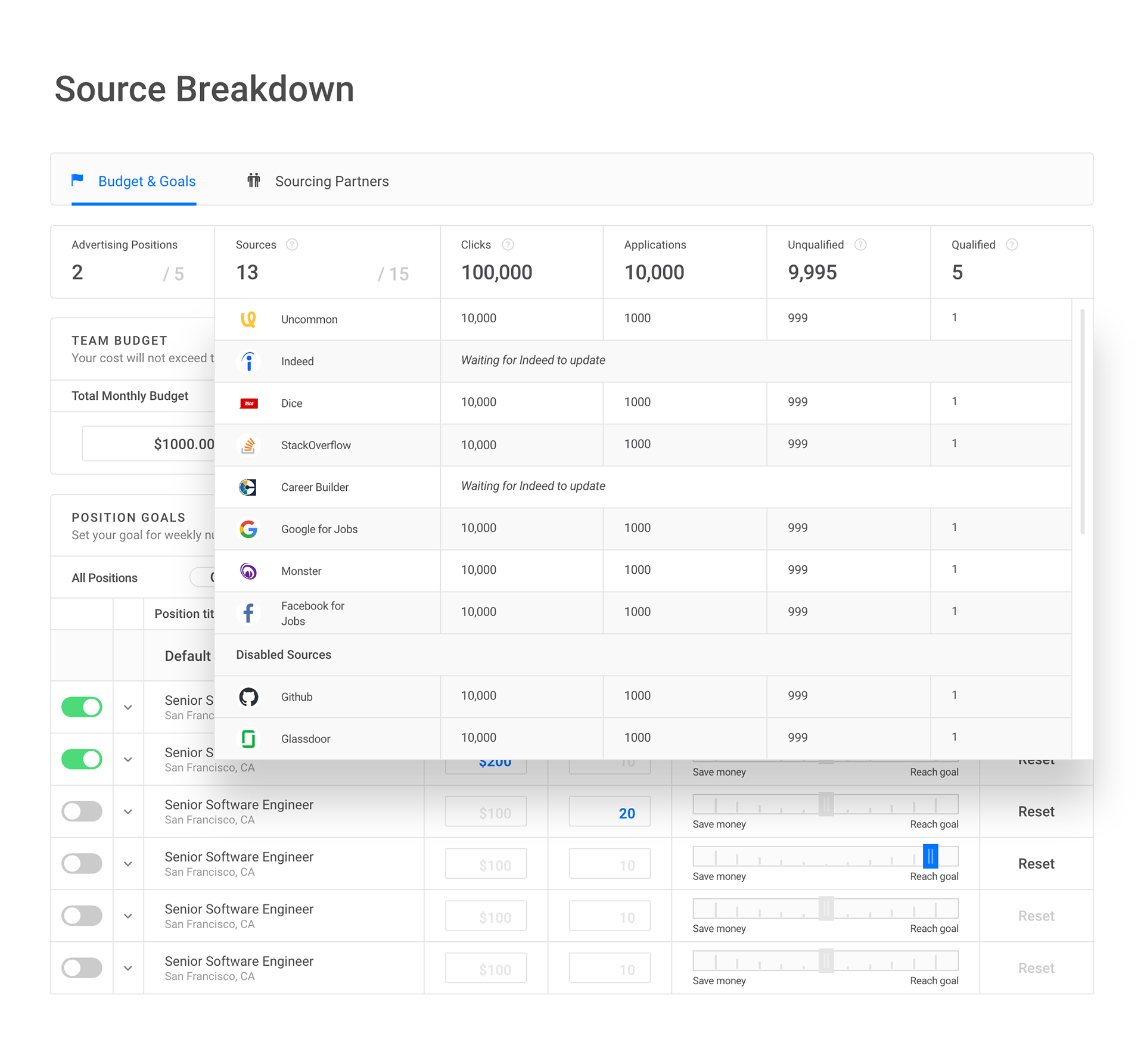 5. Automatic Bidding Optimization
Another major cost of time and budget comes from managing multiple sourcing vendors.
Hence, we partnered with vendors to help recruiters programmatically advertise their job listings to source active candidates.
Using qualifications as the language, we also optimized bidding costs based on defensible merits; recruiters only pay for the candidates who meet all their criteria within the pre-set budget.
This allows more flexibility for recruiters who manage multiple positions; they can manage and allocate budgets for all vendors from one simple screen in a  cinch.
On February 15th, 2018, we successfully launched Uncommon.co with $18 million funding in Series A (funded by Spark Capital, Zeev Ventures, and Canaan Partners), received hundreds of sign-ups, and partnered with top technology companies like Google, Aflac, Etsy, Lyft, and more.