Qualification-

Based

Talent Marketplace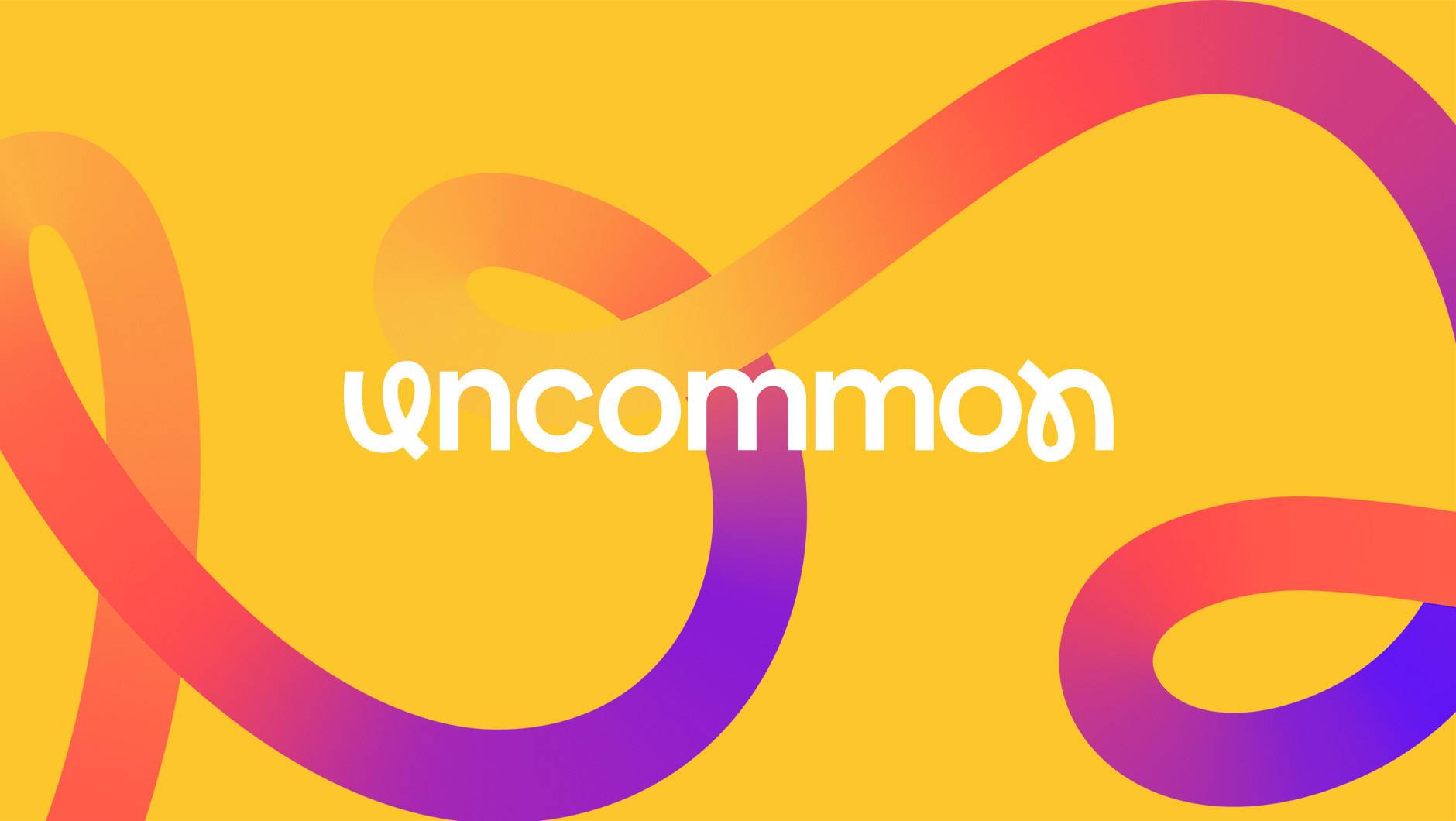 In 2017, the U.S. economy completed its eighth year of expansion since the Great Recession. The unemployment rate had hit a 17-year low, and the candidate-driven job market has officially reached all hiring levels, making it tougher than ever for employers to recruit.
I was part of an ambitious project to redesign the recruiting experience for the $400 billion global staffing industry.
To comply with my non-disclosure agreement, I have omitted and obfuscated confidential information in this case study. The information in this case study is my own and does not necessarily reflect the views of Uncommon.
I was the
Lead Product Designer
 at
Uncommon
 and I collaborated with a p
roduct manager, an external UX consultant and the development team. 
​​​​​​​
4. Understanding The Competition 
Old Industry Crying For New Tricks 
The recruitment system has not changed much since the classified ads era. It's broken, slow and filled with bias and it's stagnating growth for companies of all sizes, across industries. 
Recruiters are busier than ever building meticulous talent pipelines. Constantly attracting new talents, and weeding out unqualified candidates. This process is expensive since you need to pay for every candidate,
whether they're qualified or not
. 
The constant pressure to stay competitive pushed recruiters to fill as quickly as possible and, because they're human, they're more susceptible to bias and making mistakes. 
As the hiring landscape get tougher, more recruiters began to turn to new technologies for help, offloading strenuous work and driving down costs, in order to stay relative and competitive.
When I first joined,
Uncommon
was much like a job board, helping candidates search, browse and apply to jobs. The difference was that it would
precisely match
candidates with a curated list of jobs, ones they're most likely to succeed in, based on their skills, experiences and location.
One of the first problems I was asked to tackle was a conversion issue at the home page. A major drop-off during sign up. It seemed simple, nothing a few A/B tests, new copy, CTAs, and a re-designed layout couldn't fix, I figured.
As it turned out, there were much more interesting design and business challenges that eventually propelled us to pivot the product, and shift our focus to
delivering interested & qualified (IQ, as we lovingly called it) candidates to recruiters
.
Recruiters' Uphill Battle
When you look at what's expected of recruiters, it's not hard to see why they have such a hard time following up with candidates.
On average, in-house recruiters are often responsible for 20 or more open positions. Each of those roles has an average of 250 applicants, so they need to examine thousands of applicants at any given time.
The average job listing attracts about 250 applicants, of which 4 - 6 will be interviewed. That means about 2% of the resumes received by an employer will pass a recruiter's initial screening. But recruiters still need to eliminate the other 98%.
It feels impossible to cut through the noise and find the needle in the haystack.
That's a lot of work upfront for very few candidates to move on to the next stage.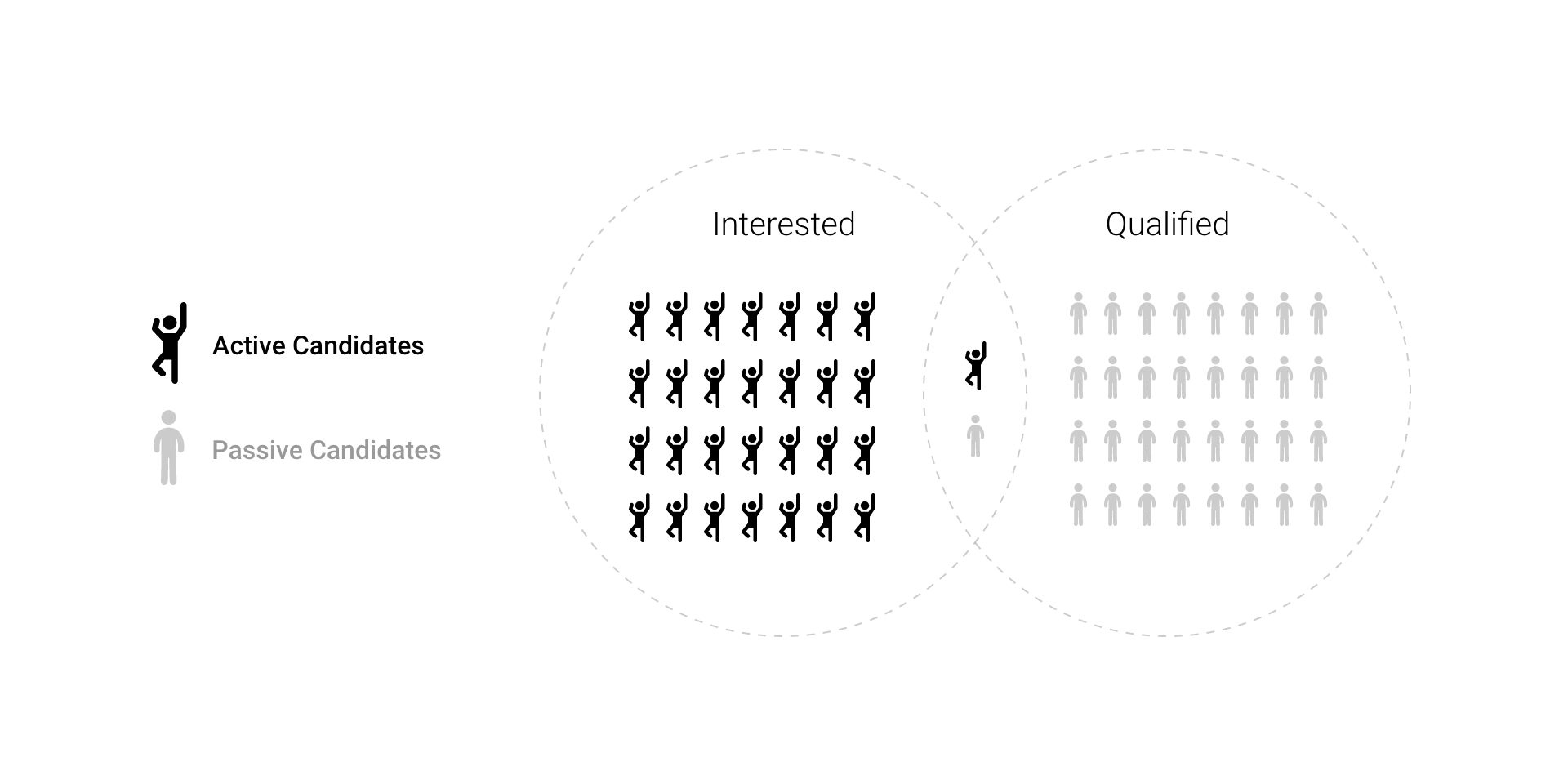 Interested or Qualified? Take Your Pick
The majority of today's workforce actively seeks opportunity. They believe it's important to keep a pulse on the job market and they look at new opportunities to advance their careers on a consistent basis. 
These "active candidates" are
interested but mostly not qualified
. Thanks to the internet and its easy one-click-applies, recruiter must go through rigorous processes to weed out the hundreds of unqualified candidates for each position.  
But actives are only about 30% of the market.  
Passive candidates, who is employed but not currently looking for a new opportunity, on the other hand, are
qualified but mostly not interested
. So recruiter must use various engagement tactics to lure them in and ultimately convince them to move on. 
Recruiters are people, they makes decisions just like us, and we all have cognitive biases by nature. Even if we're trying not to be biased, we are. 
Unconscious bias can quietly guide even the most astute recruiters to choosing candidates for the wrong reasons, especially when it comes to meeting tight deadlines under extreme circumstances. 
When the wrong candidates get passed upstream, it also burdens hiring managers and their teams to use precious work hours interviewing people who don't meet their qualifications for the role.
"My process, although methodical, has relied too heavily on my intuition and ability to read between the lines" 
- Head of Strategic Sourcing at Universal Music Group, Susanna Frazier
For recruiters, machine-learning-based sourcing tools function as what engineers call "
black boxes
," proprietary systems that can be viewed in terms of its
inputs and outputs but without any knowledge of internal workings
.
All of the Internet giants: Google, Amazon and Facebook, make black box choices for us
—
 our search results, what we buy and who we see on our feed. But they don't explain what priorities they've chosen for us.
Recruiters and hiring managers do not want to surrender control of hiring decisions to algorithms; they're just looking for
smart assistance
. 
They want their selection decisions to be
legally defensible
, because they need to justify exactly how and why they were made.
"Employers are using A.I. to filter and prescreen candidates and to reduce recruiters' workload—not to find the ideal candidate," says Susan Ferebee, a professor at the information technology program at Purdue University Global.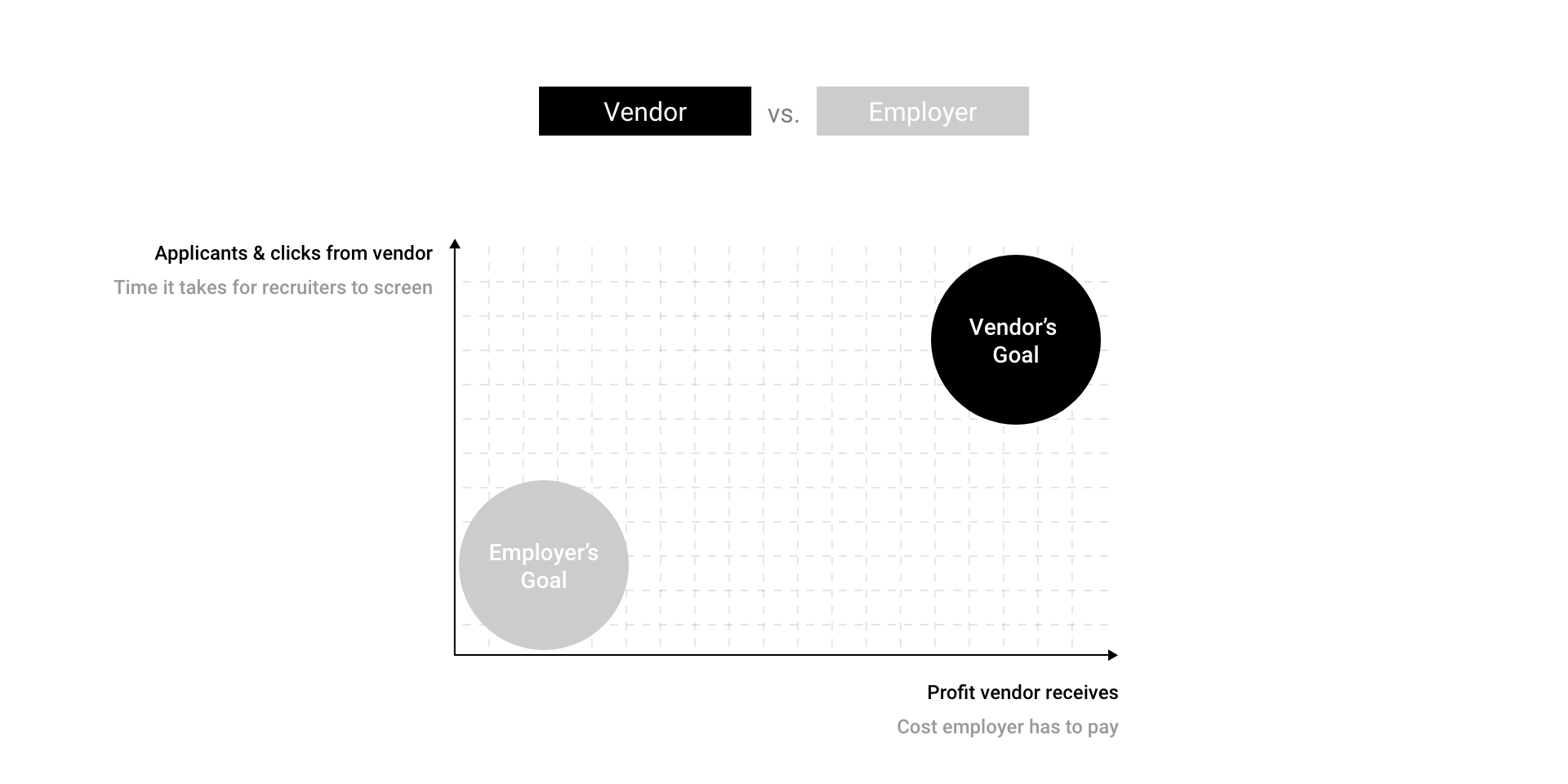 Vendor's Conflict of Interest
To attract active candidates, employers use various vendors to list their job openings: job boards, search engines, and social networks. And pricing is usually on a
cost-per-click (CPC)
basis. 
The problem? When recruiters pay for clicks, they get clicks. Large quantities of them.
Whether the candidates are qualified or not
. 
It is in the vendors' best interest to deliver more clicks, not qualified candidates, because that translates directly to more profit.
•   to sift through hundreds of candidates to find qualified candidates
•    
human-interpretable interface when working with A.I.
•    
a more objective way to select candidates
•    
to verify A.I. vetted profiles against actual resumes
•    
a better way to advertise and manage their job postings
•    
to integrate new systems with their ATS
4. Understanding The Competition
A number of A.I. powered product solutions exist in our space. From job aggregators with extensive databases of resumes, salary information, location preferences, to applicant tracking systems with built-in candidate relationship management systems and job advert language optimization, to video interview with eye-tracking technologies and everything in between.
In building our brand, we need to find our sweet spot in delivering value, that is
differentiated and impactful
, to our customers. 
Maintaining a human-first approach is key, while seamlessly integrating into their lives.
•  Do All The Heavy Lifting For The Customers
    Create tools that reduce customers' strenuous work by leveraging A.I., so they can focus on building meaningful relationships.
•  Demystify The Darkness
    Expose unambiguously objective qualifications with human-interpretable inputs to demystify the black box, and help users understand how impactful their inputs are. 
•  Design Tools That Are Reliable, Scalable, And Maintainable 
    Test and monitor the system continuously for error, performance and operability. 
•  Avoid Dead Ends
    Anticipate what the next interaction should be and intelligently design to support it.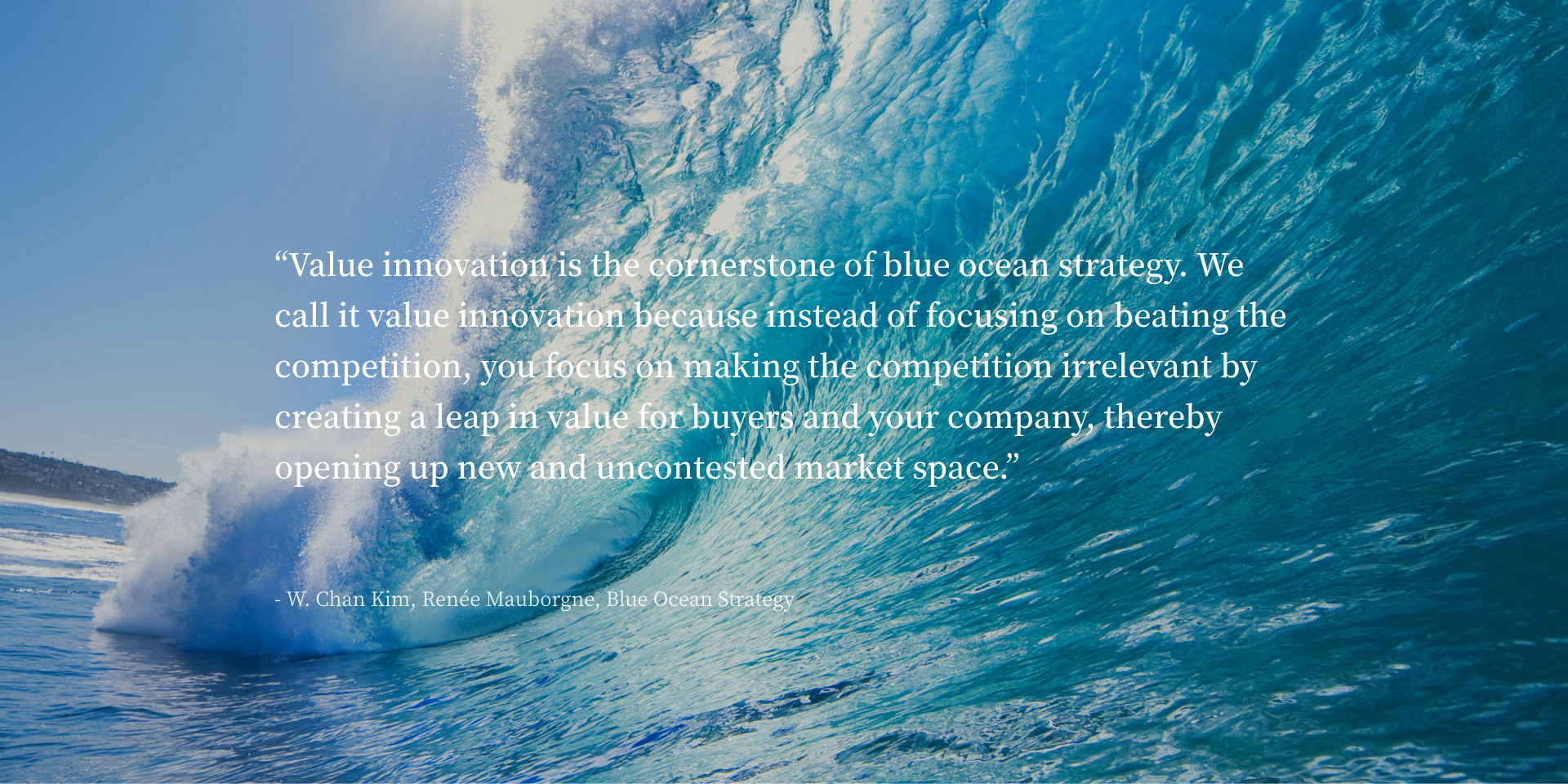 Interested & Qualified Candidates On-Demand
Since the existing demand are stifled with bias and inefficiencies, we decided to explore the unexplored and untainted by competition, in creating a new demand for opportunity and growth.
We came up with a quantifiable product we called -
The Qualification-Based Talent Marketplace.
It's the only platform where recruiters can
access interested & qualified candidates on-demand
, where
candidates are evaluated without bias and accurately matched with jobs
. A place where we use unambiguously objective facts or "qualifications", instead of keywords or vaguely generated rankings. A new blue ocean.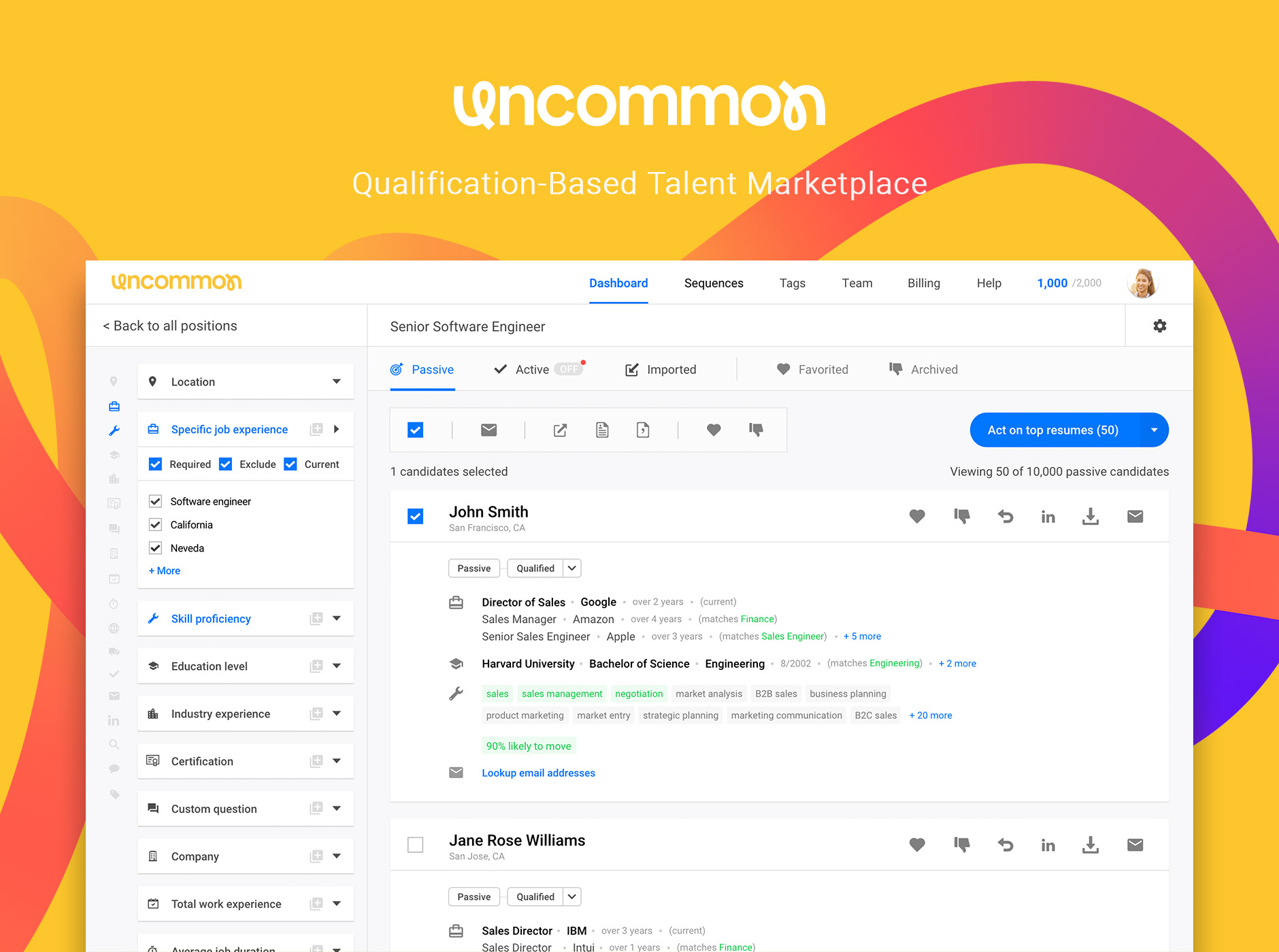 Finding PMF - The Hiring Manifesto 
As we solve more problems and champion the true heroes of our industry, the recruiters, we find ourselves inching closer to towards Product/Market Fit (PMF). 
Here's a summary of what we've learned along the way:
​​​​​​​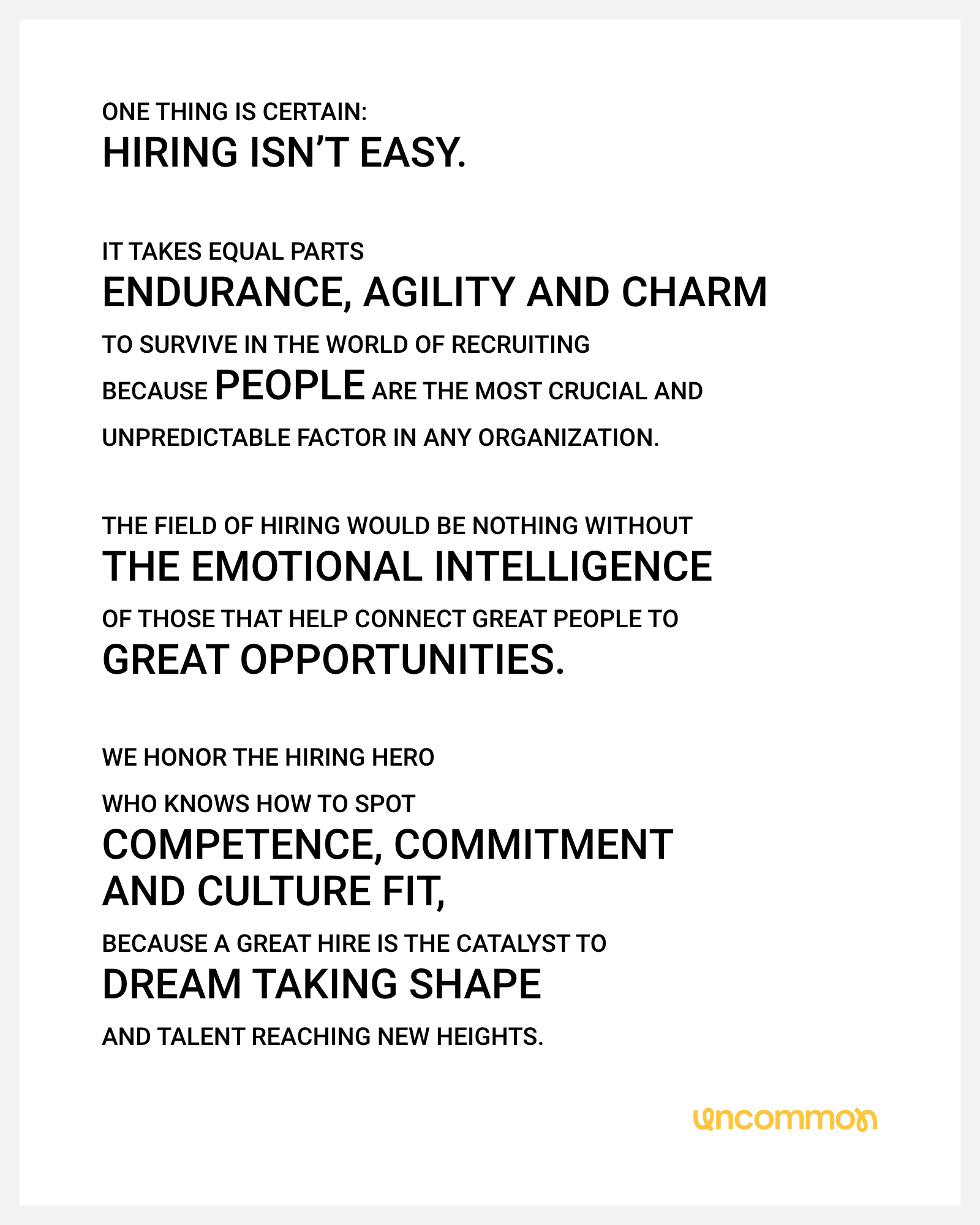 Beautifully written by our marketing manager, Olya Surits.
The originally branding, done by a local design studio called New Deal Design, was super playful and exciting, perfect for the earlier stages of Uncommon. But as the company evolved, a new look was the perfect message to let our customers know that we were maturing. 
Since recruiting is a serious and traditional topic, and our users are mostly matured professionals above the age of 35, I decided to switch to a simpler and less playful look, while retaining as much magic from the original branding as possible.
​​​​​​​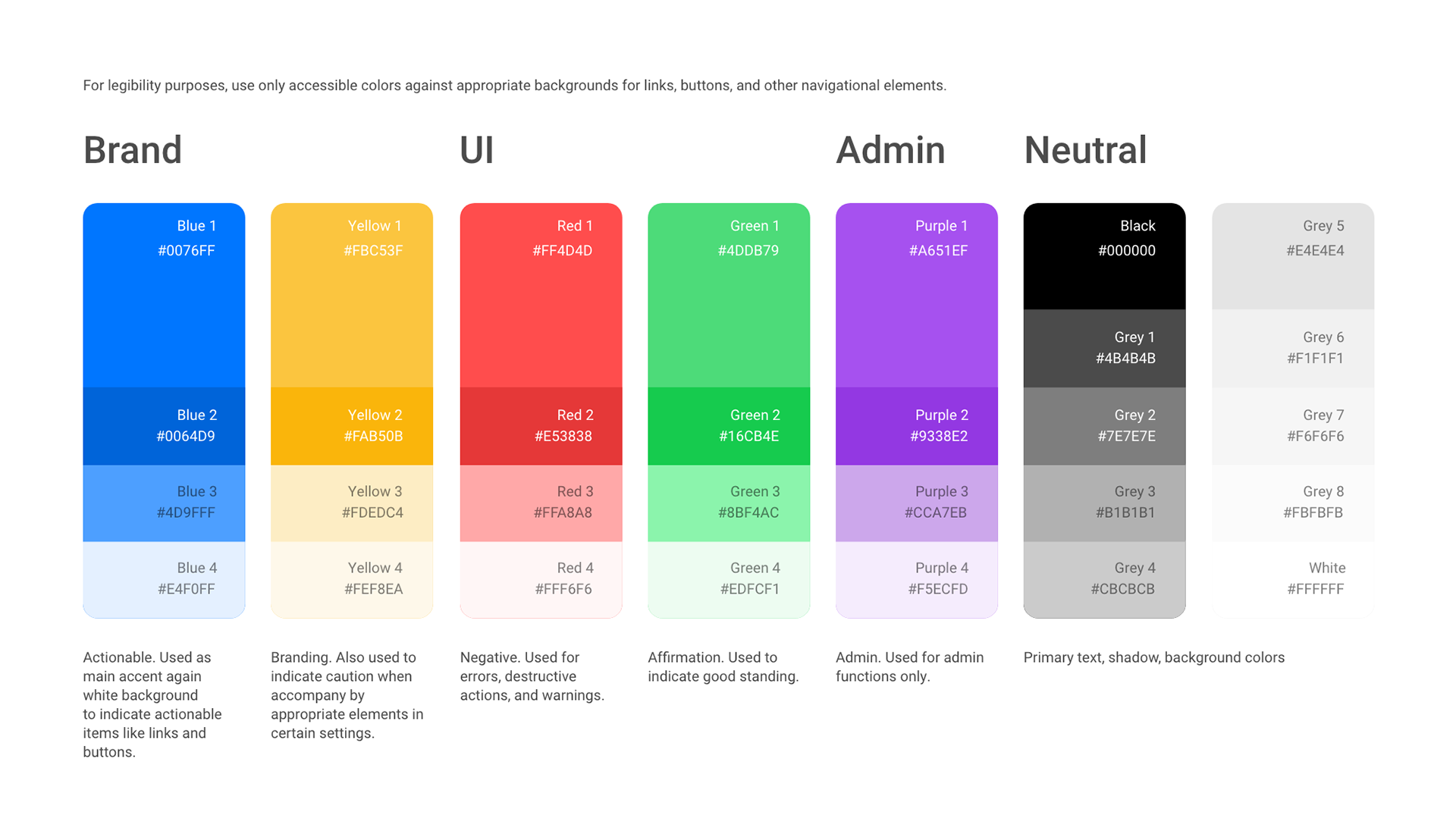 The visual identity is kept minimum, and a drastic reduction of colors meant that there is now more room for clarity in the UI, and a matching temperament with our users.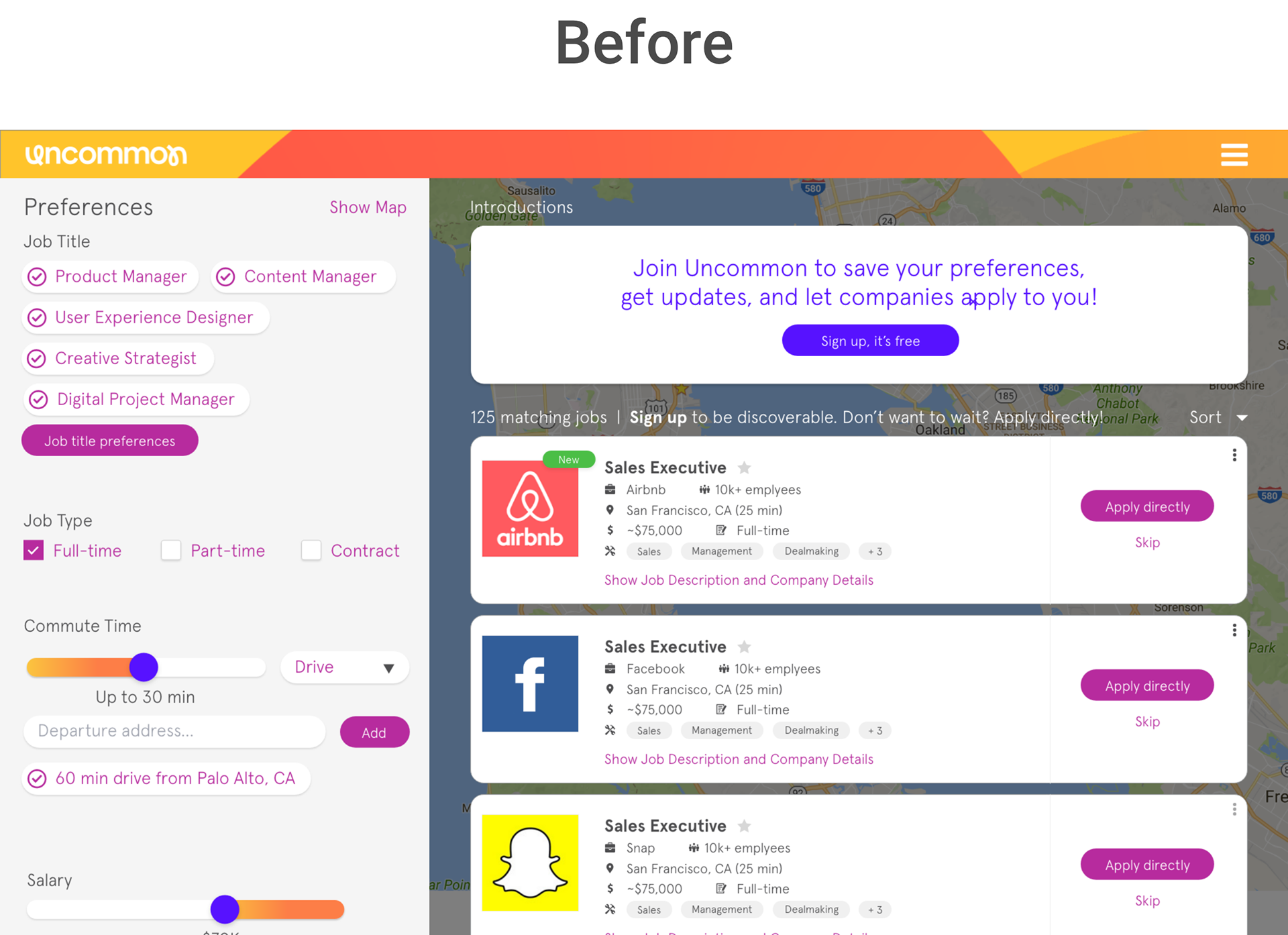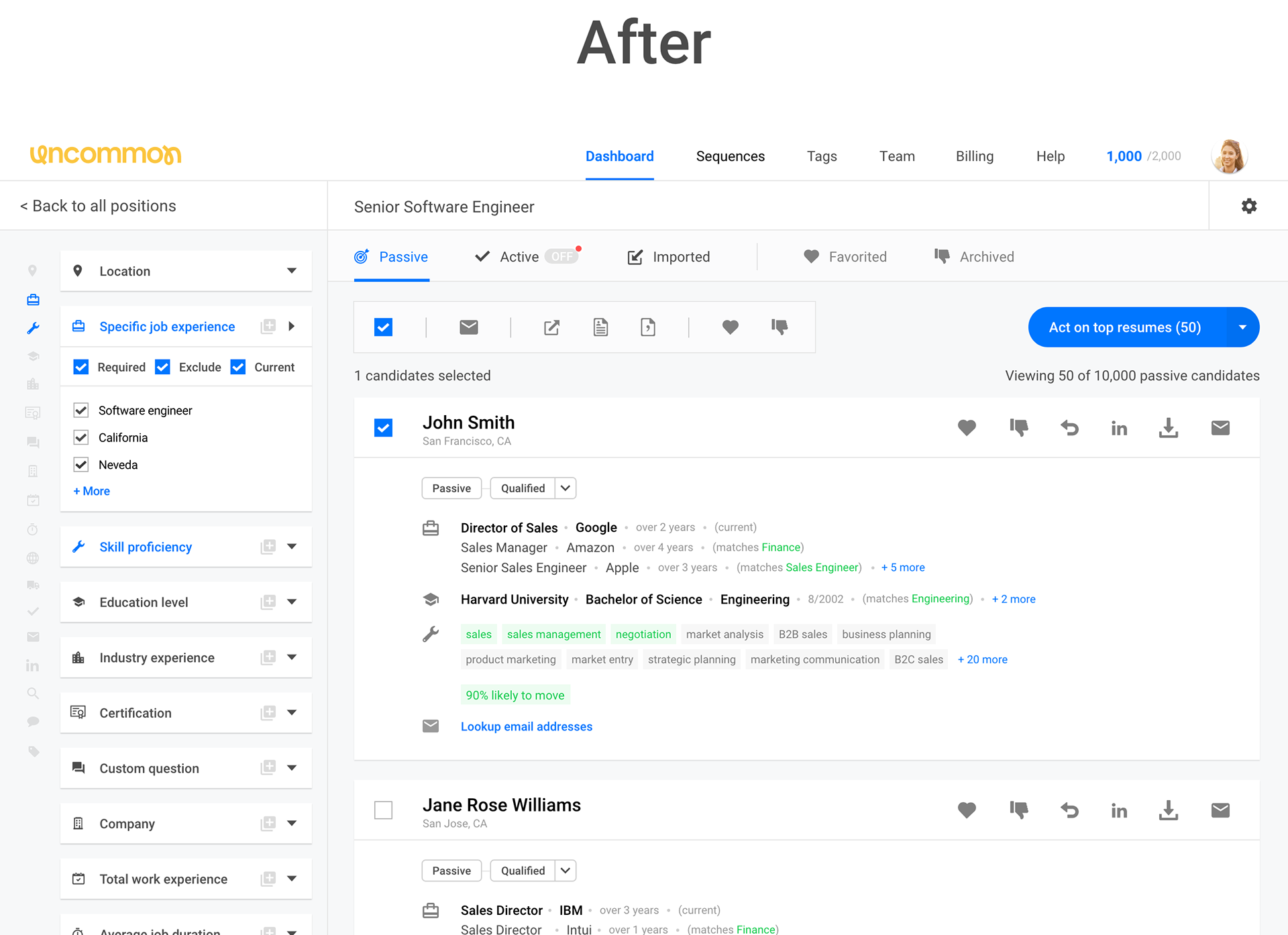 Demystifying The Black Box With Qualifications 
The alternative to a black box A.I. is "Human Interpretable Machine Learning." A.I. Systems that is not only human-interpretable, but also allow for users to adjust and input their priorities. 
A well defined partnership between A.I. and human interface allows A.I. to do what it does best — cull through large amounts of data, while letting recruiters make important decisions about searching so they can defend why their list of candidates gets consideration and interviews.
​​​​​​​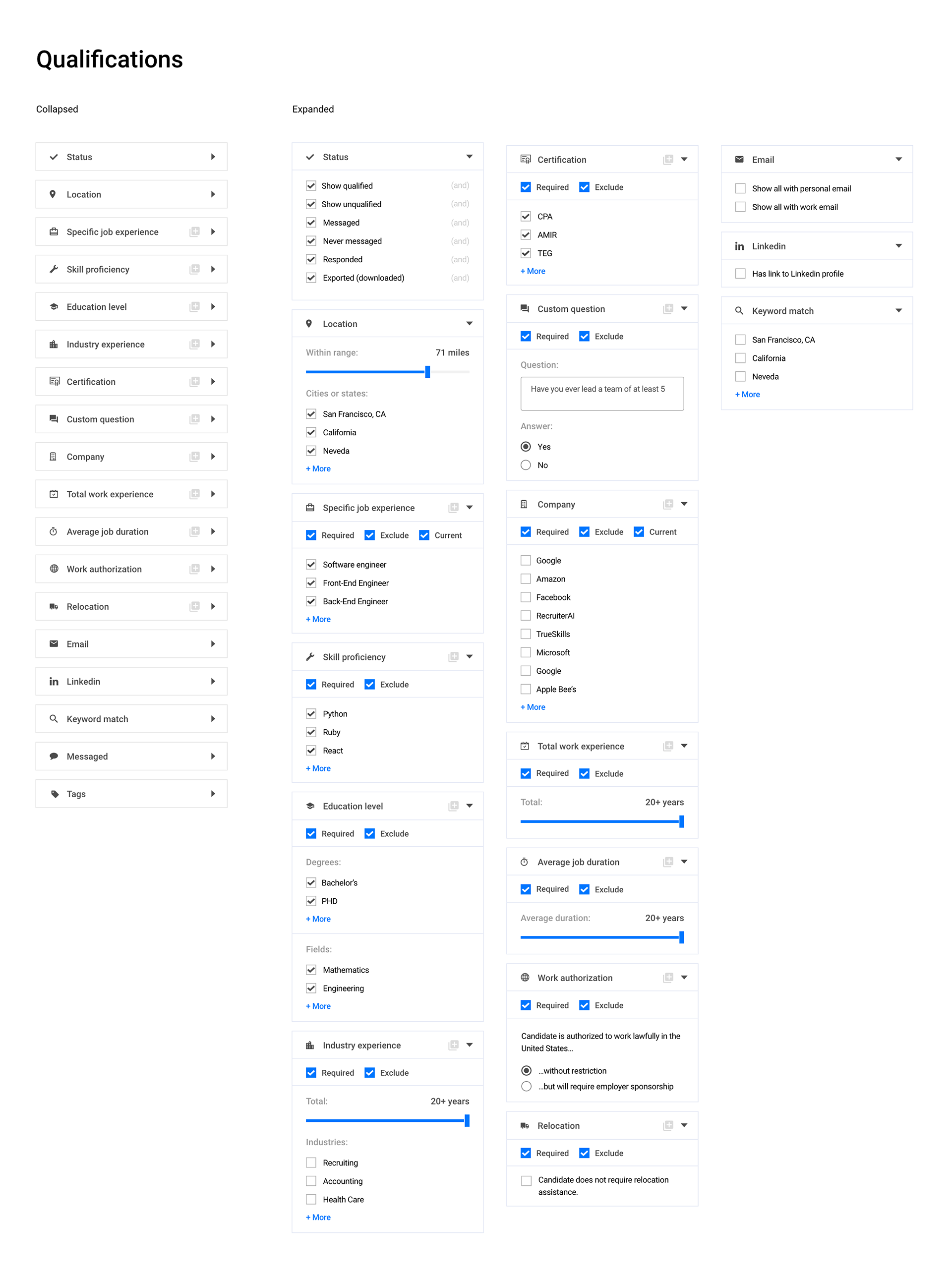 Instead of screening and matching by keywords or random algorithm imposed value. We built our system to extract detailed qualifications such as: specific job experience, skill proficiency, education level certification, etc, from each candidate profile.
These qualifications nest directly in the sidebar, so users can play with it and see results update in real-time. The idea was to make them
so accessible and easily to control that finding candidates would feel like finding flights
on Kayak or Expedia.
​​​​​​​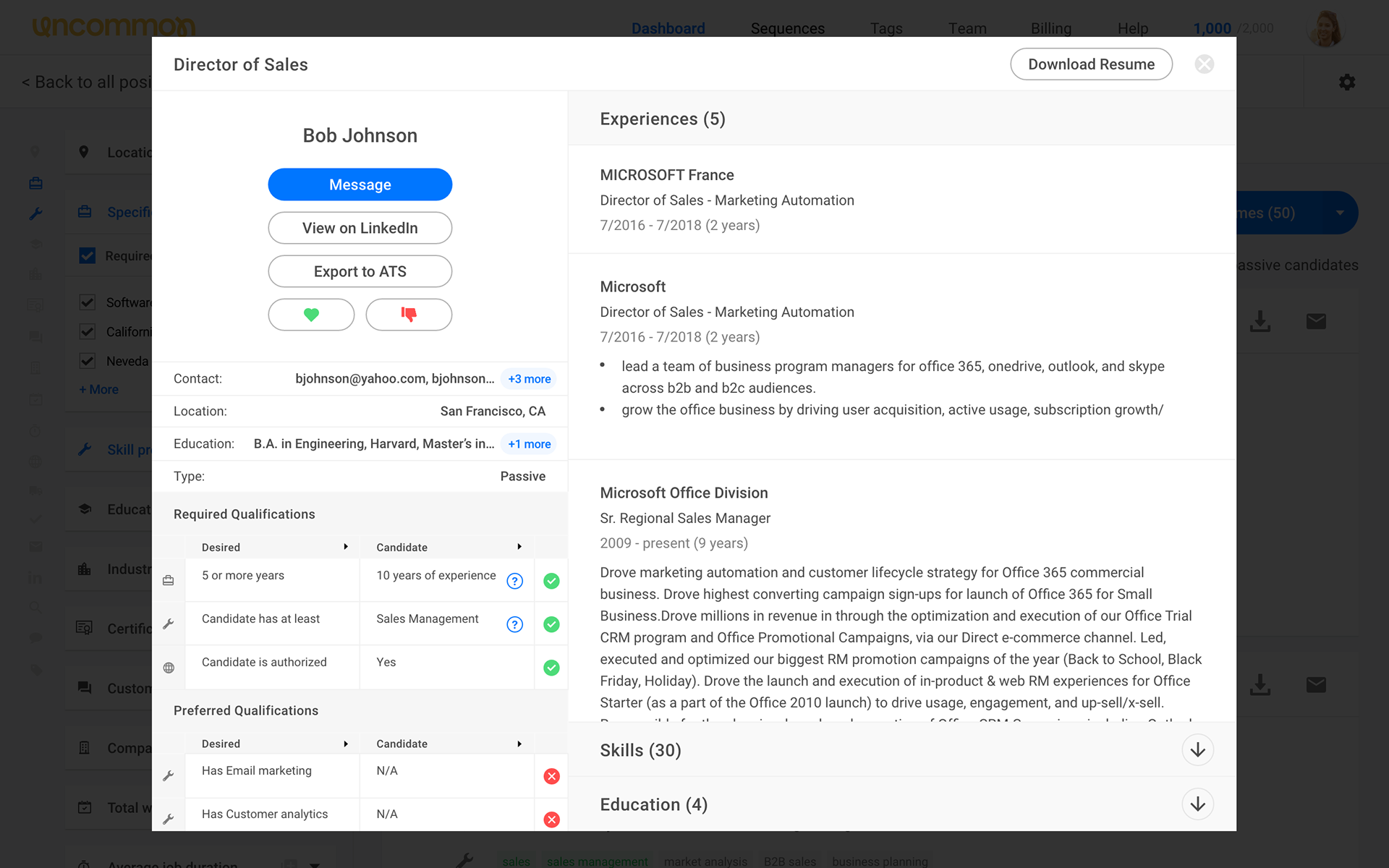 A detailed
side-by-side comparison
is also available in the details' modal, because verification is very important to recruiters, especially to those who are more used to reading resumes.
Never Pay For Unqualified Candidates Ever Again 
Instead of letting employers blindly pay the outdated Cost Per Click (CPC) fee for every application submission, then spend hours screening hundreds of resumes only to find a few that are actually qualified, we invented something completely new. 
​​​​​​​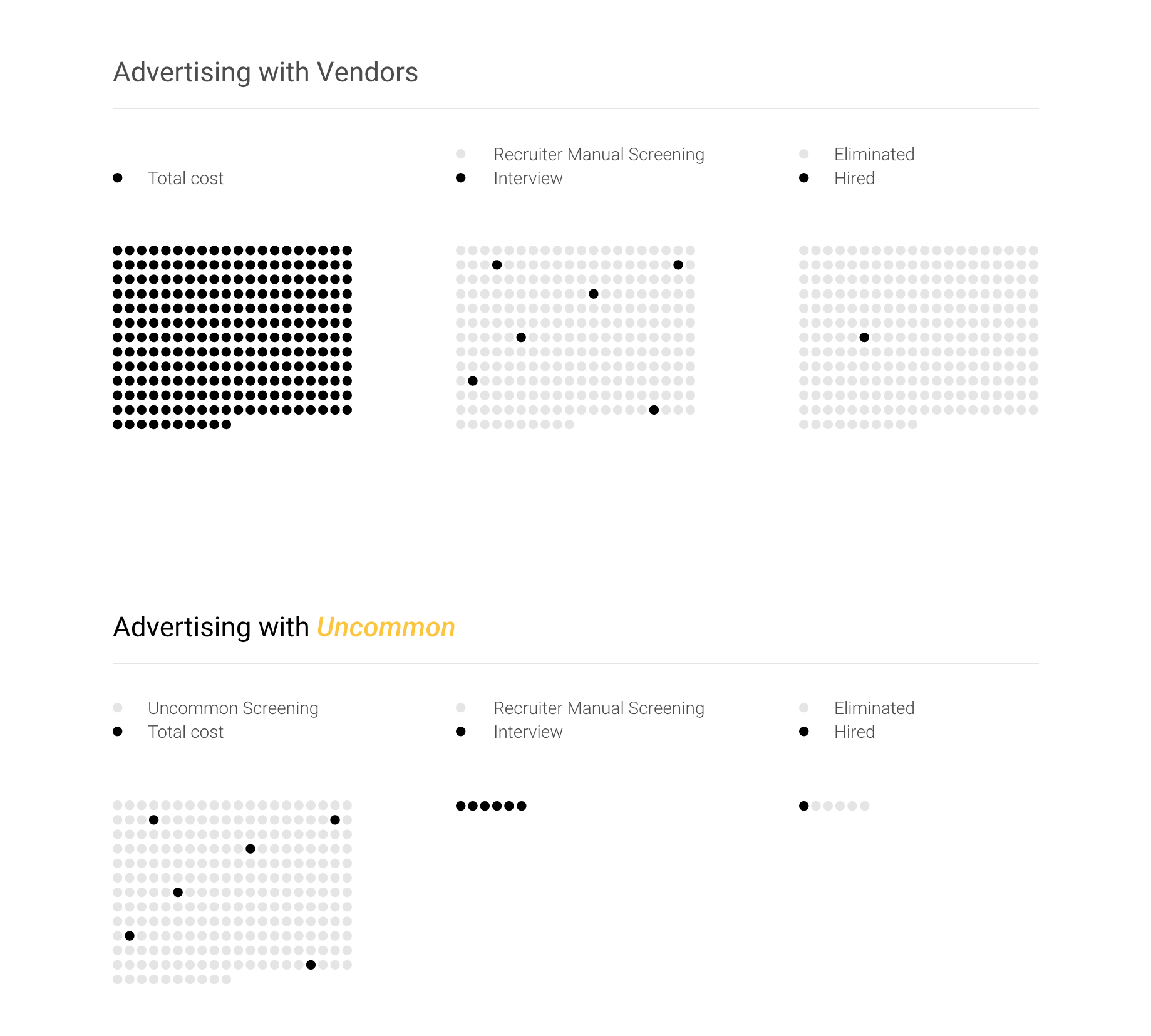 We call it —
Cost Per Interested & Qualified (CPIQ)
, if a candidate isn't interested or qualified, they'll be put in the unqualified list and charges will be refunded.  
This aligns perfectly with delivering quality candidates, and is in the best interest of our customers. 
​​​​​​​​​​​​​​ 
Automatic Bidding Optimization For All Vendors 
In a programmatic system, a machine is programmed to make decisions that maximize some objective that was set by a human. In our case, the objectives are qualifications. 
We partnered with vendors to help employers programmatically advertise their job listings to source active candidates. 
Recruiters can set qualification criteria and prices, guaranteeing that for every position they get only qualified candidates at prices they set in advance. And we'll do the rest. 
Using qualifications as the language, bidding costs are automatically optimized based on defensible merits. So employers only pay for candidates that meet all qualification criteria, and cost within the pre-set budget.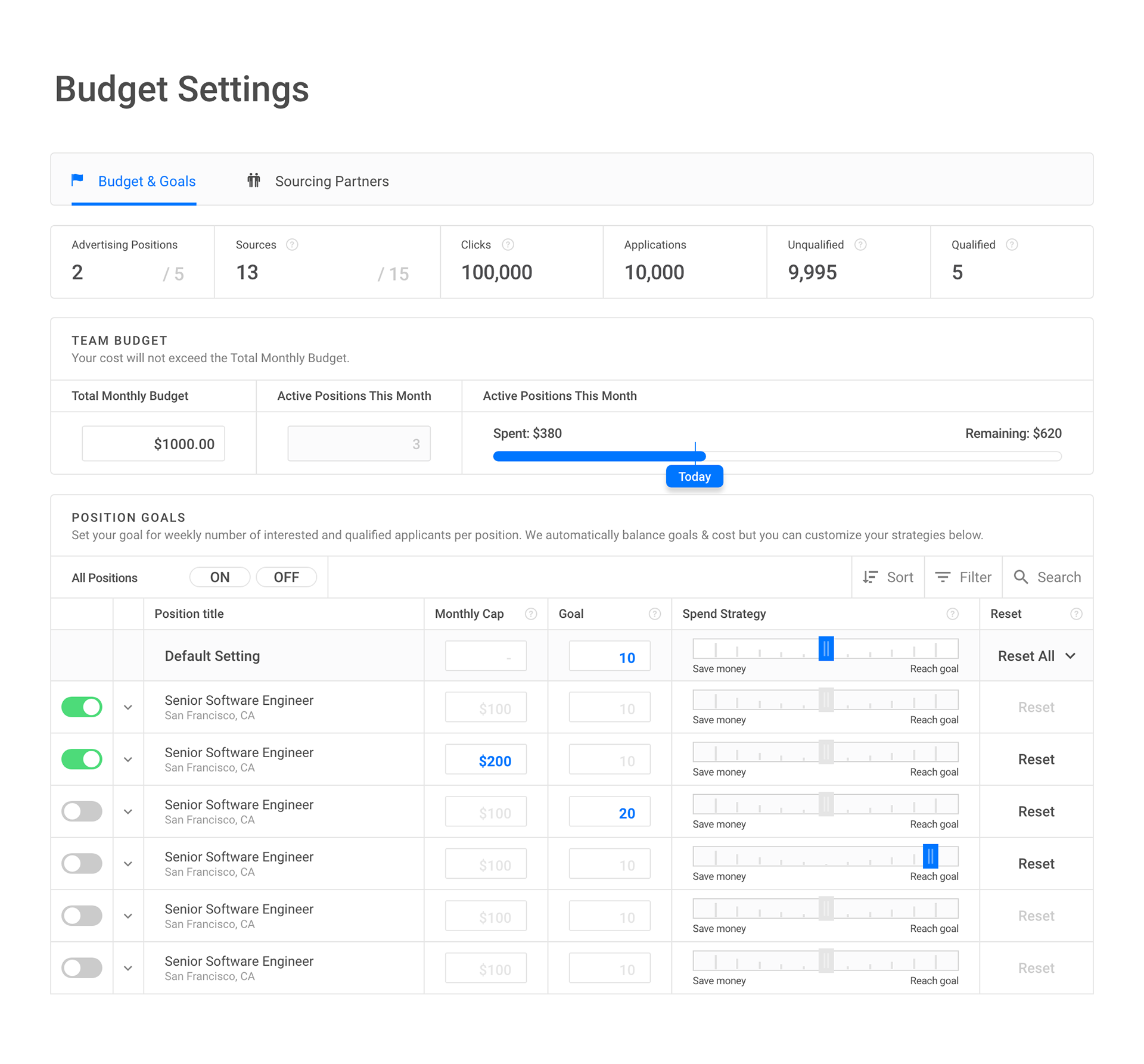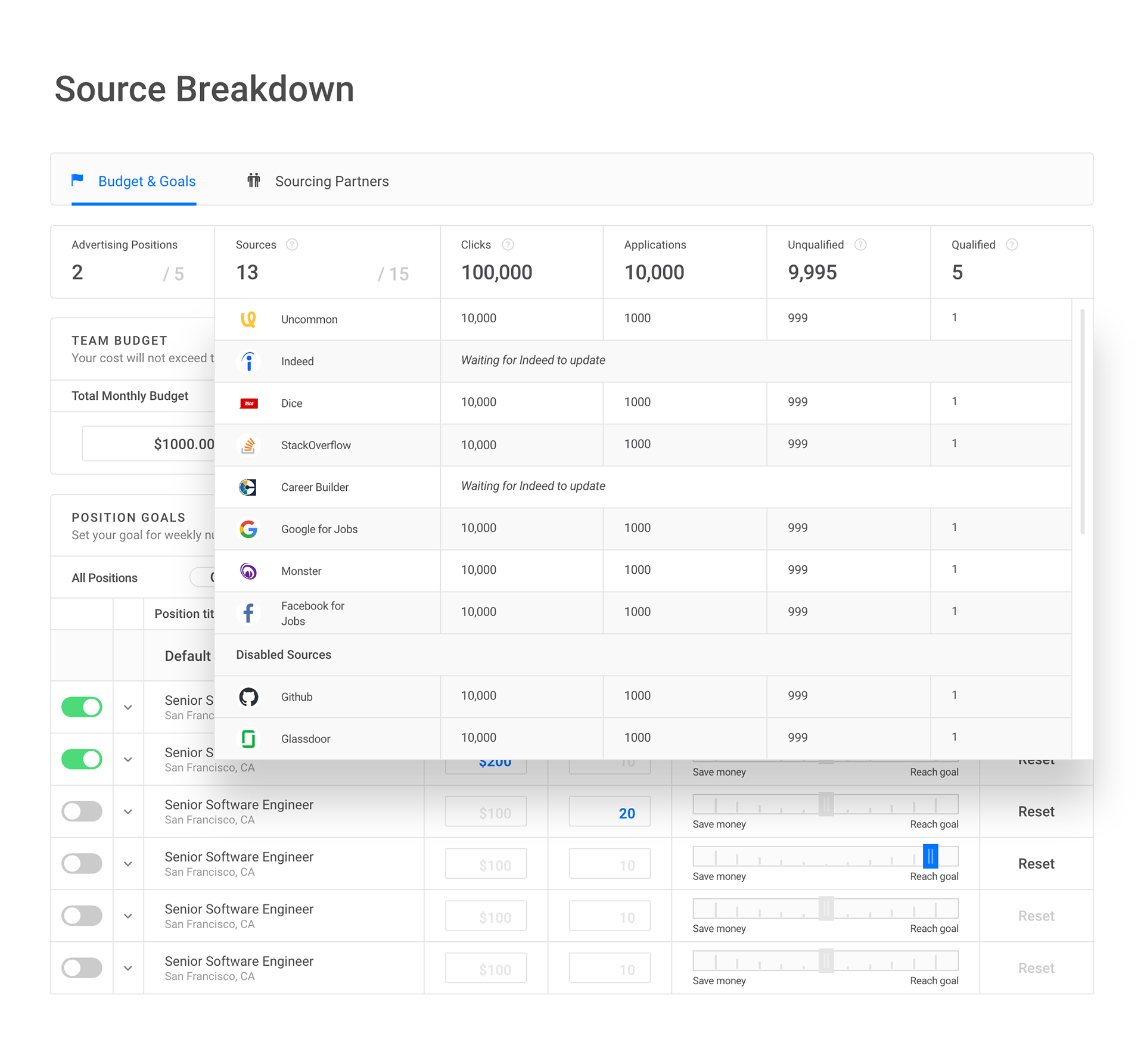 To source passive candidates, we created automated outreach to
simplify the process of contacting candidates
, scheduling appointments, and reminding candidates of information leading up to an appointment through email.
Recruiters can start a campaign with our templates, personalize it to their liking, or easily create their own. The system then tracks the campaign and provide updates and feedbacks with status pills along the way. Until candidates are ready to engage.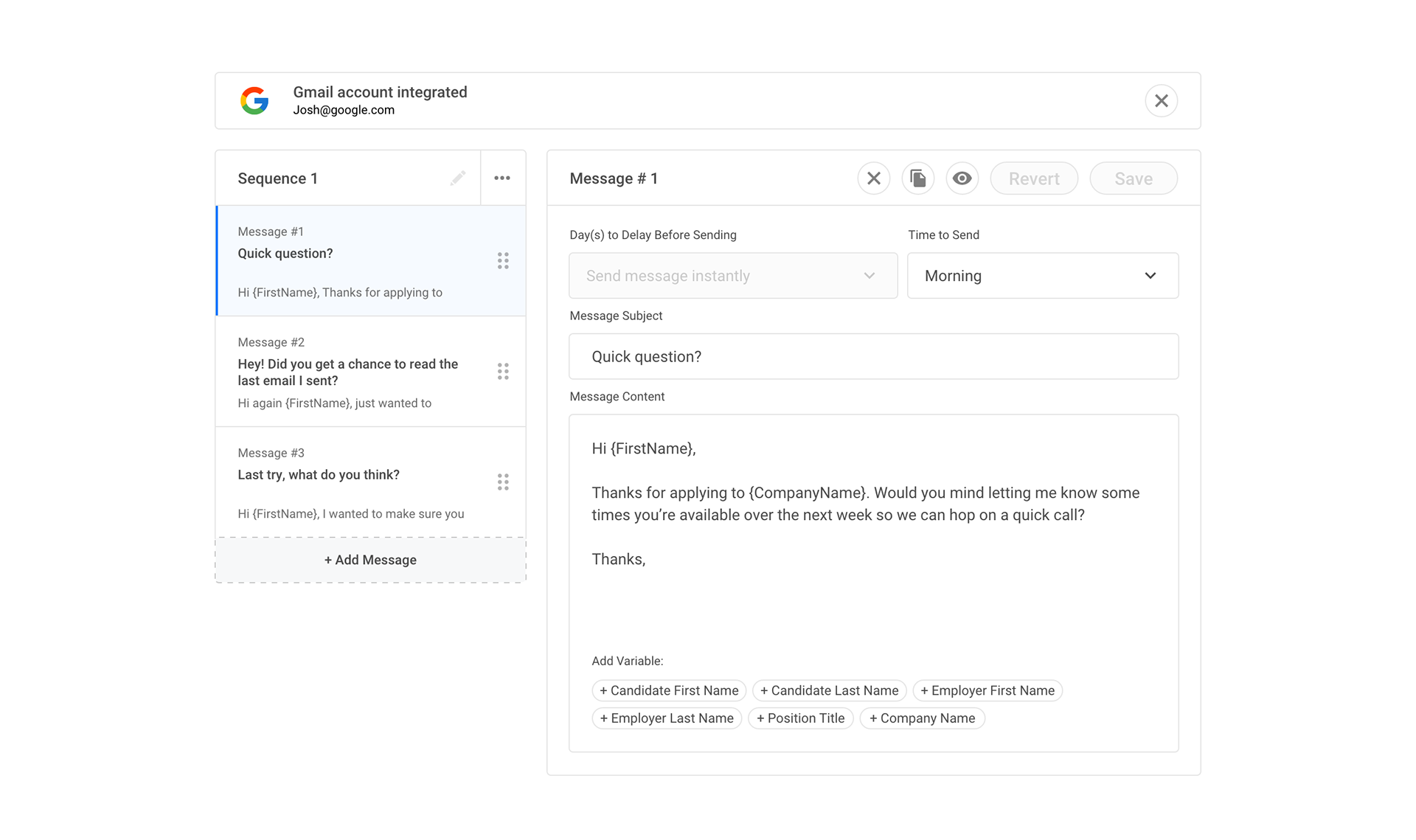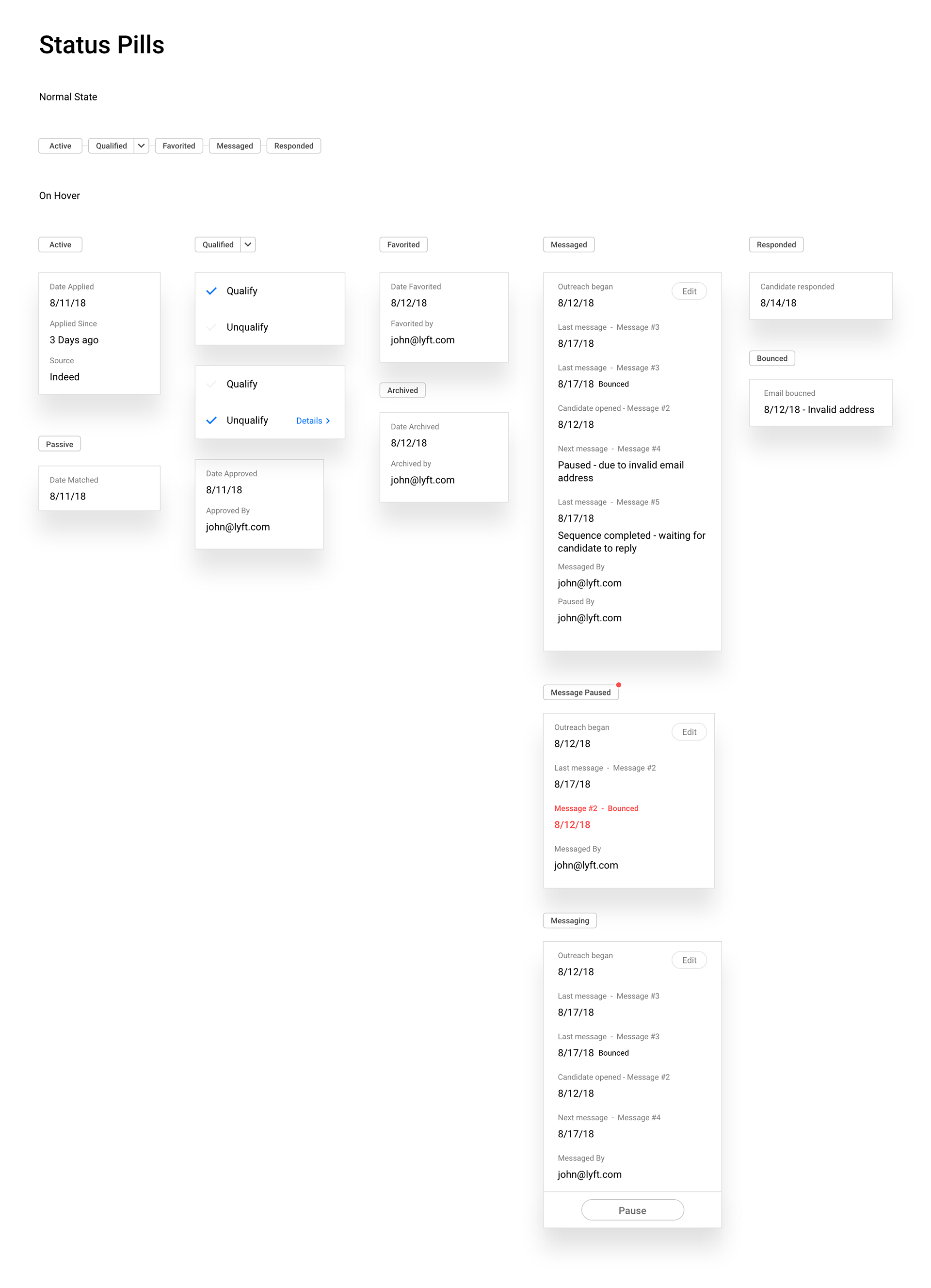 Deeper Relationship with Recruiters' Ecosystem 
To flow seamlessly into recruiters' lives, we also have integrations available for popular Applicant tracking systems (ATS) like Greenhouse and SmartRecruiter, iCims, Bullhorn and etc.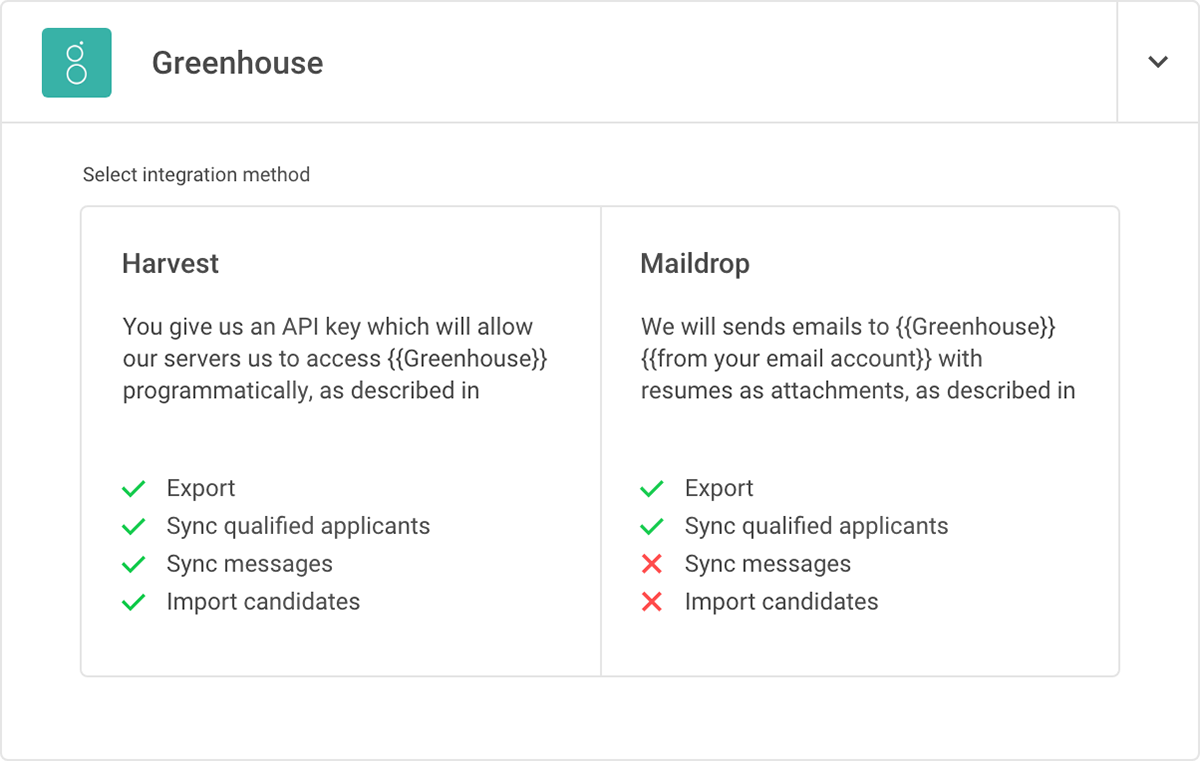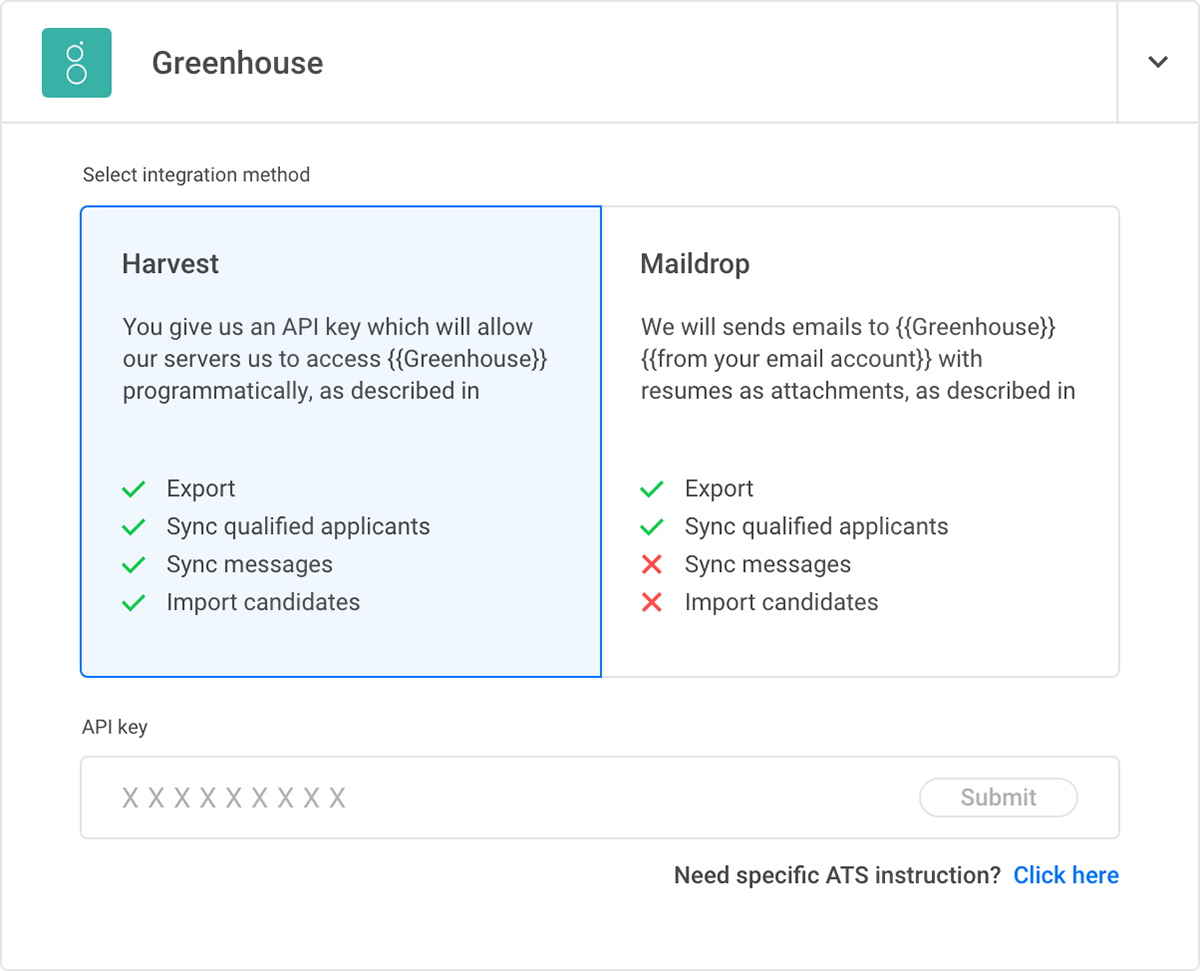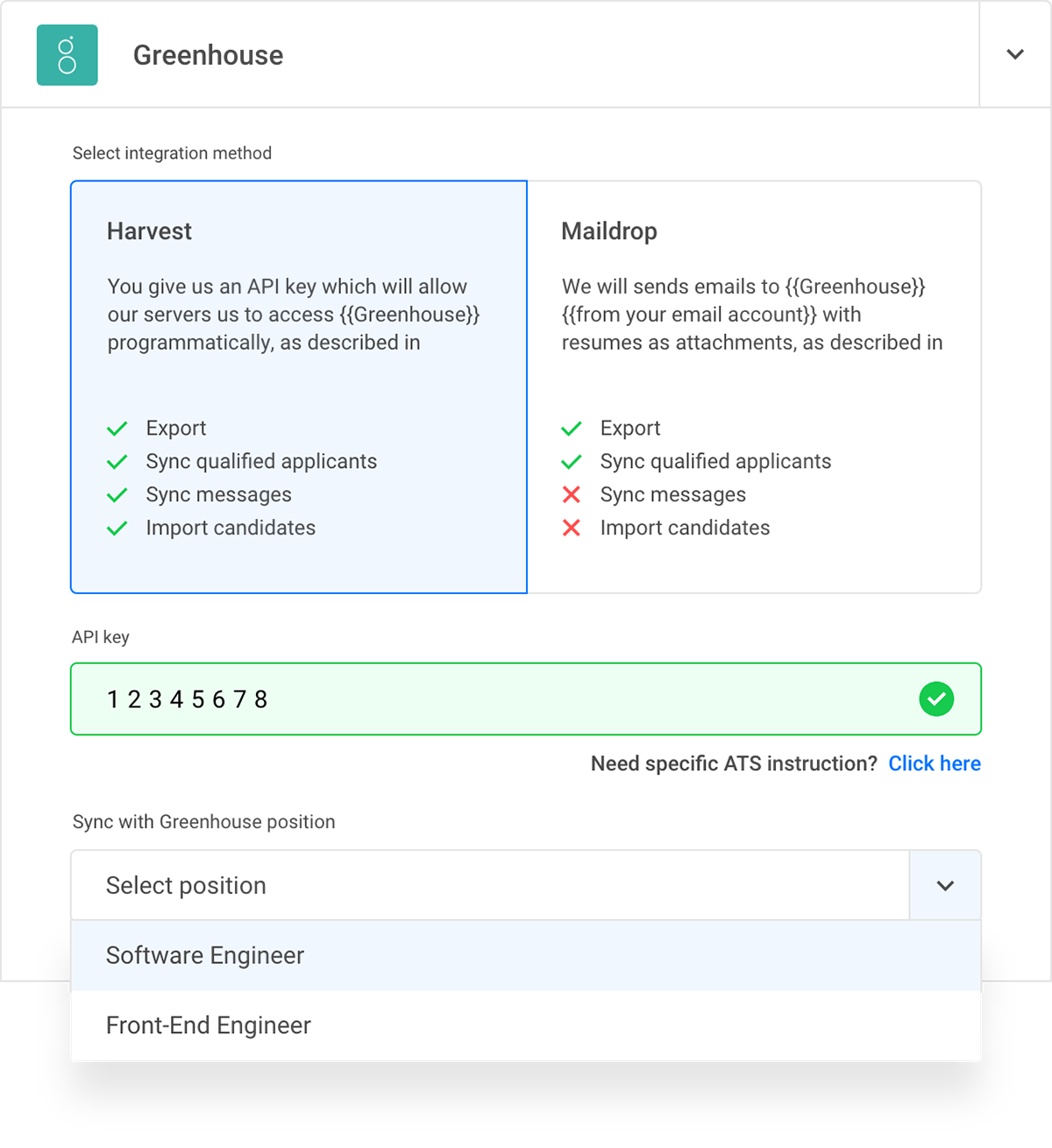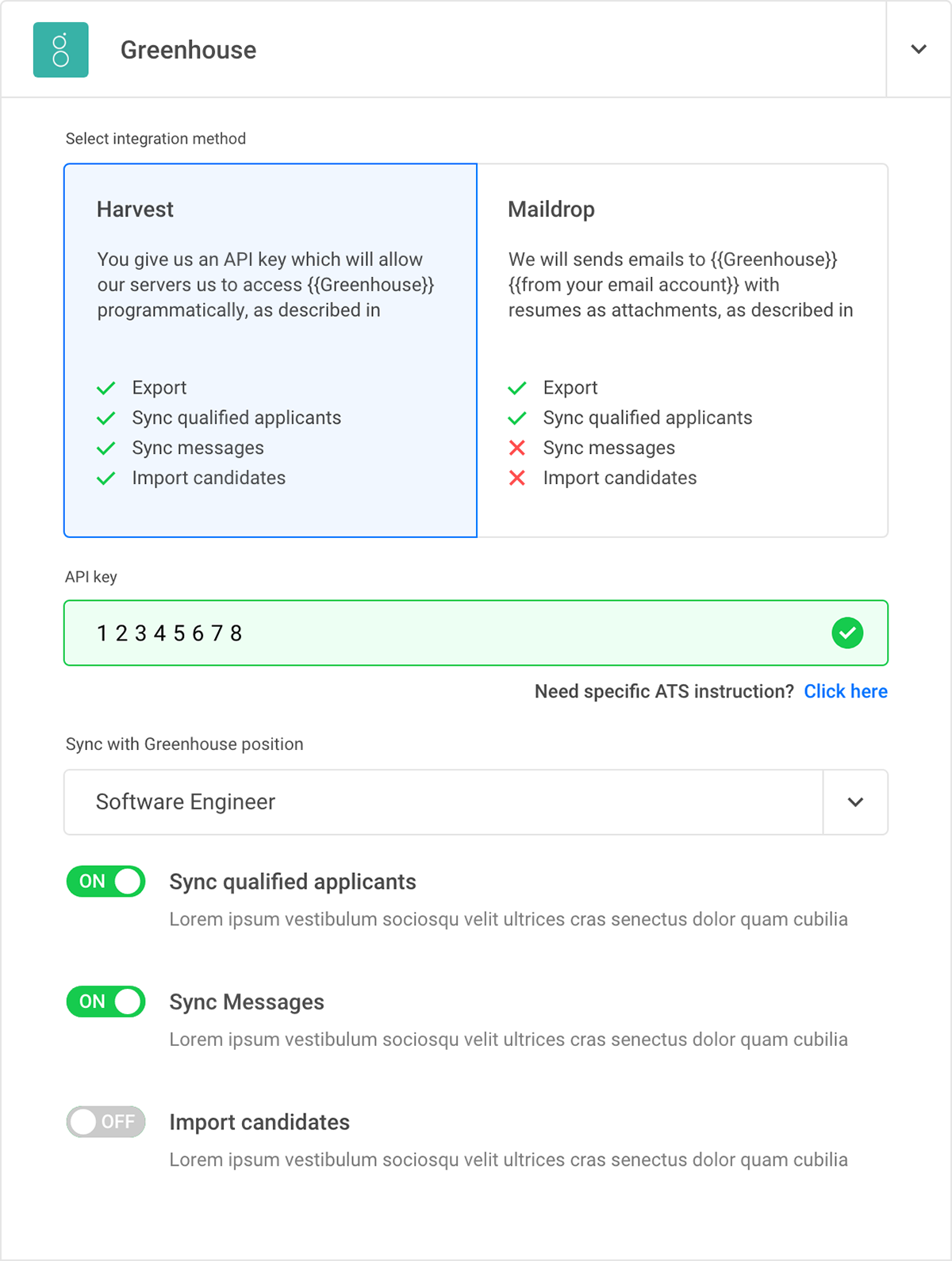 Uncommon.co
with $18 million funding
, enabling anyone access to interested & qualified candidates.
It resulted in a massive influx of recruiters who created accounts and started using the product. 
For confidentiality reasons, key metrics have been omitted.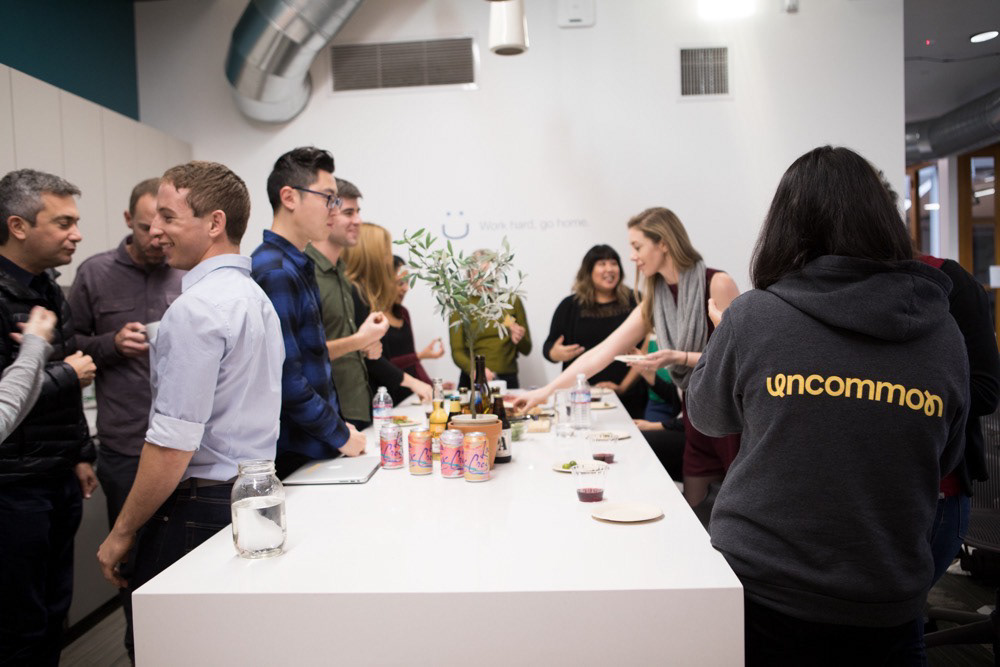 We Were Delighted With Great Feedbacks
​​​​​​​
"Uncommon saves me time that I otherwise would have lost sifting through many unqualified resumes from other job and recruiting sites. Every candidate they show me is active, qualified, and ready to be messaged." 
— VP Business Development, Galia
"I have found Uncommon's platform a breeze to use and I love that it integrates with Greenhouse, which really cuts down on our administrative time. It is also much more affordable than going through sourcing agencies, and our hiring mangers are already seeing candidates that they're excited to talk to." 
"With Uncommon, my positions are posted on different sites, saving me time. I can easily see only the qualified applicants that are relevant for me." 
— Resource Coordinator, María
"Uncommon IQ is easy to use and a great source for finding interested and qualified candidates, even those not actively applying to jobs." 
For privacy purposes, confidential user informations have been obfuscated. 
There Is Still Much More To Do
Hiring isn't easy, and there is still much to build to create the perfect two-sided marketplace that we had imagined. 
I am very proud for what we've accomplished thus far. 
But what I treasure above all, were all the special moments I got to share with the fam, I mean, team 
😊 
They're some of the most intelligent, fun and loving people I've ever met in my life, and I hope we will soon cross paths again.