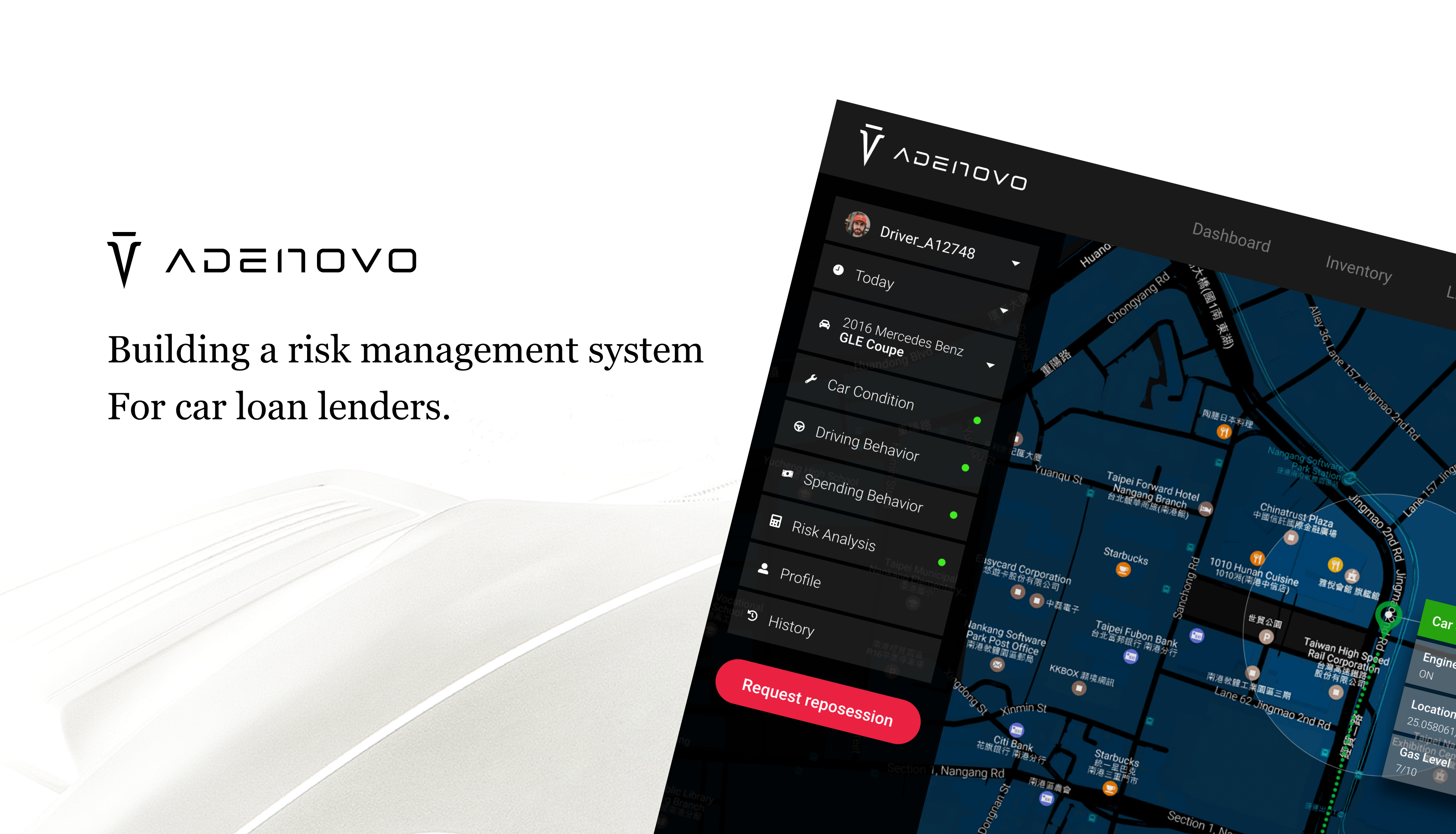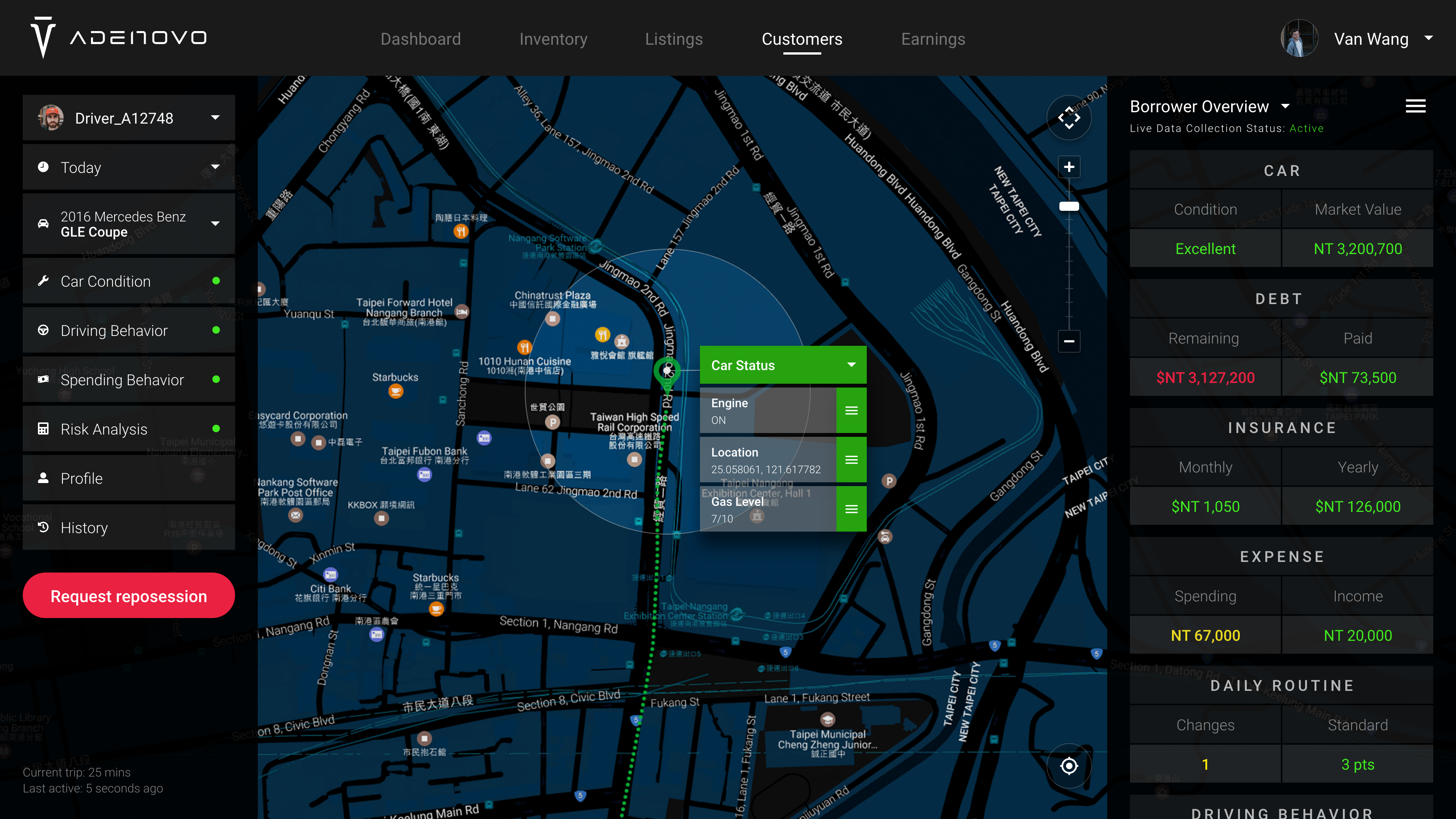 Adenovo is a web-based risk management platform that helps lenders monitor their vehicular assets through tracking sensors. It tracks each driver's financial and physical behavioral patterns to prevent delinquencies and defaults. 
Adenovo is part of DCBP, to view the full project, please click here.
To comply with my non-disclosure agreement, I have omitted and obfuscated confidential information in this case study. The information in this case study is my own and does not necessarily reflect the views of Adenovo.
I started out as a senior UI/UX designer, and later let the product team at DCBP from 6/2016 - 4/2017. I was responsible for product research, strategy, UX and UI design. 
I collaborated directly with the CEO, CTO, and also worked with a graphic designer and a front-end developer.
The Financial Arm of DCBP 
Adenovo is a subsidiary of DCBP (click here to view the full project). 
This subsidiary financial arm started off as a way handling the financing side of DCBP, providing services like offering auto loans to buyers, but it ended up turning into a full on risk management business for us later on. 
Lenders Find Auto Financing 'Too Risky'
Most lenders in China find it difficult to control the risk of default on auto loans, because: 
1. There is no reliable credit rating systems for individuals comparable to the U.S. 
2. Cost to recover loans once a default happens is extremely high.
To make matters worse, third party's assessment on vehicles' residual value often manifest false assessment or overvaluation, which expose lender to more risk.
How might we help lenders reduce risks and give them the confidence they need to invest in auto loans?
H y p o t h e s e s  &  F i n d i n g s
Guided by our research efforts, we explored countless hypotheses to help guide us towards the final product. Here are the top insights we have uncovered:
"Lenders are willing to lend to higher risk borrowers with good behavior and financial tracking systems."
Lenders are also concerned with recovery of vehicles when borrowers become delinquent or go into default.
"Lenders will feel in control and regain the confidence necessary to invest by having access to live tracking of assets."
Live tracking has a wow-factor and is great for starting the conversation, but the underlying technology of pattern recognition and prediction is key. 
"Borrowers will allow us to track their driving and spending patterns, in exchange for access to a flexible loan, until the it is paid off."
Majority of borrowers prefer not be tracked, but claimed that it's acceptable under the circumstance. They also said it will make them want to pay off the loan sooner, just to be free of being tracked.
A Reliable Risk Management System
In a world full of uneconomical loan options, Adenovo is a risk management system that provides lenders the assurance they need to invest in the high demand, auto financing market in China.
The hope is that by standardizing risk management, anyone with capital can become a lender, therefore, more flexible options to our borrowers.
​​​​​​​
In order to accurately track borrowers' personal behavioral and financial patterns, spot irregularities and intercept defaults with precision, we require two procedures from borrowers up front:
1. Integrate with their financial institutions
- to monitor their income and spending habit.
2. Equip their cars with tracking sensors
- to analyze driving pattern such as: car location, driving speed, harsh braking, rapid acceleration, etc, to predict risk and help with repossession. We lovingly call these modified vehicles the I.o.V.s (Internet-of-Vehicles).
Successful Funding Round From Alibaba 
On November 7th, 2016, our team pitched Adenovo at Web Summit in Altice Arena, Lisbon, Portugal. And later pitched it to various VC's. 
All the efforts paid off in 2017, when we raised one of the most successful Series A funding rounds, as a startup in Taipei, from Alibaba Entrepreneurs Fund, a subsidiary of Alibaba Group.